ZapDropbox – Remotely Change Desktop Wallpaper Using Dropbox
Are you looking for a simple way to remotely change desktop wallpapers? If you're using Dropbox to sync files between different PCs, you can make use of ZapDropbox – a simple application developed solely to change desktop wallpapers. According to the developer, it comes useful when you want to change desktop wallpaper of your family's personal computer from miles away. You can for instance set it up on your home PC, specify wallpaper folder present in your Dropbox in order to change the wallpaper from any location, i.e from work/office PC.
Additionally, it allows you to cycle through all the wallpapers present in the specified location. You'd just have to select the Next or Previous wallpaper from Windows system tray, and it will instantly start switching wallpapers. Apart from changing wallpapers, it's the ability to play sounds periodically or while changing the wallpaper. It also has an option to specify screen mode to automatically adjust wallpapers as per screen size.
After installation is completed, the first step would be to specify wallpapers source path. Just right-click its system tray icon and select Adjustment Program.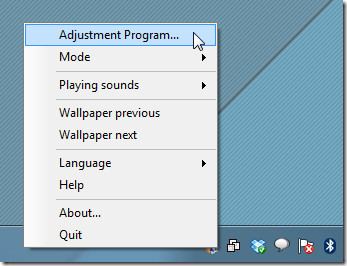 Here you can configure ZapDropbox in multiple ways. You can turn Random wallpaper change mode on/off, schedule wallpaper switching after defined intervals, enable/disable sounds, set default screen size, mode, select effects to be applied over images. After configuring these options, specify wallpaper directory from Picture directory section.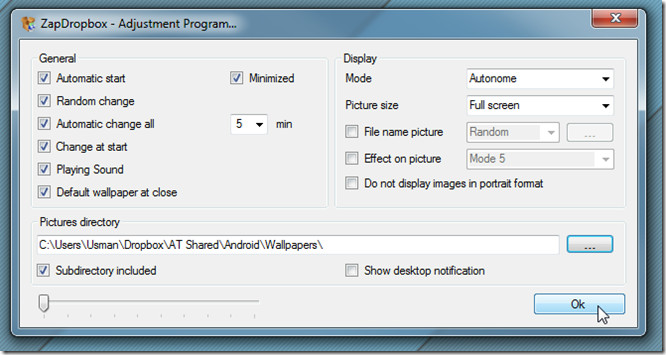 Upon clicking OK, it will start changing desktop wallpapers after defined time interval. However, if you've turned off auto-wallpaper switch option, you can manually change the wallpaper by selecting Next or Previous Wallpaper option from system tray menu.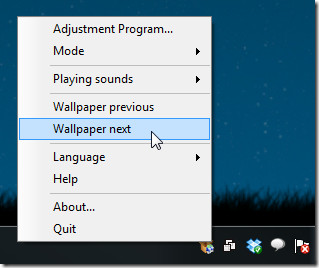 ZapDropbox works on Windows XP, Windows Vista, and Windows 7. Both 32-bit and 64-bit OS are supported.