Zoolz Offers Incremental Cloud Data Backup With 100GB Of Free Storage
There's no shortage of cross platform file syncing services out there. Each has something special about it; some offer more storage, while others sell themselves on distinguising features or a great interface. Suffice to say, we're swimming in file syncing services. Zoolz is different; it's file storage and backup in the cloud. The app uses a desktop client to backup files to your cloud drive. Unlike file syncing services that will allow you to access backed up files at a moment's notice, Zoolz backs them up for safekeeping and asks for a few hours (or maybe days) to retrieve it.  The desktop app takes regular backups of select folders or drives. You can restore files from a backup, but you will have to first download them, which takes time.
Zoolz is in closed beta for the present and there is a rather long waiting list, but the service is worth the wait. For now, it has Windows, iOS and Android apps, but a Mac app is in progress. Provided you've scored an invite from Zoolz, proceed to downloading the Windows app and sign up for an account.
Zoolz can back up any one or several folders of your choosing to its storage. Select the folders you want to back up and click the next arrow.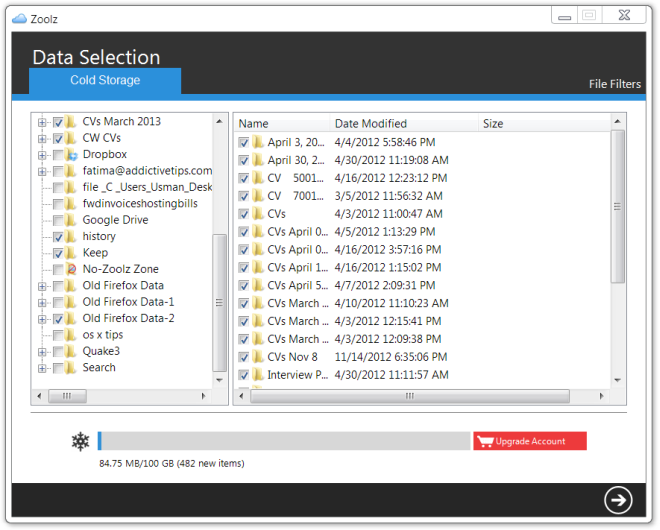 Next, select how often you want to back up the folders you've selected. With a free account, you can only define the frequency of the backup, but you cannot schedule it. You can opt to let Zoolz set an encryption key, or you can go with a password of your own. Click the next arrow once again to proceed.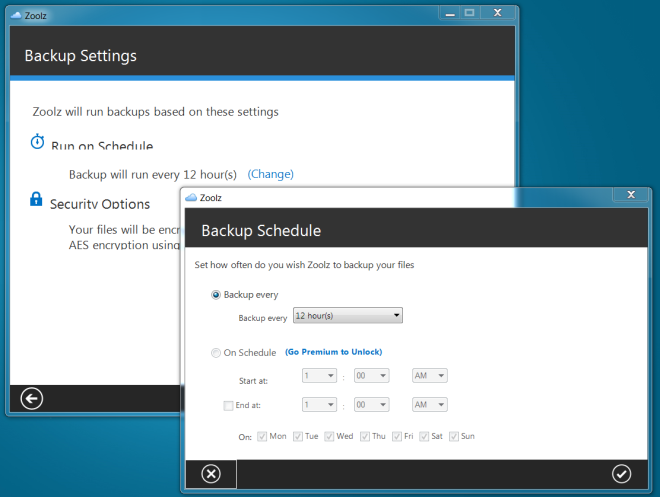 You can now let Zoolz  run in the background and backup your files. Once all your files are backed up, Zoolz  continues watching the folders for changes, duly backing up new files. You can change which folders are backed up any time, backups can be paused, and files can be restored from a backup.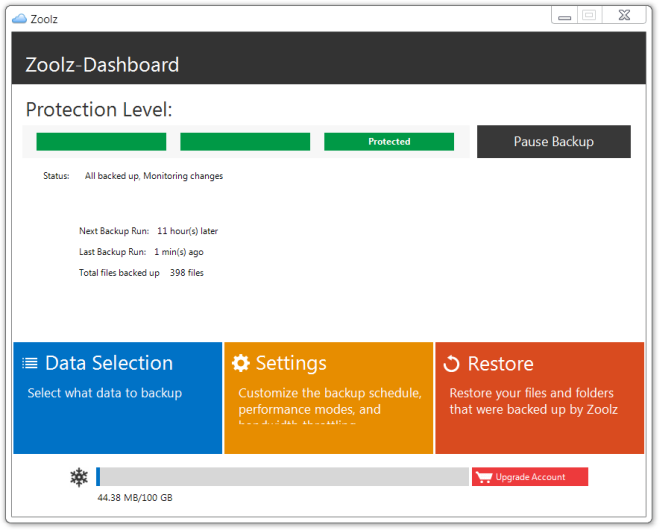 With a free Zoolz account, you can connect up to two computers to your account. To view the connected computers or download files, go to the web interface (or click Restore on the app to open Zoolz in your browser), sign in and select which files you want to restore. Your files will need 3-5 hours before they are ready for download. You will receive an email when that happens.

At present, Zoolz is offering 100GB to its first 1,000,000 users and we think the service is impressive enough to run out of those soon. Zoolz has business plans available as well, which you can upgrade to for additional features.