The 8 Best Email Clients For Android In 2019
Email is an essential communication tool. You may not use it to exchange information with friends and family but it is still the preferred mode of communication in the work place. With personal communication, social media apps and messengers are more commonly used but you aren't likely to plan and send meeting invites to people you work with over Facebook Messenger. Where email is incredibly important, it's also one of the harder things to manage given there are always messages that need to be answered and/or followed up on. To stay on top of it all, you need powerful and feature rich tools to manage email. We already discussed the best email clients for Windows, now let's take a look the best email clients for Android.
1. Outlook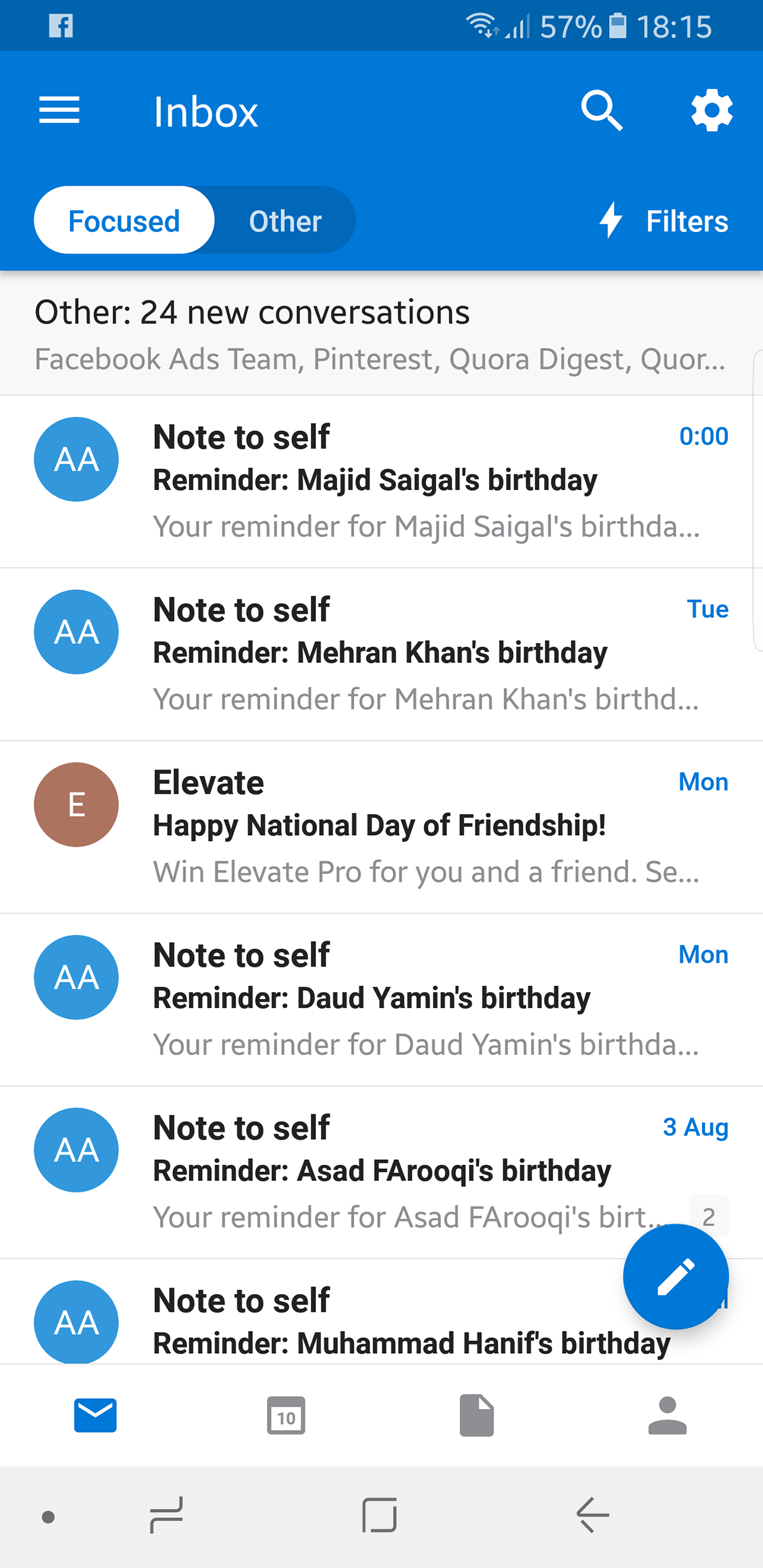 Microsoft's Outlook has been synonymous with email since time immemorial. That is because Outlook for desktop is a very powerful email client. The Outlook for Android app can automatically synchronize with your phone's contact info. You'll be able to send emails, check your calendar, see all attachments in circulation, and see a contact list. You can add hyperlinks to outgoing email signatures. Lastly, it syncs with  other Microsoft apps so you have access to OneNote notes, Docs in Word, PowerPoint presentations and Excel sheets from a single tap.
2. Yahoo! Mail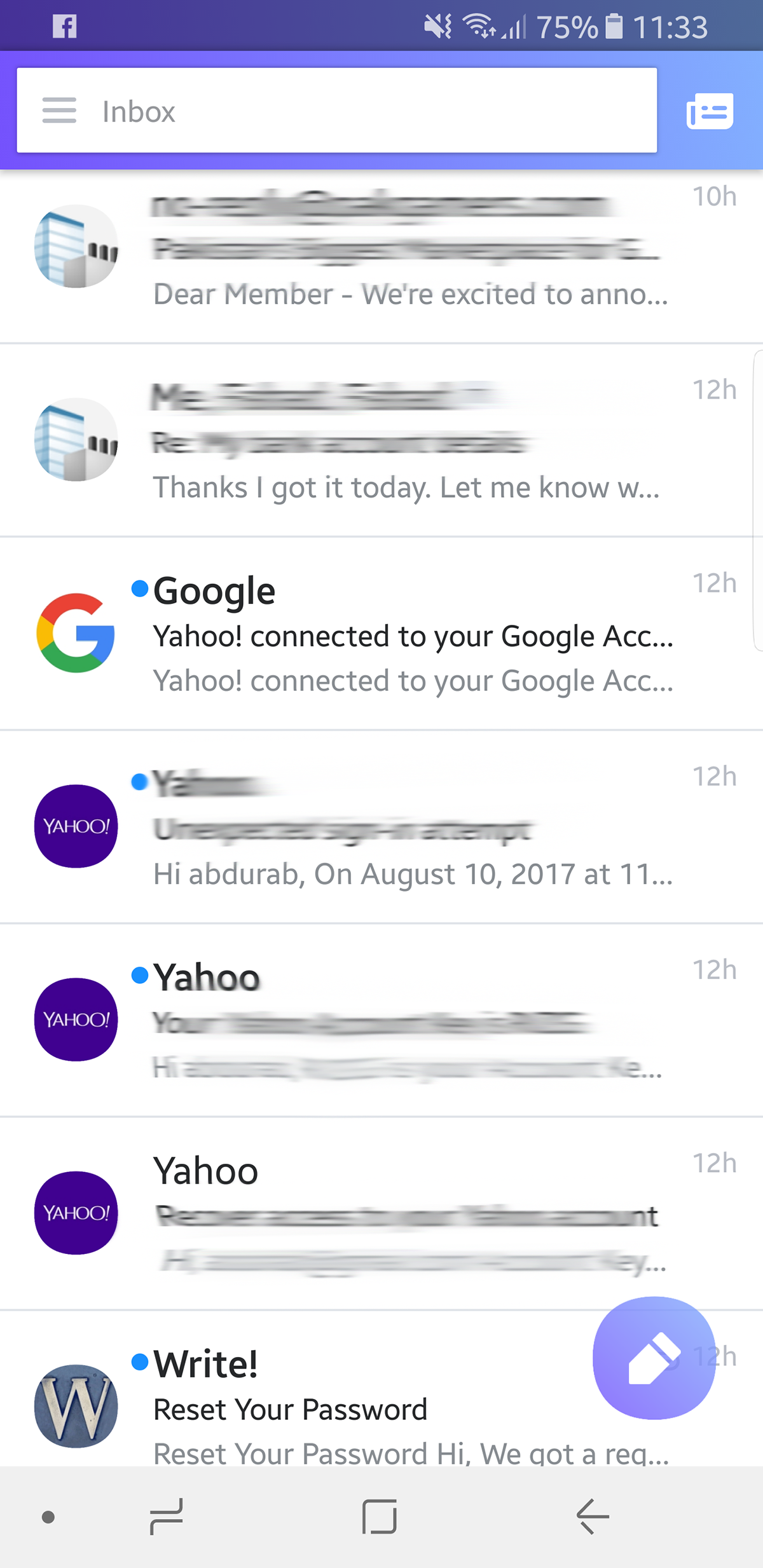 Yahoo! before its eventual downfall was the market leader in email. An @yahoo.com address was so vehemently sought after that Yahoo had to release region specific addresses as well as tack on a ymail.com suffix. To support such a massive onslaught of email addresses, Yahoo! provided a very advanced user interface, even in the days when the total allocated inbox was a handful of megabytes. Yahoo! might have been toppled from the top spot by Gmail, but it still offers a very friendly and flexible interface.
3. Blue Mail
Blue Mail is an excellent e-mail client. That is not just a marketing ploy, it is a qualified statement based on the fact that it supports multiple providers as well as IMAP, POP3 + Exchange (ActiveSync, EWS, 365) Auto Configuration. You can sync multiple mailboxes from all your providers in a Unified Interface and get instant Push Mail for the widest range of providers (IMAP, Exchange, Office 365, etc.) On top of that, you can set Quiet Hours and custom notification sounds.
You can send group mails with rich-text signatures, send emails to any connected mobile printers, sync with android wear, and set offline time with "days to sync". Essentially, they took everything that made desktop e-mail clients great and made it into a mobile app.
4. MyMail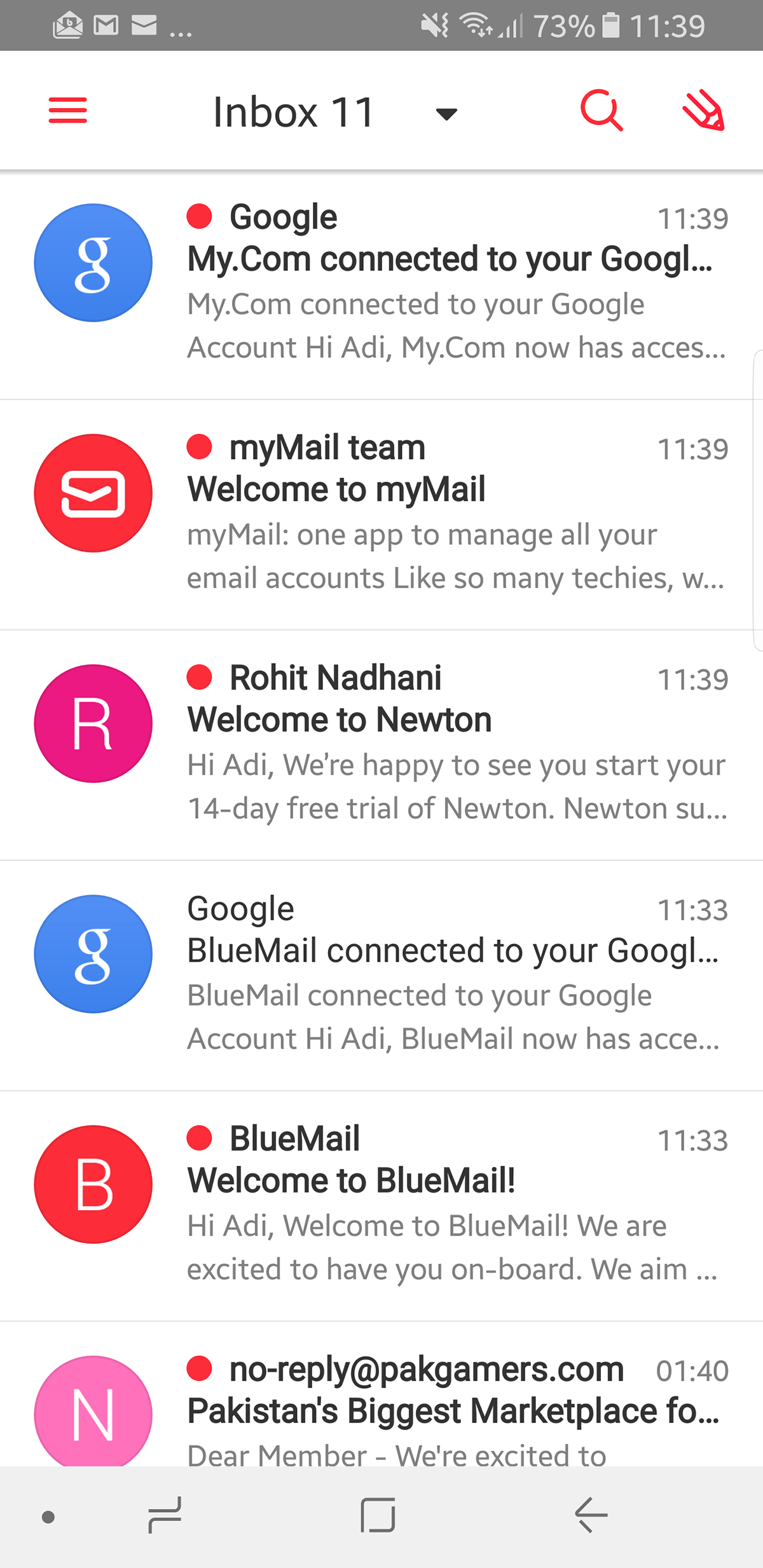 MyMail might very well be the most gorgeous looking and most organized app of the lot. This isn't to say that the other apps are disorganized, it's just that MyMail has a few more things going for it. It does everything that any other mail client mentioned in this list can, and adds folder management to the mix. What it does to stand out though, is that it simplifies everything to simple gestures. You can also attach files by browsing the entire contents of your android device directly from that interface. If the design doesn't immediately win you over, you'll definitely fall for the functionality.
5. Samsung Mail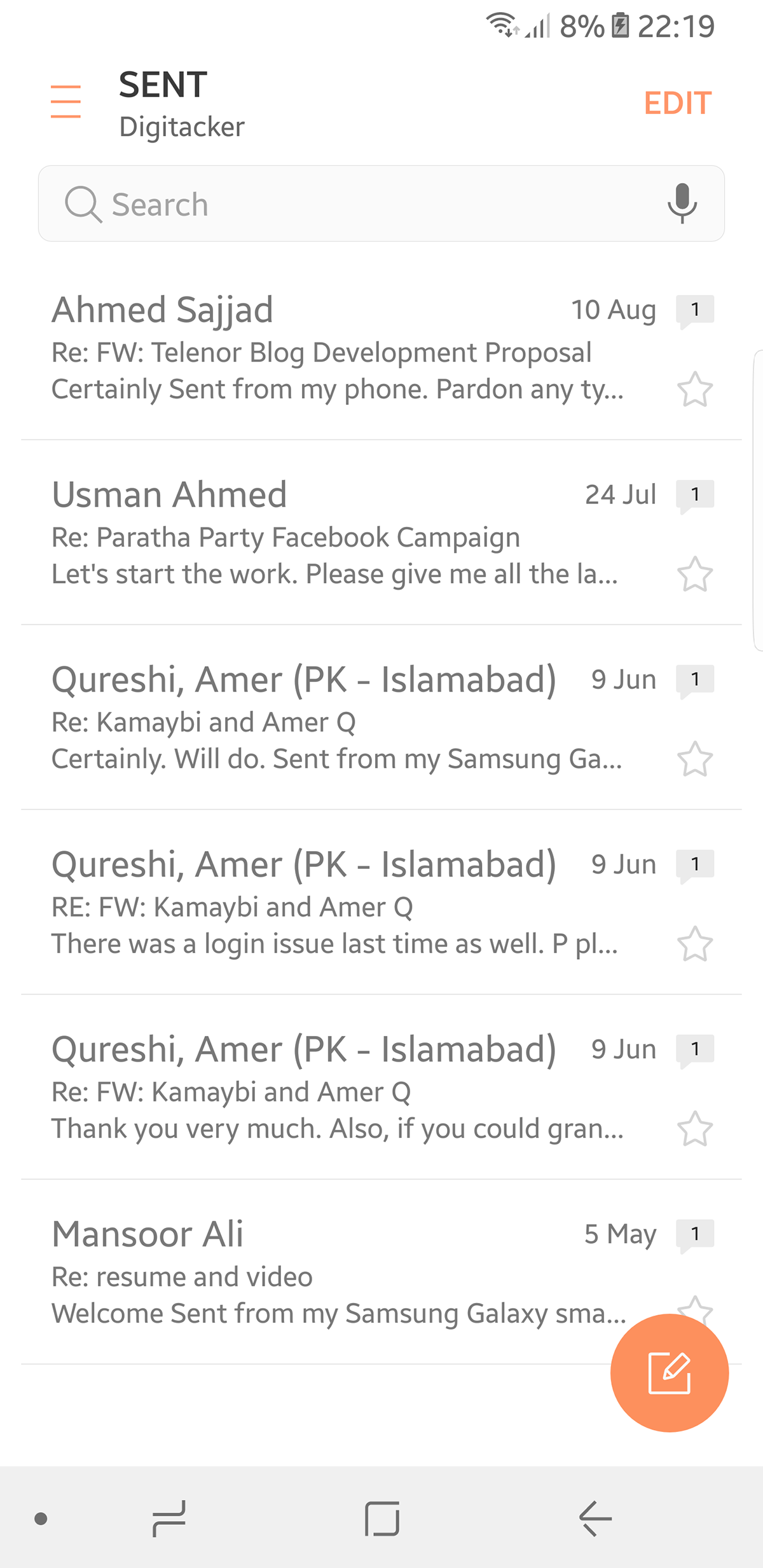 Samsung Mail has been around the block a couple of times so it brings a little experience to the table. In its life as a mobile app, it has gone from essentially a mail fetcher with a composer window, to a fully functional mail client with outgoing signatures and excellent attachment management. It also has custom POP/IMAP support for clients it does not automatically detect settings for. There are still some rough edges to the app, for example, it kept fetching a read mail from a server every time it was deleted but that might be configuration issue on the server end.
6. E-Mail Organized by Alto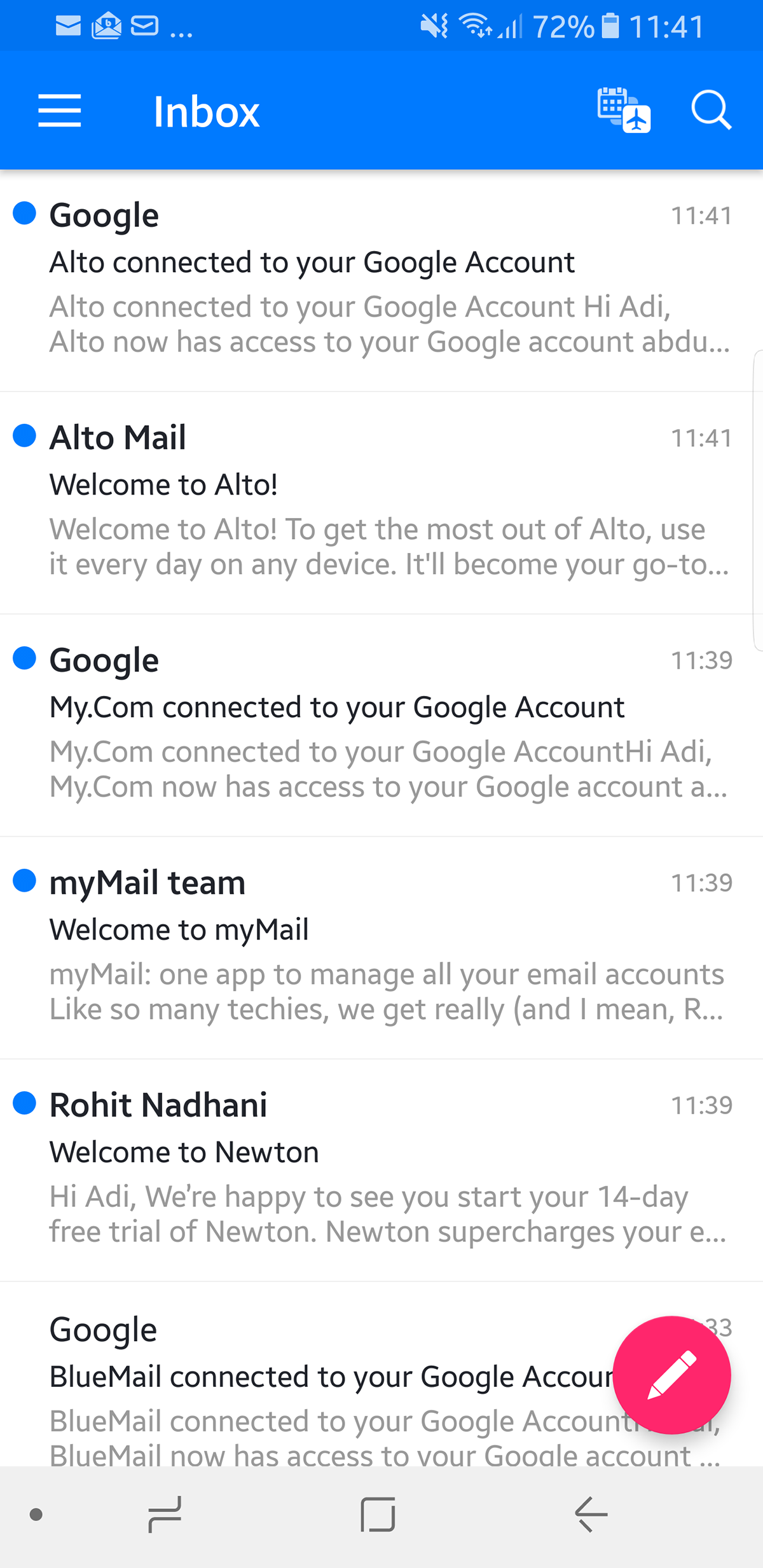 E-Mail Organized by Alto is an AOL product. AOL, as some of you from the 90's might remember, was a leading Internet Provider back when an internet connection required a dialup modem. The app  is pretty straight forward with quick attachments, rich text formatting, and calendar synchronization.  It's the "organized by Alto" where you notice the stand-out features. We have Alexa integration, Slack Integration, Cloud integration, Alarm Sync for quiet times, and more. We could not recommend this enough. Give it a whirl, see how you like it.
7. Gmail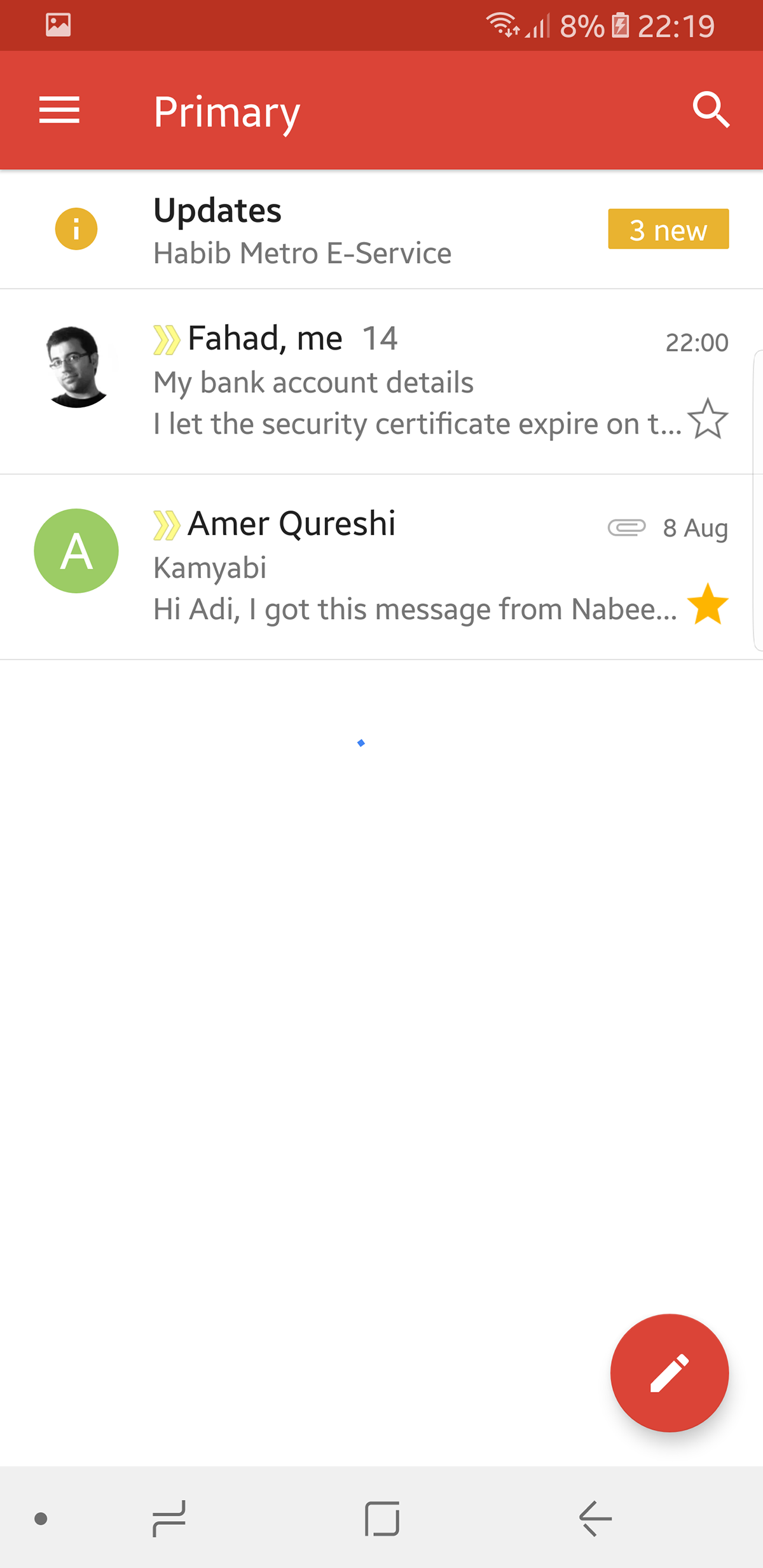 If you're on Android, we wager you're familiar with GMail. It is to Android devices what seats are to vehicles. Their absence would not affect the overall function of the contraption, but it would still not be complete. Gmail lets you organize your entire mailbox almost identical to the web version. You can archive conversations or delete them, you can search your inbox just as efficiently as you would online. You can sync with any other email services (Google or otherwise) and of course, you have the awesome smart reply feature.
8. Newton Mail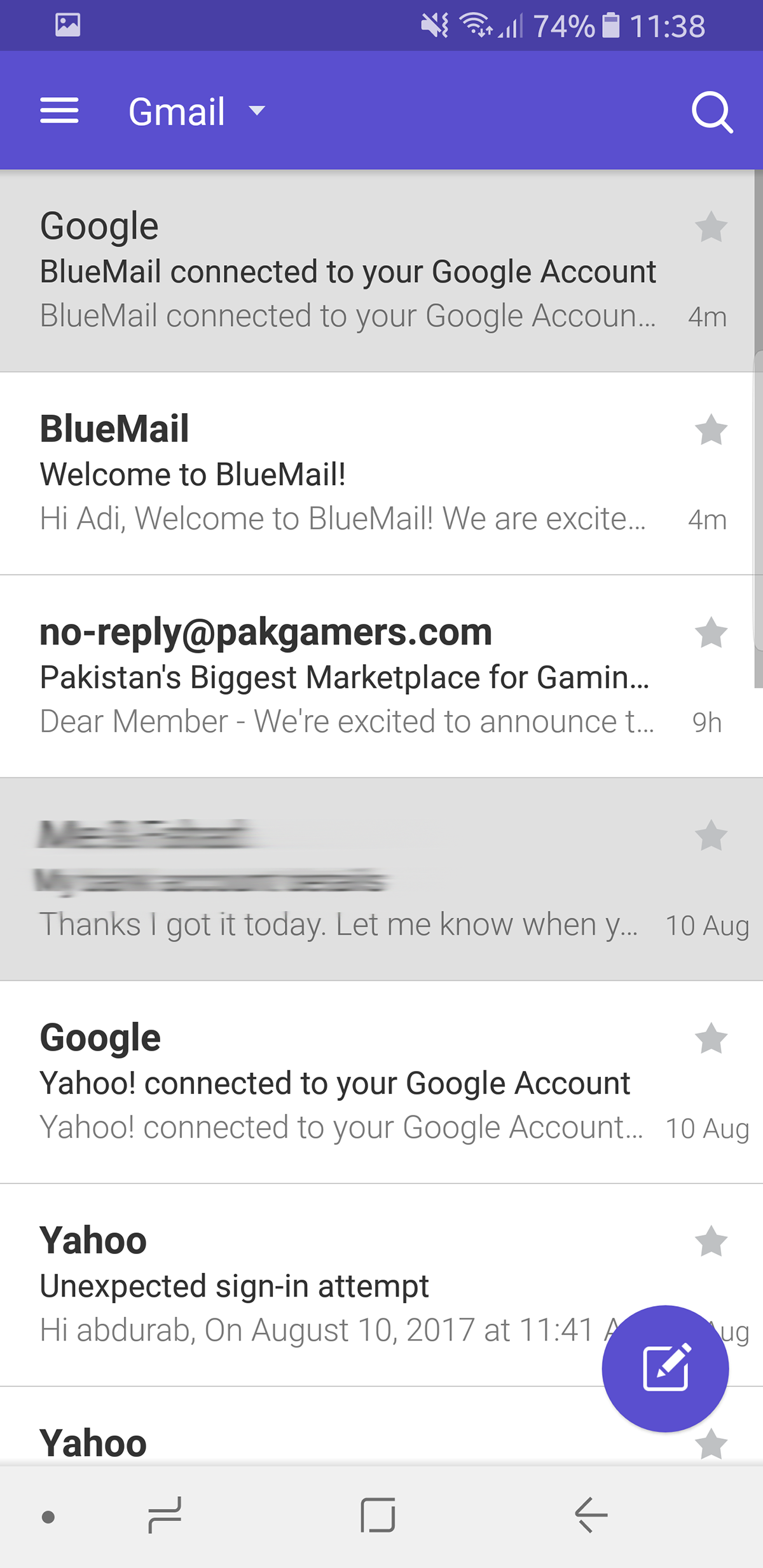 Newton Mail is the only item in this list that comes with a premium subscription and not a modest one at that. However, you get a 14-day trial (free) to decide if you want to get the $49.99/year subscription. Newton mail syncs across Tablets, Phones and Wear, with features like read receipts, snooze, send later, undo send, sender profile. The interface is standard mail UI that almost every entry in this list adheres to (because it works well). If your mailing needs are indeed deep, and none of our recommendations meet them, then you can't go wrong with Newton Mail.