A Look At The 7 Best Email Clients for Windows
Email has become the standard mode for communication. We might prefer texting, social media, or a quick phone call for personal communication but email still rules supreme in the work place. Even sophisticated messengers like Slack can't oust it. The thing about email is that is difficult to manage. Getting to important emails, making sure you answer all the ones that need your attention, and keeping track of important messages isn't easy. Add to this fact that a Nigerian prince is trying to give you gold, and things get complicated. To tackle the email problem, several companies have developed desktop email clients. The category isn't saturated as yet but it's still hard to find the best email client for Windows. Here's a look at the seven of the most popular email clients for Windows to help you decide which is best for you.

Mailbird
The first on our list of email clients for Windows is Mailbird. Mailbird an award-winning, well-assembled tool that supports all the major email providers out of the box.
Mailbird lets you sign in to multiple mailboxes simultaneously, each granting access to inboxes in the exact state (read/unread, archived/visible) your webmail inbox is organized in. It even puts widescreens to good use by adding a calendar view. Mailbird includes support for 3rd-party apps such as WhatsApp web, Dropbox, Facebook, Google Calendar, etc. if your workplace uses these apps extensively, you will want to use Mailbird all the more.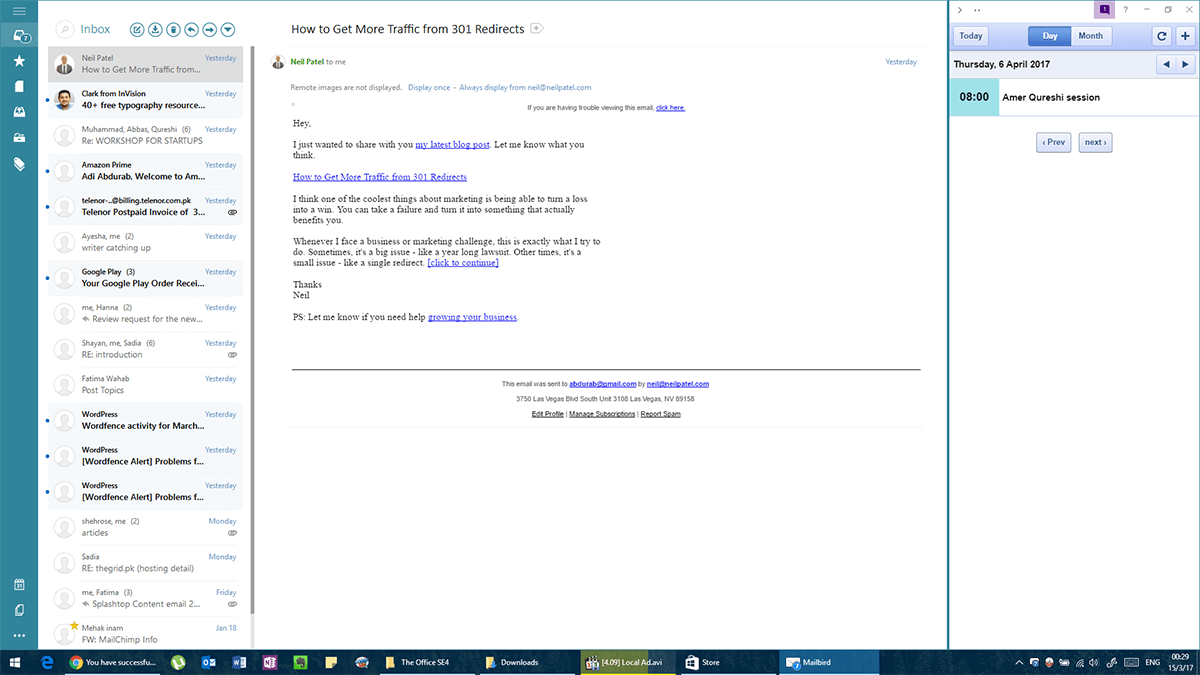 Mail for Windows
Mail is the native email client in Windows 10. Despite its seemingly simplistic design, it is a capable and versatile app. It can support multiple-mailboxes (differentiated by color) including POP/IMAP. Even though the calendar isn't embedded (ala Mailbird), you can still access it and your contacts via icons in the navigation column.
You get the minimalist Modern UI design for Windows along with everything we traditionally expect of email. It brings you the versatility of a desktop email client with the speed of a webmail app. Though it does not perform exceptionally well as a permanent home for your work emails, as it still lacks Microsoft Outlook's levels of versatility.
It's light weight, free, and built into Windows 10. For modest email needs, this is a pretty good app.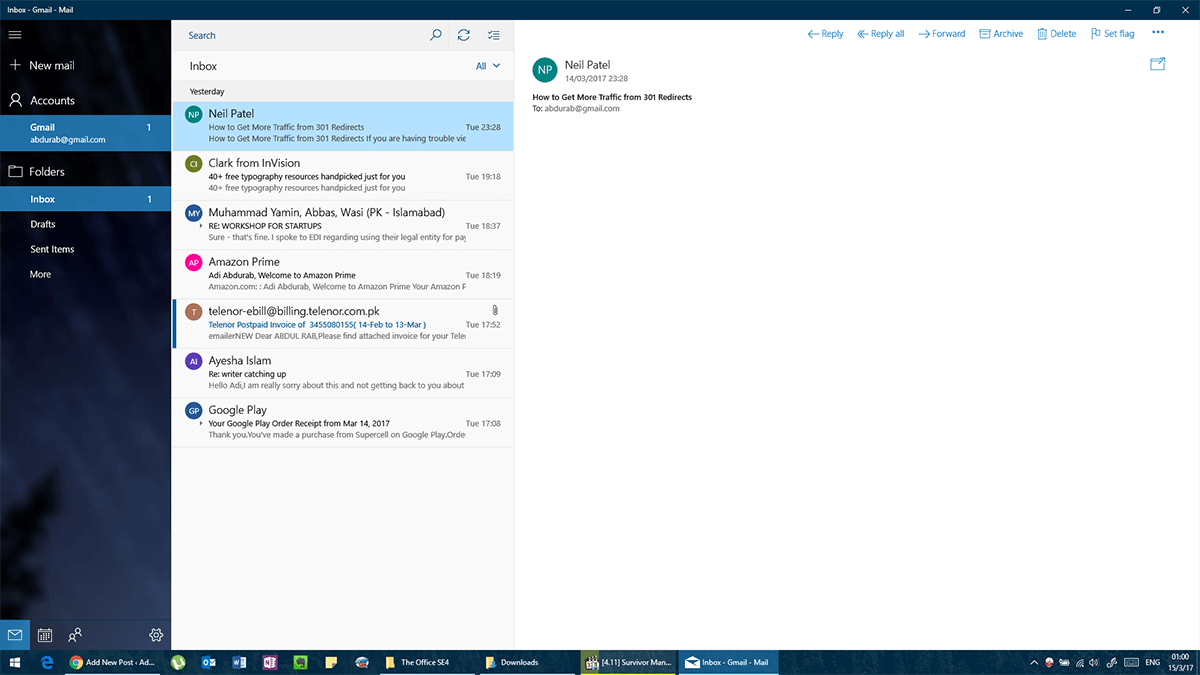 Microsoft Outlook
Given that Outlook is the preferred brand of Microsoft's webmail service, it is no surprise that it would end up on this list. On iOS and Android, Outlook might just be the best email client, period. The desktop version is not free. It comes bundled with any Office 365 subscription, but it is every bit as powerful as any other app and then some. In fact, its layout was so iconic, it was copied incessantly in the years before webmail became the go-to solution. Its performance and stability continue to impress today.
Microsoft Outlook grants access to as many inboxes as you need. They all operate via POP, and use an internal address book (you can import contacts separately). It gives you as much control over out-going text as Microsoft Word, and it is still the most powerful tool when it comes to work e-mails – especially when you combine it with other Microsoft Office apps (like sending a mail to multiple contacts that updates key information from entries in an Excel file).
The inability to archive mails might be the biggest downside, but you can configure it such that if you delete mail, the webservice will consider that message archived. One of the highlights of Outlook is how well it can manage meetings, one time and recurring, and the rules it supports. Rules in Outlook allow power users to automatically sort emails to folders. There isn't an email feature that Outlook doesn't have.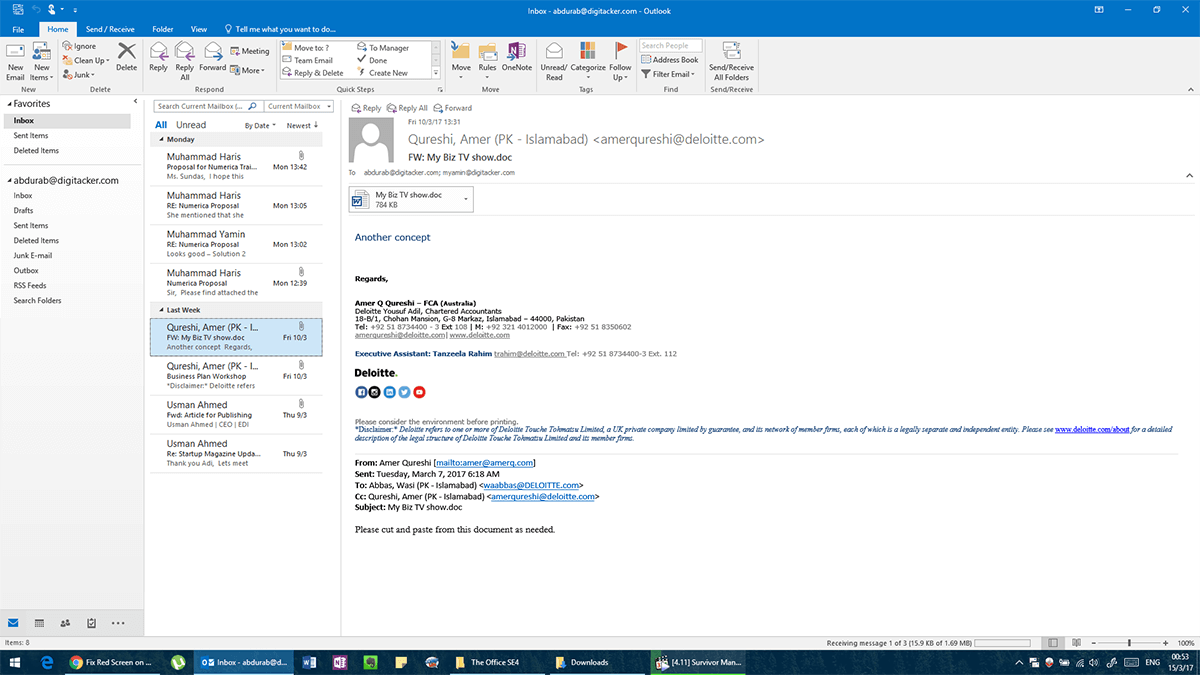 TouchMail for Windows
TouchMail for Windows is quite unique if you have a touchs enabled laptop/tablet. It lays heavily in to the Windows 8+ design tradition. All accounts, webmail or otherwise, are supported.
The mails are color coded in the form of live tiles that you can scroll to, to the end of your mailbox. You can pinch zoom to adjust the number of tiles you can see at a time. You can go from tiny icons to previews of 4 mails at a time.
There is a button at the top right that you can toggle to switch between touch and input devices. If you flick upwards from the bottom of the screen, you can see a list of unread mails sorted by sender, in case you need to isolate one.
TouchMail's composer is nothing special, it offers everything you would get in the Mail for Windows client. This is the email client of choice if you're on a touch screen. The touch screen might be a touch screen laptop or a Surface Book or tablet. TouchMail supports gestures but it is built for low-end email needs. It pales in comparison to both Outlook and Thunderbird.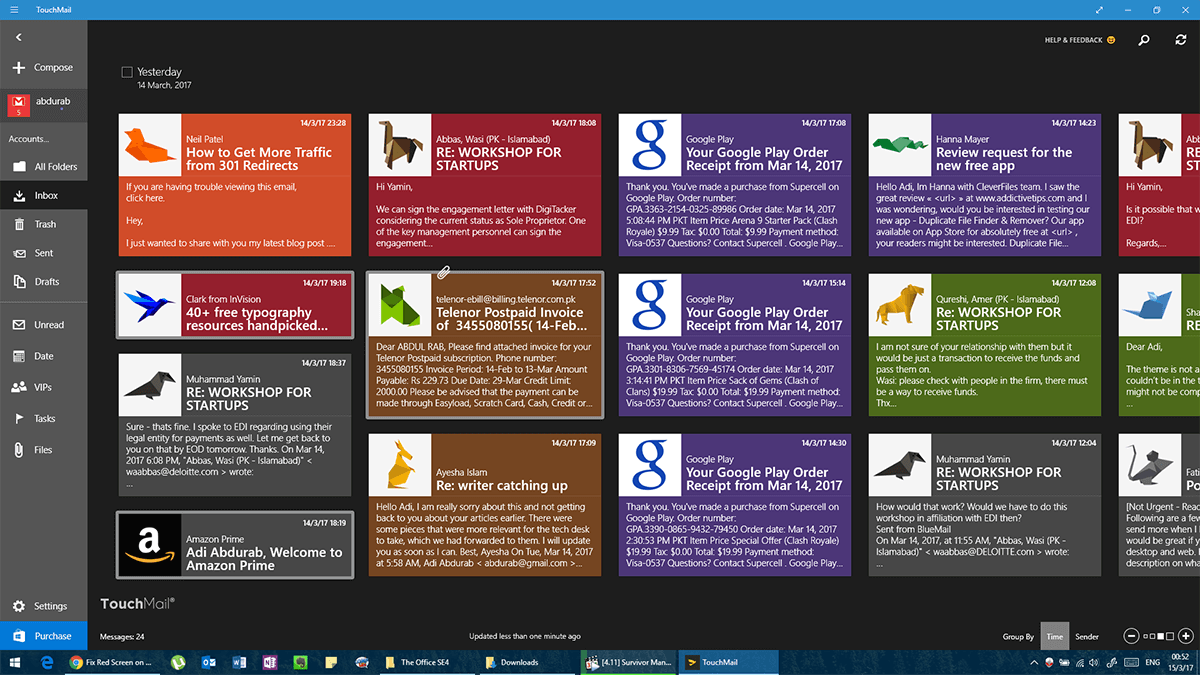 eM Client
eM Mail client is another client on this list. This client, like the others so far supports multiple inboxes as well. However, eM Client, is closer to how Gmail operates than most apps. There are tabs that grant you access to Mail, Contacts and Calendar and your conversations can be grouped by subject.
The advantage with eM Client is the ability to schedule when an email goes out and it has built-in support to translate mails (using Google translate). This schedule email feature is missing in some of the best, most robust, email clients for Windows.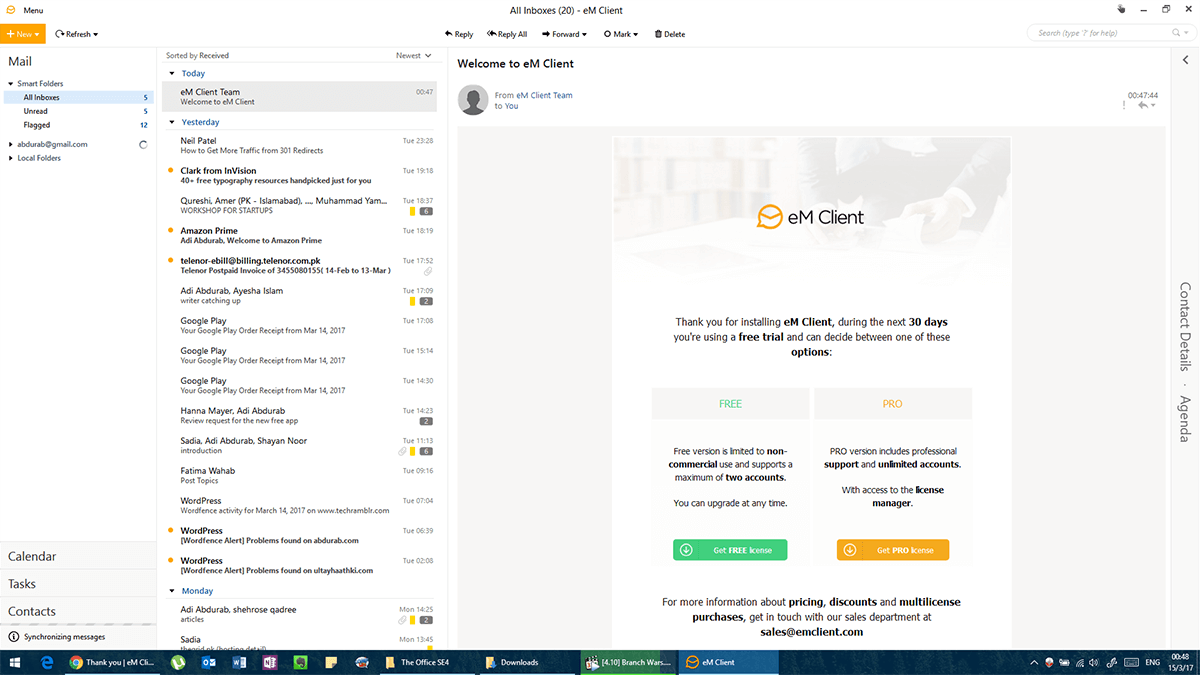 Opera Mail
This entry comes as a bit of a surprise because, quite frankly, it should not be up there with the best email clients for Windows.
Opera Mail can synchronize your WebMail, and all other accounts. It has a nasty habit of downloading every unread mail from your inbox, and only unread mails exclusively. So the first synchronization is going to be confusing as you will come across year old emails and none of the items currently in your inbox.
That said, Opera Mail does offer you the ability to sort mails by color coded priorities as well as the ability to sort mails by the type of attachment. If those two things are not important to you, then you are better off sticking to webmail.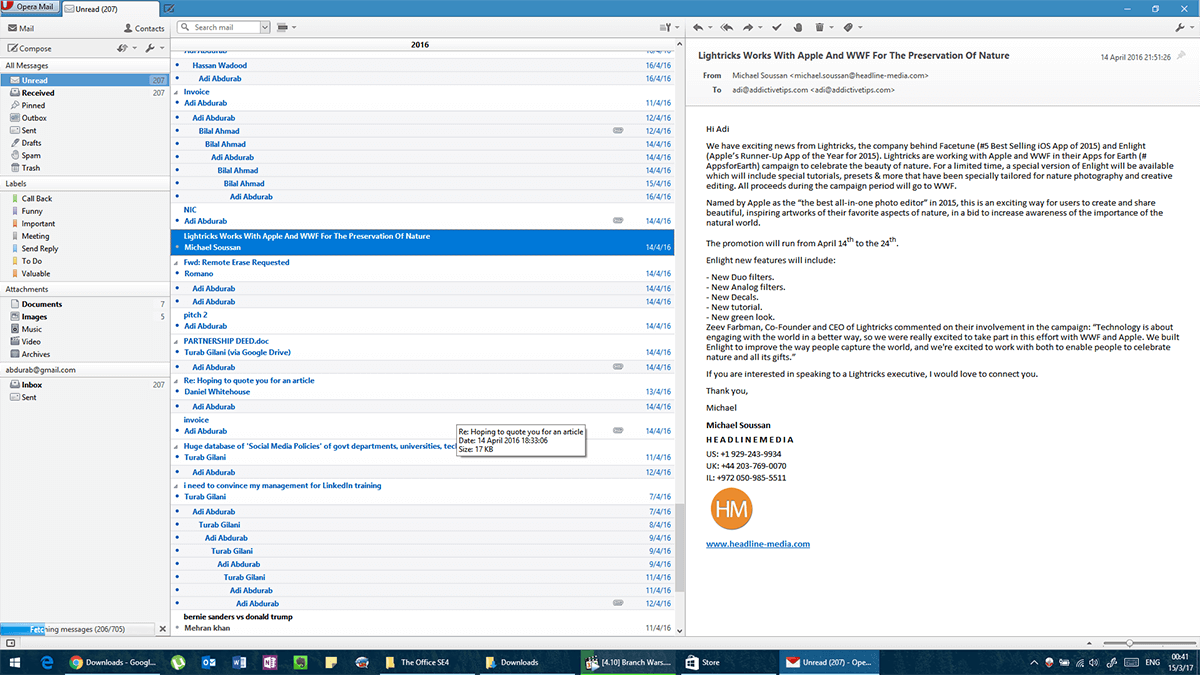 Mozilla Thunderbird
Thunderbird is an open-source email client, by Mozilla, the people that brought you Firefox. You can expect community driven improvements to pop up all the time for what is already quite a powerful tool. After Microsoft Outlook, it might very well be the most efficient client Windows.
It imports all your labels and sorts them to a familiar looking inbox. It doesn't necessarily lack anything out of the box, but you can create a bespoke version picking and choosing from a myriad of add-ons available for it. However, if you are not too technically inclined, you don't have to modify it. It is still pretty solid right out of the box. Thunderbird is an email client suitable for anyone looking for very particular features. It has a large library of add-ons that allow you to get just about any feature you want. Thunderbird's main feature is basically its customizability.