How To Enable And Disable Focused Inbox In The Mail App In Windows 10
Microsoft has added a new feature to the Mail app called 'Focused Inbox'. It is an auto-generated inbox that filters important email into a special, 'focused' tab. Focused Inbox is a long standing Outlook feature. A similar feature called 'tabbed inbox' is present in Gmail. Gmail sorts social media, forum updates, and promotions emails into separate tabs. Important emails go to the Primary tab. Focused Inbox in Mail is rolling out slowly to Windows 10 users. It will eventually be available to everyone on the stable Windows 10 channel. Here's how you can enable and disable focused Inbox in the Mail app in Windows 10.
A Caveat
Focus Inbox does not support all email accounts. The feature will appear in the Mail app regardless which email account you've added. It only works if you use an Outlook or Office 365 email account. For all other email accounts such as Gmail, iCloud, or Yahoo, this feature will not work.
Enable And Disable Focused Inbox
Open the Mail app and click the hamburger icon at the top left. Click the cog wheel button at the bottom of the panel that slides out. This will open another panel on the right. Click 'Reading' on this panel.
Scroll down and look for the 'Focused Inbox' option. Slide the switch On. Your emails will be sorted into two tabs; Focused and Other. The option will be enabled for all Outlook and Office 365 accounts.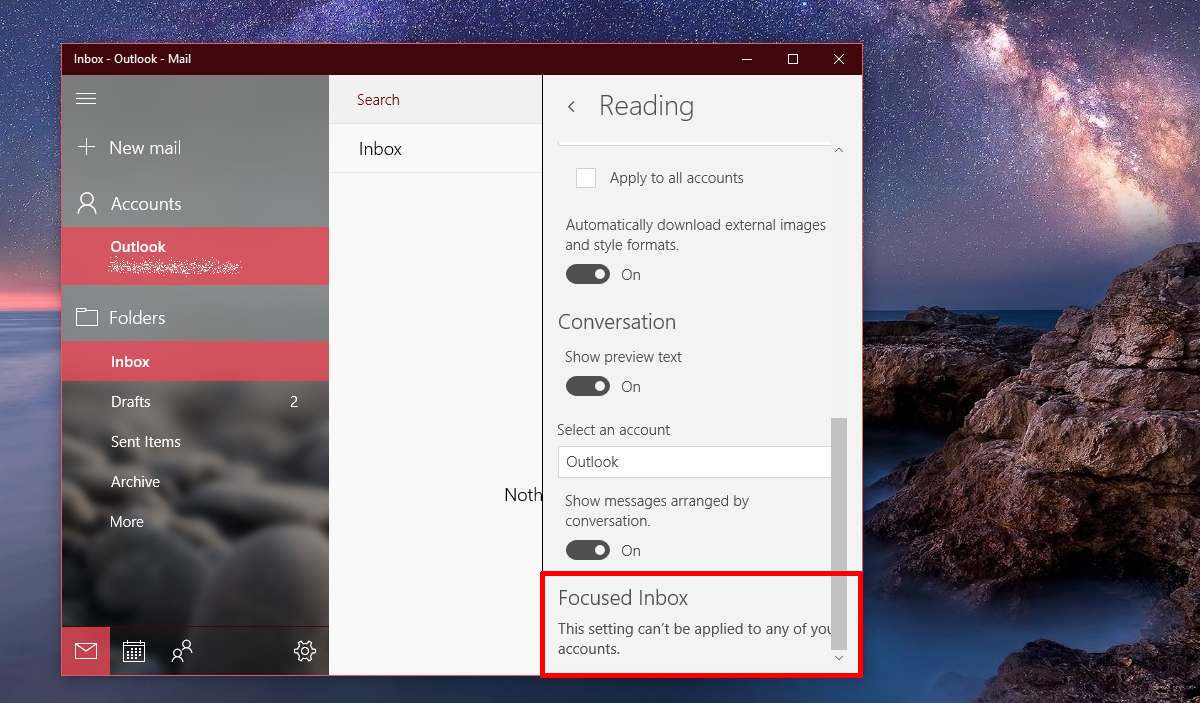 To disable Focused Inbox, return to the Reading pane settings and turn Focused Inbox off.
This Settings Can't Be Applied To Any Of Your Accounts Error
The screenshot above doesn't show a switch to enabled Focused Inbox. Instead, it says the feature can't be enabled for any of the accounts added to the Mail app. We stated earlier that this feature is only available for Outlook or Office 365 accounts. The account added to the Mail app in the screenshot above is an Outlook account. Despite that, the feature still isn't available.
There are two reasons for this; one that Microsoft is still rolling the feature out. You might see the option in the Mail app but it might take a few more updates for it to actually start working. Rest assured the feature is for the stable Windows 10 channel.
The second reason is simply an error on Microsoft's end. Today, Microsoft experienced a service outage that affected most of its services including Outlook and Skype. Give it a few days and the feature should start working for you soon. Microsoft has also added a neat tagging feature in the Mail app that's worth checking out.