How To Download Photos Directly From The Facebook Android App
Whether you realize it or not, Facebook has its hooks into nearly everyone, with many of us spending a huge chunk of our time on the world's largest social network. A great thing about Facebook is that it gives users cloud storage space for saving and sharing all of their pictures and videos from one online location. This practice has made it one of the biggest online photo repositories on the planet. At times, we come across some great photos while browsing our Facebook News Feed on mobile, and feel like saving a copy. Unfortunately, the official Facebook mobile apps don't allow that. Though, if you are on Android, Facebook Photo Downloader provides an excellent solution.
The app lets you download photos from any Facebook profile as long as their privacy settings make them accessible accessible to you. It works in conjunction with the official Facebook app and provides a 1-click download solution without leaving the interface of the official Facebook app, and that's exactly its defining feature. The photo is saved to your device without losing any quality. Lets find out how it works.
The interface of the application is quite plain and simple; it states the whole procedure regarding downloading the photos, though let us make it even simpler for you. The app uses the Facebook Share menu to let you download the photos. You won't need to do anything from Facebook Photo Downloader app, and everything will be handled from within the official Facebook app.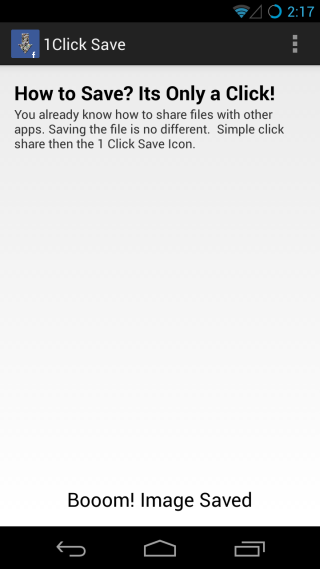 As stated earlier, the usage is dead simple and the app makes it a snap to download your desired photos right from the share menu. To get started, download and install the app on your device and open the Facebook app. Now open any photo that you want to download. The app allows you to download photos associated to your own and other people's profiles.
Next, tap the Share button from the menu followed by tapping '1Click Save' and voila! The image will be downloaded and saved to the internal storage of your device in a folder labelled Facebook Pics.
All in all, it's a very simple and lightweight Android app for quickly downloading Facebook photos. Though the lack of support for downloading full albums means you can't use it to grab photos in bulk from Facebook. The app is available for free at Google Play Store.
Install Facebook Photo Downloader from Play Store