AutoSync Automatically Enables Account Syncing When WiFi And/Or Power Is Connected [Android]
An Android device can hold multiple online – mail, social and third-party app – accounts, and keeps them in sync with their respective services. What's even better is that users have considerable control over this sync feature. For instance, you may disable syncing a specific account, opt to exclude syncing certain aspects of a selected (mail) account, specify the auto-sync frequency of certain accounts, or disable the entire automatic syncing feature with a mere tap. The catch with keeping the auto sync option enabled for a prolonged time period is that, not only can this hog your device's battery resources, but also eat up precious data bytes, which is something that limited data plan users can ill-afford. Of course, you can manually control the sync feature as per requirement, but why go through all the hassle when you have AutoSync at your service. This miniscule yet handy Android app presents you with as many as five different predefined conditions under which the auto sync on your Android device will be automatically activated.
For those unaware, or who want to manage their various accounts before availing the app's sync automation feature, you can access your accounts and the sync feature by navigating to the Accounts & sync screen from within the main settings interface. Said screen lets you enable/disable the universal or individual account sync option.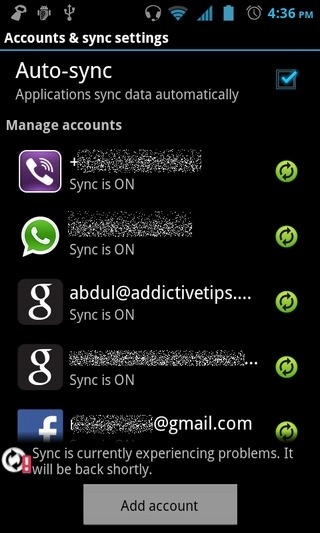 Enough of the beginner's guide, I think – let's shift our focus back to the app itself. With AutoSync installed on your device, you don't need to enable or disable the sync feature manually, since it automatically controls the mechanism as per the chosen condition. Below are the five conditions/rules that AutoSync takes into consideration to automatically trigger the syncing process:
External power is connected
WiFi is connected
Either external power or WiFi is connected
Both external power and WiFi are connected
Manually (default)
Each supported condition is quite self-explanatory, and needs no detailed interpretations. However, it is worth mentioning here that, depending upon your requirements, any supported condition can come in quite handy. Once the app is launched, all you need to do is select the preferred condition, hit Save, and leave the rest to AutoSync. A toast notification helps you keep an eye on the current status of auto sync on your device. The app was successfully tested on Galaxy Nexus.