MX Player For Android Gets Background Playback & New Hardware Decoder
MX Player, the out-and-out favorite video player of most Android users that plays almost all renowned file formats, has just received a massive update in the Google Play Store. Currently standing at version 1.7, the powerful video playing and streaming app by J2Interactive has been updated with a brand new logo, Vietnamese language translation, a new & more powerful hardware decoder called H/W+, added support for Tegra 3 devices, x86 CPU, FFmpeg build, enhanced audio/video sync (with software decoder), improved seeking speed, and plenty of bug fixing. However, the most significant feature addition in the entire update remains background playback, meaning that the app is now capable of persistently running videos in the background, too, allowing users to enjoy just the audio part of it. To avail the background playback feature of MX Player, all you need to do is hit Menu > Play > enable the Background play option while playing videos in full-screen. Please note that the aforementioned hardware acceleration might not be supported on all Android devices. Instead, if your device supports hardware acceleration, you'll be prompted by the app upon first launch whether you want to set it your default hardware decoder or not. More details on the update past the break.
With the Background play option enabled, all you need to do is hit the back/home button on your Android to turn MX Player into an audio player. Like any quality music player, MX Player installs a tidy widget to your Android's notification panel, complete with basic playback controls and playback duration counter. To switch back to video mode, just hit anywhere on the widget. Want the background playback to be enabled universally for all videos? Navigate to Menu > Settings > Player, and enable the relevant option.
In terms of UI, there are no noteworthy changes; however, the video screen list has been updated with a fast scrollbar feature. Scrolling the list up/down now displays a semi-translucent line near the right edge, swiping vertically on which lets you quickly navigate to the required files – handy for relatively long lists.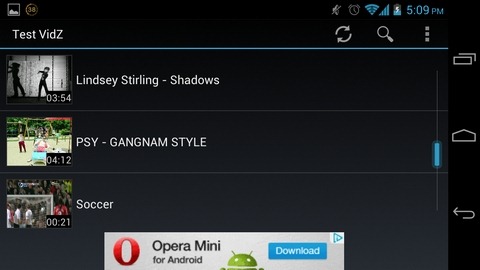 Most of the routine performance enhancements and the stabilized software decoder support are meant to address issues faced specifically by Tegra 3 devices, including Nexus 7, HTC One X, ASUS Transformer Prime and other supported devices.
MX Player is now available in the Google Play Store as a free (ad-supported) and $5.37 ad-free variant. Download links to both the versions of MX Player are provided below.
Download MX Player For Android