pocket.do: Remote Android Management & Control Suite With A Spy Camera
When it comes to remotely managing an Android device, most users prefer AirDroid or Moborobo over any other alternative solution. With both said solutions being so comprehensive with their respective set of features, it is somewhat hard for a new entrant to impress the masses. That being said, there are still some areas of interest that can be tapped to present users with a rather different and refreshing solution, and this is exactly what pocket.do does. Fresh to the Play Store, this free Android app lets its user remotely control as many as five different aspects of their device from their desktop browsers. It supports managing text messages & contacts, viewing, editing & sharing Gallery photos, tracking lost device, triggering alarms, activating spy cam, capturing screenshots, and lots more, all completely wirelessly. Connection between the browser and the device can be established over Wi-Fi, as well as 3G, and the beautifully crafted layout of the web app makes accessing the required features a breeze. In addition, unlike most similar solutions, it supports multiple connection/pairing modes: using Facebook or Google ID, or by scanning a QR code from your device.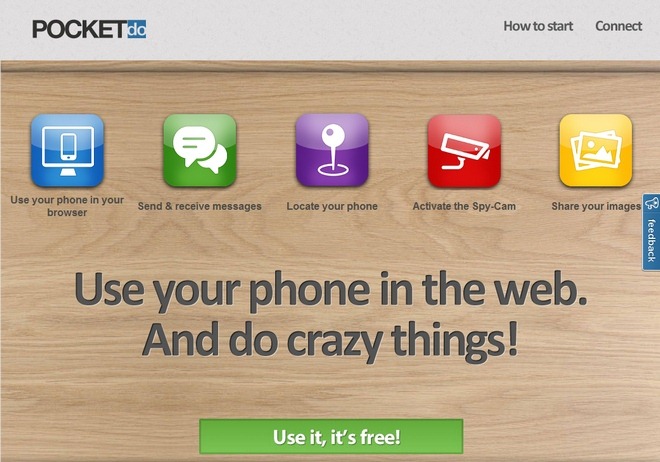 Using pocket.do is quite simple, too. All you need to do is navigate to pocket.do on your browser, and install the mobile client on your Android. The mobile app lets you use an additional layer of security in the form of password protection. If that's the case, you'll have to feed in the correct password on your browser post-pairing. Once successfully paired, you're good to go.
Let's now take a closer look at each of the app's five features. Messages
Search for and view your entire SMS threads
Export messages
Delete individual SMS or complete conversation
Real-time notifications for new messages
Compose new messages, add emoticons, and send texts to multiple recipients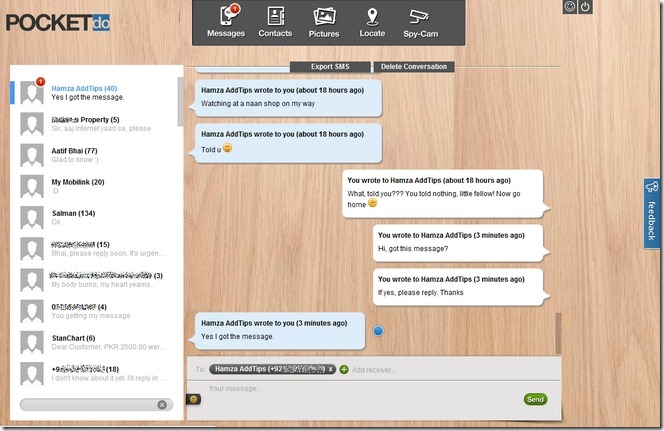 Contacts
Add new contacts
View & edit contact info, including photos, phone numbers, mail addresses, groups, affiliated app accounts, addresses, custom notes, and social profiles etc.
Pictures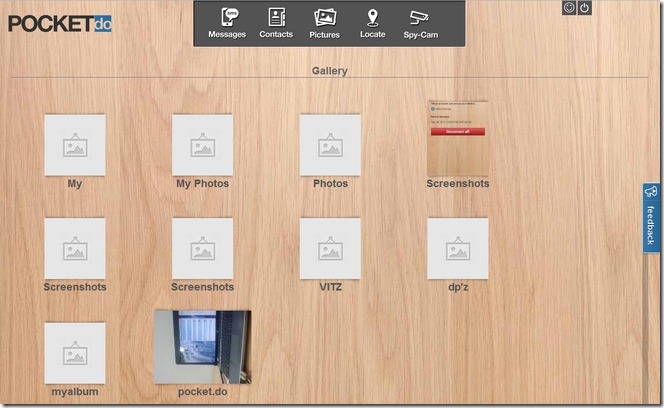 View, manage and share all your Gallery images in one place
Built-in photo viewer with quick edit, delete and share options
Option to share images on Facebook or via a public link (with custom expiry interval)
Native support for image editing via the feature-packed online Pixlr editor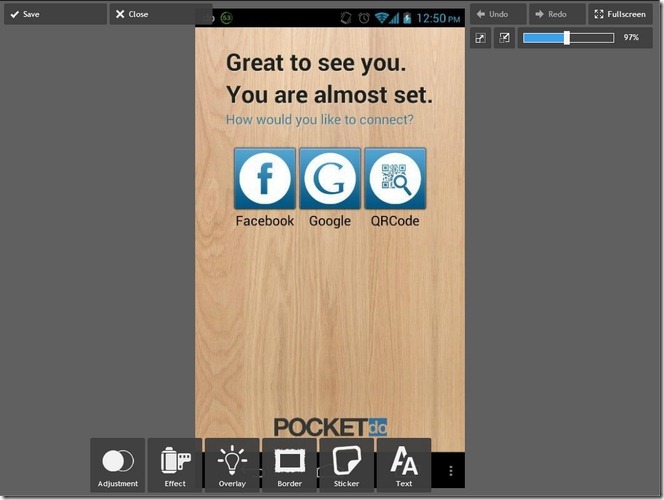 Locate
Locate your lost device or track its location on Google Maps in real-time via GPS
Benefit from extensive details, such as tracking time, latitude, longitude, accuracy, altitude, bearing, speed and satellites
Remotely sound alarm to find your misplaced device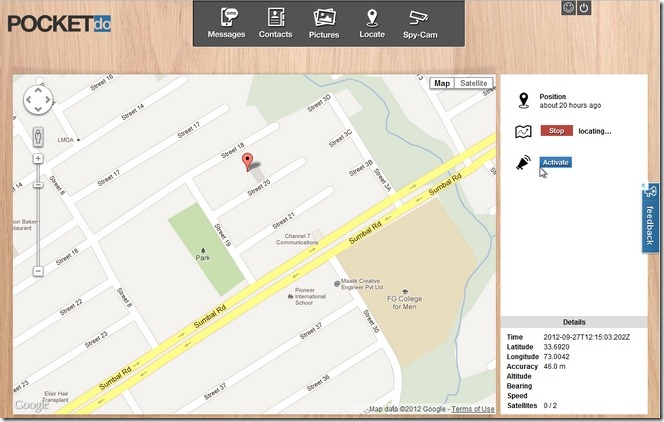 Spy-Cam
Remotely activate your Android's camera, and preview live video on your browser
Capture screenshots according to user-specified snapshot delay
Adjust zoom levels
Rotate the view clockwise or counter clockwise
Trigger flash mode, scene mode, as well as white balance mode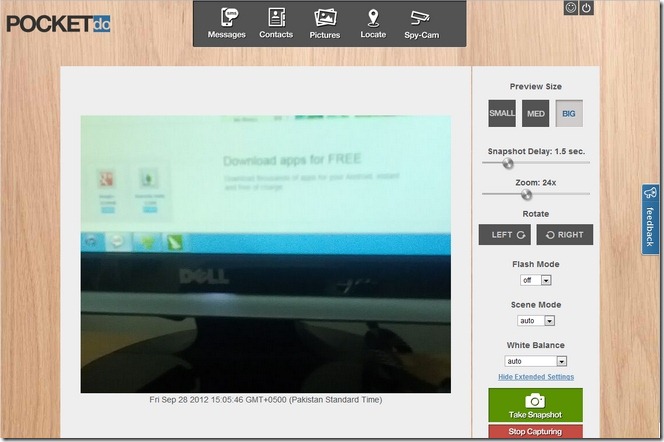 The app has successfully been tested will all said features; however, just occasionally, it failed to load image thumbnails. All in all, it's quite a stable product that has the potential to earn good respect from worldwide users.
Download pocket.do For Android