AirDroid Receives Mega Update, Adds Screen Mirroring, File/APK Drag & Drop, Video Streaming & More [Android]
When we reviewed the debut version of AirDroid last November, it was already one of the best, most comprehensive Android managers out there, offering wireless control and management of almost every single facet of Android devices. If you thought that the app already had enough on offer and couldn't get any better, think again! AirDroid has just recently received a massive update (to v1.0.5) that has helped the app step up several notches from the rest of the competition.
Along with retaining all the goodness of its initial release, the updated version of AirDroid brings plenty of new features, such as
totally

revamped and polished

homescreen

and web browser interface

much

convenient and safer login options

facility

to view your device's screen stream in real-time and grab screenshots right on your desktop web browser

extended

clipboard features and the option to remotely transport URLs from the computer to open them directly on your Android browser

multiple

desktops to expedite your remote Android management manifold

various

weather and calendar widgets.

option

to Speed Install APKs and Speed Upload content (via drag & drop) right from the desktop

an

Android homescreen widget to quickly establish a connection between your mobile device and the browser by simply

switching the AirDroid toggle On.
In addition, you can also manage and stream your mobile videos directly on your browser, view extended device information along with the matching picture of your device on the web interface, and lots more.
As mentioned earlier, the mobile and web interface of AirDroid have undergone a massive change. AirDroid now uses the HTTPS protocol to allow you to establish an even safer remote connection between your device and computer. Furthermore, it no longer requires you to feed in the extensive IP address and port number to establish a login session. Although said option has been retained, it can only be perceived as an alternative/secondary means of connecting to your device from the web browser.
Instead, a much easier, safer and instant login mechanism has been introduced in the update. Now, all you need to do is open web.airdroid.com on your web browser (preferably, Chrome), launch the AirDroid mobile client, and either hit the camera button to scan the QR code displayed on your desktop web browser, or just feed in the passcode displayed on the app's login screen to establish the remote connection between the computer and your Android device. That's it; you may now put your device to rest and take its complete control from your desktop browser.
On your computer web browser, you are greeted with an altogether overhauled interface, complete with added controls, icons and desktop widgets. Apart from the shortcuts to your Android contacts, text messages, photos, ringtones, apps, call logs, local storage, music and current battery/Wi-Fi signal status, you'll also note a couple of added icons. You can now easily reach out for your frequent contacts, natively capture screenshots of your current home screen and manage (play, download and delete) videos. If you're searching for the Market (Google Play Store) icon, it is now accessible in the form of a search bar embedded within the main AirDroid widget that is visible at the top of the screen. Using the search bar, you can now search for the required Android apps on the Google Play Store and Quixey.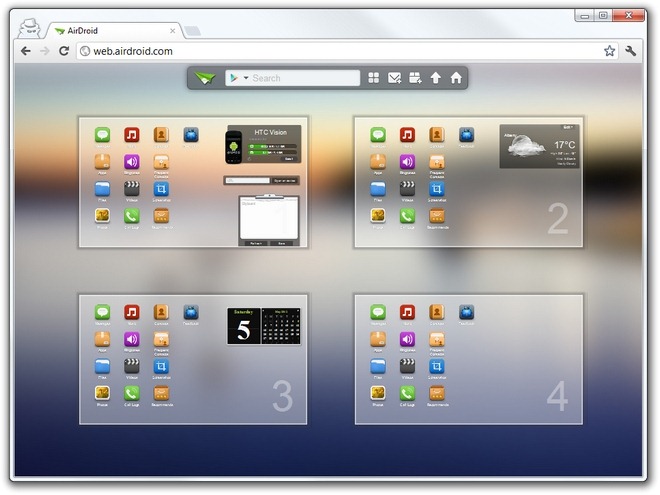 Other tabs/buttons present on the main widget let you switch to a different desktop, send a quick text message, speed-install apps to your device (via APKs), instantly upload files to your device's local storage via drag and drop, and return back to the home desktop with a single click. AirDroid offers you as many as four different desktop interfaces that you can utilize to manage various supported aspects of your device at once. For instance, you can have your files opened on one desktop, with the Android Detail widget displayed at the top-right corner and at the same time, using another desktop, you can remotely manage and playback all the music tracks stored on your SD card, with the calendar and weather widgets keeping you apprised of the current date and weather forecast (of a region of your choice).
All the supported AirDroid widgets are of floating nature, which means that you can move them across various desktops, and maneuver them on the current desktop as per your requirement. The URL opener widget works as smoothly and effectively as the clipboard management widget, hence you no longer need to manually feed in extensive text bits or required URLs on your device.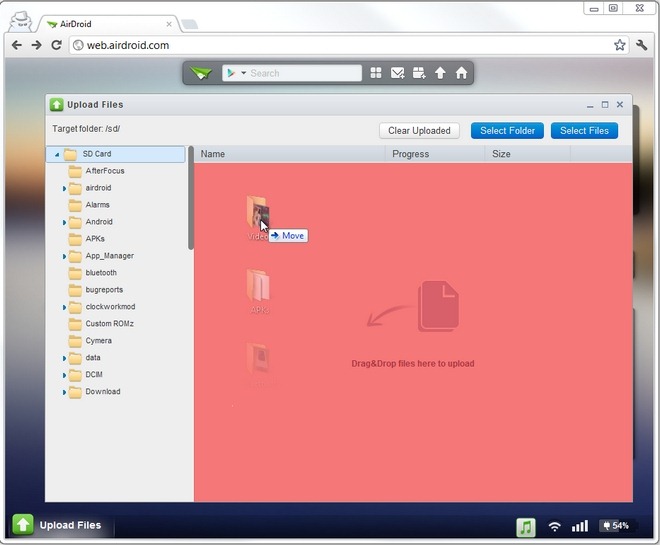 The screenshot capture tool of AirDroid is a welcome addition, too, especially for regular app reviewers like me. Said feature is very much reminiscent of the screenshot grabbing tool that we've already seen in the previously reviewed Android and iOS management app, Moborobo. Once you hit the Screenshot icon, you get your Android device's screen streamed to your web browser window in real-time. The screen refreshes almost every second, and you have the option of pausing the live stream process to capture screenshots or view what's being displayed on that particular screen. Tapping the full-screen button provides you with an enlarged view of your Android home screen. While in full-screen mode, you can also control the speed at which the images are streamed from your device's screen. The catch with capturing screenshots via AirDroid is that it works only on rooted Android devices. To learn more about rooting, you can go through our collection of root guides for Android devices.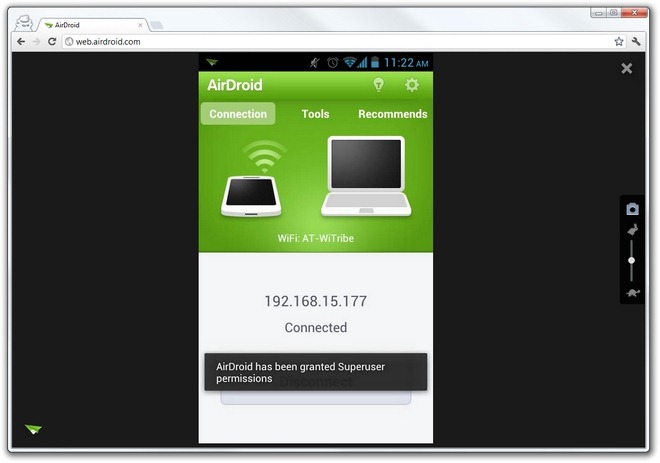 Apart from all aforementioned goodies, the updated version of AirDroid also brings enhanced and optimized file, photo and music management features. In order to stream your Android videos to your computer, you must have the latest version of QuickTime player installed. All the minor bugs and glitches that we experienced in the previous release of the app have been removed, especially the ones that were present in the messaging and music playback segment of AirDroid.
With all the new and improved features that it now supports, AirDroid has certainly covered a lot of ground to come close to challenging Moborobo as one of the most comprehensive and effective remote Android management tools. The advantage that AirDroid still holds over its competitor is that it doesn't require you to install and set up a desktop server, as all the wireless Android controlling can be achieved through your daily-use web browser.
So, if you haven't yet received the update on your device already, or just intend on giving the revamped app a good first try, hit the link provided below to head over to the app's Google Play Store page. AirDroid is free to download and use, with no limitations.