Popcorn Player: Free Holo-Themed Floating Video Player For Android
With the conception of the very first floating Android app, one thing was for sure: the idea is bound to become an instant hit among users. As expected, ever since then, Google Play Store has regularly been bombarded with numerous apps based on the concept of popup/floating/resizable window(s). In terms of free and most feature-rich video playing & streaming apps belonging to said genre, Super Video Floating & Popup and MoboPlayer by Mobo Team are the two that deserve a mention. If you're still undecided over selection between both said candidates, we're going to make the task even more difficult for you, as a new 'player' has just appeared on the horizon; it's called Popcorn Player, and has simplicity and intuitiveness written all over it. Like both aforementioned apps, Popcorn Player supports playing and streaming high quality videos through an omnipresent resizable, movable and floating window, as well as in full-screen mode. Designed to run specifically on Honeycomb or higher Android devices, this Holo-themed app lets you simultaneously enjoy a couple of different videos, whether local or those fetched directly from YouTube. It supports playing/streaming videos in MP4 and WebM formats, lets you minimize player window to easily navigate to your required app/homescreen, keeps track of the last played position of each video, and on top of all that, doesn't annoy you with on-screen ads.
Whether you're looking to take notes from the video coverage of last night's seminar, trying to get past the difficult phase in an ongoing game by streaming its video walkthrough, or trying to judge dance moves of two contestants by watching their performances side-by-side, Popcorn Player has you covered.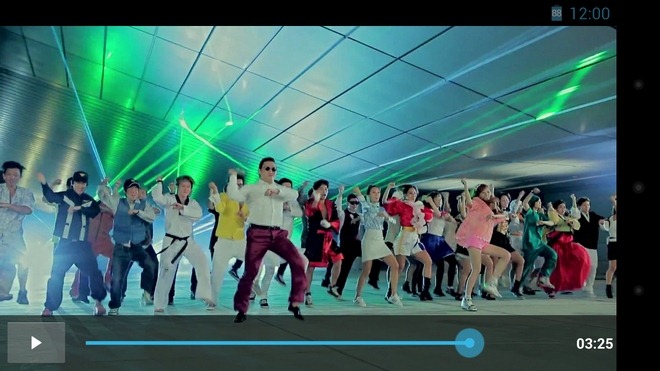 Another commendable aspect of the app is that it does not perplex you with extensive customizations and navigation menus. Instead, it's all pretty straightforward, and readily available. All you need to do is hit the app's icon to launch the player, select the required source of video (Internet or Local), and you're good to go. Needless to say, each video window of Popup Player is resizable, movable, persistently remains visible on screen, and can be minimized upon requirement. To switch to full-screen mode, just double tap anywhere on the player window.
Should you opt to play some local video from your device, the app lets you decide whether you wish to open it directly via a popup window or in full-screen. For this, you'll need to long press the required file and then make your selection accordingly. To move the popup window on screen, hold it down and then drag it anywhere you want. To resize it, hold down the blue indicator in the bottom-right and drag your finger to the required position. Users looking to stream YouTube videos via the app are going to appreciate its clipboard monitoring feature, since it saves you from manually keying in the extensive video URLs.
The app has been tested on Galaxy Nexus (running Android 4.1.1), and we can confirm that it works as smoothly as a video player possibly can. However, in terms of features, Popcorn player is still way behind most of its free competitors. Lack of support for common video formats and a native YouTube browser, minimal control over video playback, and its inability to stream videos from other known online services (Dailymotion, Vimeo etc) are some of the goodies that we'd love to see incorporated within the app in the coming updates.
Just to remind our readers, Popcorn Player is currently compatible with Android 3.0 and higher devices only.
Download Popcorn Player For Android