MoboPlayer: Free, Feature-Rich Android Media Player With Floating Window
Android users have the option to resort to some quality media playing apps in order to enjoy their favorite music and videos on their devices. Previously reviewed MX Video Player, Wondershare Player and Super Video, Floating & Popup are a few names that deserve a mention in discussion of some of the most feature-rich, free media players for Android. While all aforementioned names are relatively new to the scene, there are a few candidates that have been around for quite some time now, trying to attract masses with their own set of goodies. One such very fine app has been MoboPlayer that is not only graphically rich, but packs enough quality and a broad set of features to be given a shot. As the article progresses, you shall be able to unveil the amazingly impressive features that the app possesses; however, it is worth mentioning here that with the latest update, MoboPlayer has transcended beyond being just a simple media player, as the Samsung Galaxy S III style floating window capability has been thrown into the mix as well. This particular feature of the app allows you to enjoy your favorite videos atop your Android's homescreen or any other app that you want to have opened on your device without interrupting video playback.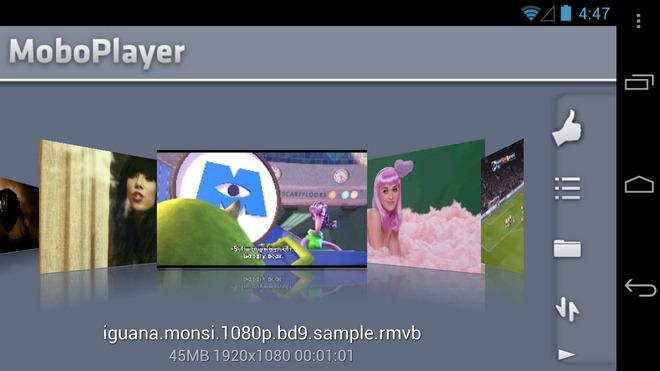 Android 4.1 Jelly Bean users can rejoice, too, for the support for ARMv7 Neon processors has been included within the latest update. Before proceeding with the recently incorporated floating window feature of the app, let's find out what other conventional features MoboPlayer has on offer for your media playback needs. Here's a quick rundown of the app's most noteworthy features:
Support for almost every known audio and video file format including AVI, MKV, FLV, WMV, MP4, MOV, MPV, 3GP, MP3, WMA, OGG, VOB and more
Plenty of external video codecs to choose from to match your processor requirements
Integrated subtitle support for SAA, SRT and ASS formats
Visually rich media library, with the option to switch between a simple list view or a well-polished 3D gallery view
Built-in dual pane file explorer in landscape and tablet mode
Support for multiple audio streams as well as multiple subtitles
Option to show hidden files within the media library
Custom media directory specification as well as the option to specify files types to scan
Gesture-based controls for adjusting volume and brightness levels, as well as to jump to a desired video position
Option to use volume rocker to control media playback or volume levels
1-tap controls for locking video screen, toggling video aspect ratio, and selecting between hardware/software decoding
Automatically resumes video playback by remembering last played position of each file, and supports continuous playback of similar file types
Option to customize playlists, app background, subtitle settings and various other app settings
Support for video streaming via HTTP and RTSP protocols
Option-packed dropdown for each file to replay, rename and delete it, check its property, add to playlist, or set the default decoding mode for it
On-screen battery and time indicator
Pop-up video feature that allows you to instantly switch from full-screen mode to floating window mode in order to be able to use other components of the firmware without disrupting video playback.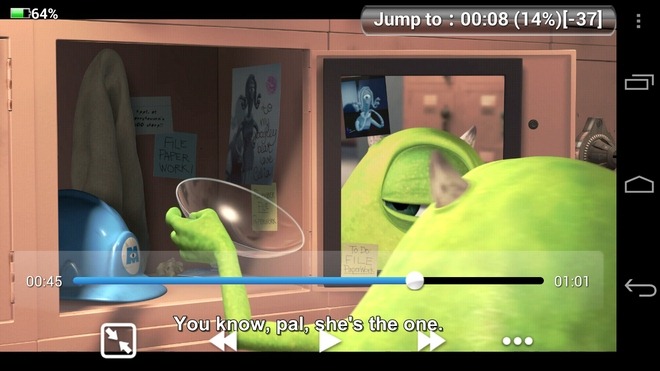 To switch to windowed mode, just hit the home button while viewing videos in full-screen. To shift back to full-screen mode, you'll need to hit the app's icon. Using various controls on the video window, you can toggle between window sizes and close the app altogether. To pause playback, double tap anywhere in the middle of the window, whereas to reposition the window, just hold down on it and drag it to the desired position on screen.
Personally, I feel that the floating video aspect of MoboPlayer can be beefed up with several other options, including enhanced video playback control, customizable window resizing options, and shortcuts to access several other core features of the app. However, one cannot complain too much to get their hands on a feature that normally comes with other relatively constrained apps for a hefty price tag.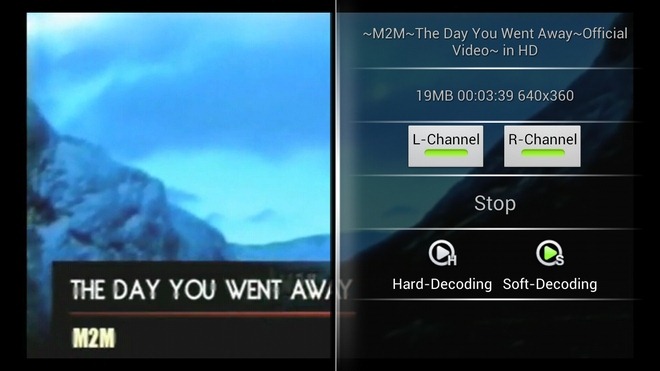 All in all, MoboPlayer ticks almost all the boxes that a quality smartphone media player app should in order to attract the audience. However, that doesn't imply that the app is without any blemishes. During a brief test run, it refused to play audio with most x264 MKV files, subtitles didn't seem to work in windowed mode, and had some issues in handling videos with relatively large screen resolutions. On the whole, you can rest assured that MoboPlayer has what it takes to become a default media playing and video streaming app on your Android.
Download MoboPlayer for Android