Reboot An Android Device Easily From Windows System Tray
Not that it's impossible or even hard for a user to reboot an Android device into recovery mode, bootloader, or for that matter a simple reboot by pressing one or multiple keys on the device, it's much cooler and convenient to do it right from a PC if the device is connected to it via USB. Well, it has always been possible to do so, you had ADB commands for the geeks who knew what they were doing, and that required you to set up the Android SDK and what not. There are all in one toolkits available for most of your specific devices as well, but why complicate things? RegawMod Rebooter by regaw_leinad over at XDA-Developers is easily the most simple, nonsense free tool you can greet yourself to for handling all your rebooting needs. The tool needs no ADB or anything to work, but USB drivers for your device are needed. So as soon as you download the tiny 1mb file, you're good to go.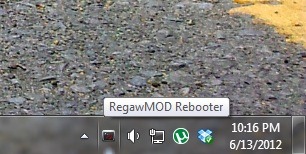 Once you launch the tool, you will not get a pop up or any such notification. It will quietly seat itself in the system tray. The tool is portable and does not require any installation, which is the best part about it and will work on almost every device out there. We tested it out on the SGS 2, Galaxy Nexus, HTC Desire HD, Nexus S, and it worked as it's supposed to. The tool supports multiple devices and allows you to select the device you want to reboot.

How does it work you ask? Simply right click on the notification in the system tray to bring up the options. You can now power the device off, reboot it, reboot it into recovery or bootloader. For those wondering how the bootloader command will work on the Galaxy S series or Samsung devices for that matter, it will take the device into download mode. As far as HTC or Motorola devices are concerned, it will take you to the bootloader mode.
That's about all the magic this tool can showcase, and to be honest as little as the device offers, it is actually something very huge and convenient for the non geeks and for those who's phone is connected to the PC quite often.
For updates and queries, head over to the forum thread at XDA-Developers.
Download RegawMOD Rebooter 1.1