Remotely Manage Multiple Android & iOS Devices With Droid Manager
If you want to remotely manage a single Android device from your desktop browser over your home network, AirDroid and several similar alternatives can suffice quite adequately for the purpose, but what if you wanted remote control of multiple devices from your computer over Wi-Fi as well as the internet? Enter Droid Manager – a comprehensive mobile management & security app for Android and iOS to remotely define and trigger location-based notes & events (system settings), wipe mobile data, secure sensitive apps, lock device screen, manage your device's multimedia & other files, push custom URLs to it, track call logs & text messages, check current device settings status & unattended phone notifications, and keep a close tab on multiple devices right from your browser. All in all, Droid Manager could prove to be a very handy utility for individuals as well as small-scale organizations, since it puts you in complete control over remotely accessing and managing several mobile device in just a matter of a few clicks, without having to rely on a dedicated desktop server.

Configuration
In order to access Droid Manager's features, you must first log in with a Droid Manager account on all the devices as well as the desktop browser. The account will be used by Droid Manager as a master ID, binding all the registered devices – whether Android or iDevices – together. Registration is free, and you can sign up for a new account right from the mobile app itself, or by visiting the Droid Manager website (link provided at the end). The app supports registration through an email address, or your Facebook, Twitter or LinkedIn ID.
Web App & Browser Extensions
Once you've signed in with the master account on all the mobile devices, you're ready to remotely manage them from the Droid Manager web app. The app's UI is split into various tabs, each providing instant access to the connected devices as well as the features discussed above. A compact widget at the top lets you view the device name, current battery status, mobile network provider and notifications for missed calls and new SMS messages. In addition, you can toggle the selected device's Wi-Fi, sound profile and Bluetooth.
Droid Manager browser extensions are available for Chrome and Firefox, and allow instant remote access to your text messages from the browser. You can also push any website URLs from the browser to the mobile devices.
Let's now take a look at the other remote control and management features offered by the web app for your devices. Note that most of these features are available for Android devices only, while some of them work for iOS devices as well, as we'll detail below in the sections for these devices.
Location-Based Reminders & Automated System Events Setup: The Locations tab can be used to remotely create location-based reminders on your mobile in the form of custom notes supplemented by brief comments. Moreover, you may use this feature to specify custom rules for automatically triggering various system features – Wi-Fi, Bluetooth, sound profiles & vibration – on your Android device upon leaving or entering a particular user-defined geo-fence on the map. In this regard, you are first required to define the required points of interest on map, complete with their precise geographic coordinates, relevant geo-fences, custom color indicator, and the notification setting itself. You may manually navigate to the desired location on the map, or use the app's dedicated search bar to instantly look for it.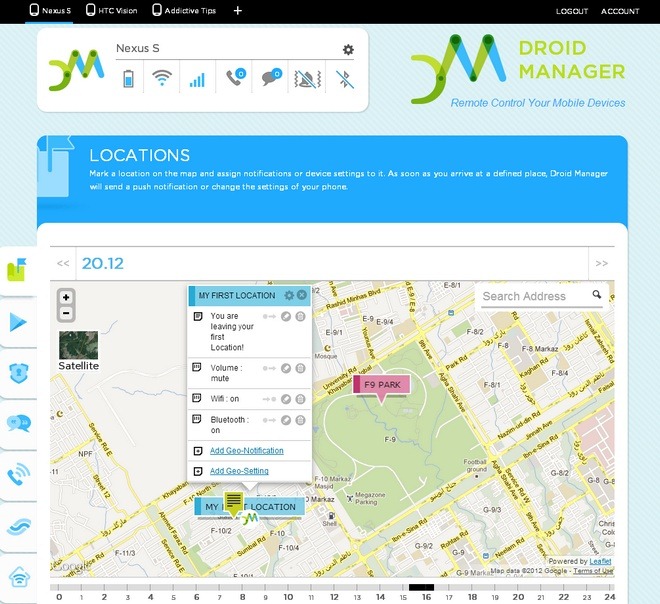 After the required points have been added, you can start defining your custom rule-based events and notes for each place in terms of both arrival and departure. For instance, you may set your device to silent upon reaching your workplace, set a custom notes-based reminder when in the grocery store, enable Wi-Fi upon reaching your home, activate vibration mode while in transit, or disable Bluetooth when at a certain location.
Applications: From the Applications tab, you can view and search for apps installed on the selected Android device. Moreover, you may temporarily block certain apps, view the trust status of each app, or recommend an app to your Facebook friends. Apps blocked via Droid Manager can be unblocked through the unique unlock code that can be generated from within the web app itself.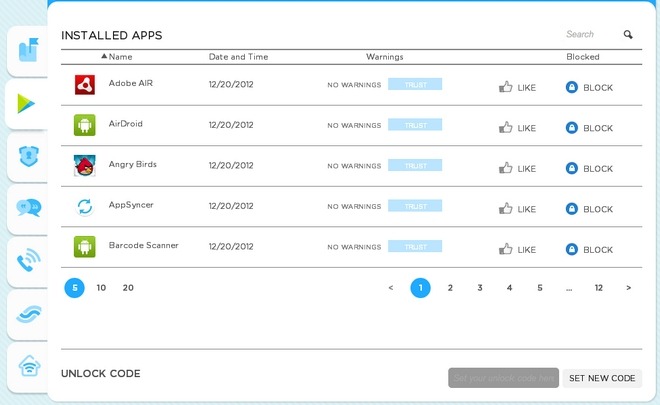 Security: The Security tab lets you specify and remotely apply a custom password so that you may protect your Android devices from unauthorized access. You can also remotely lock your device's screen, or erase all your data on it in case the device gets lost or stolen.

Text Messages: As the name suggests, the Text Messages tab caters to all your SMS viewing and replying needs, right from your desktop browser.
Phone Calls: Lists your incoming, outgoing and missed calls. You'll also get real-time alerts for new text messages and calls on your desktop toast notifications on your browser, or email.
Stream Messages: A dedicated messenger that allows remote sharing of texts and URLs to select or all connected devices via push notifications.
Local Connection: Perhaps the most feature-rich tab of the entire package, the Local Connection section enables you to remotely browse your Android device's content from under three main sub-sections namely music, files and pictures. In order to use this feature, the required devices must be connected to the same Wi-Fi network. To secure the remote connection session, you have the option of using a Remote Access Password. All you need to do is navigate on the desktop browser to the URL / port as displayed under the Local Server tab on the Android app, and voila!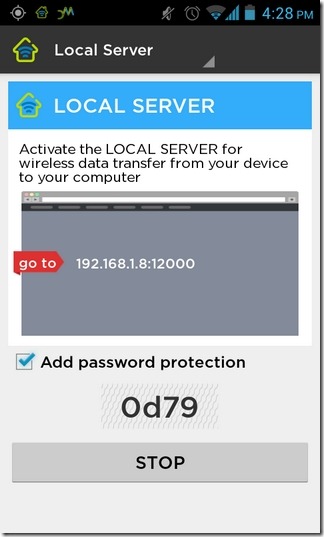 You can now play around with your SD card content, batch upload or download files between the computer and the mobile device, preview files, create and extract compressed archives, search for required files, and remotely manage all the stuff as you like.
Android App
The Android app is neatly designed, and is void of any perplexing configurations to keep it simple. Once you log in with your Droid Manager account, you're greeted by a few tutorial screens followed by the app's Dashboard UI listing your current location, stream posts and various location-based notes & system events.
Using the dropdown menu at the top, you may jump to the app's Locations, Stream Messages and Local Server screen. The last of these options has already been discussed in the web app's Local Connection section.
The Stream Messages option can be used to view, create and push custom messages, whereas the Locations tab operates more or less in the same way as has already been described for the web app.
iOS App
Most of the aforementioned features of Droid Manager are exclusively available to Android users only, whereas iOS users can currently benefit from the app's location-based notes, reminders and remote content streaming features in a way similar to that described for the Android app above.
Conclusion
While Droid Manager emerges as a nifty location-based reminder and remote message streaming app for iOS, it can be seen as a worthy competitor of AirDroid and other remote device managers & protection services available for Android. In fact the app's ability to allow remote management of multiple Android & iOS devices over Wi-Fi as well as internet puts it in a league of its own. That said, the app still has plenty of scope for improvement and addition of new features to be cited as the ultimate remote mobile management, task automation and security tool for both Android and iOS
The Droid Manager service is available in the form of three different package plans: Personal, Family and Business. The Personal plan is free forever and allows remote management of just one device at a time. The Family and Business plans, however, allow simultaneously management of multiple devices, but this luxury comes at a certain yet-undisclosed cost. The mobile apps are available for free for both platforms.
Download Droid Manager For Android
Download Droid Manager For iOS