SpeakMe Reads Notifications Aloud For Selected Android Apps
How often do you find yourself in a situation where you have to repeatedly reach for your Android device just to see if the last notification was about an important email you were expecting or just another promo SMS by your mobile carrier? Wouldn't it be helpful if your device could itself read the content of the notification out loud, especially on occasions when you're driving or too busy to be checking your device for notifications? While iOS users have been able to benefit from the likes of VSNotifications and TitleSpeak in this regard, it's more of a surprise that there aren't too many similar solutions available for Android users. However, SpeakMe, an absolutely free Android app, looks to turn things around, and that too, in some style. The app utilizes your preferred Text-To-Speech (TTS) engine, and puts you in control over the selection of apps for which you want it to speak notifications aloud. You can select as many apps as you like, and for each app, you have the option to specify a custom delay between the arrival of notifications and their narration. If you don't want the content of your notifications to be revealed publicly, you can set the app to simply announce the name of the app for which the notification has been received. The app is capable of making notification announcements even in silent mode, but if you don't wish to be disturbed, you can disable the app's service with a mere tap.
Using the app's Shake To Silence feature, you can trigger its service from anywhere in the OS just by shaking your device. In order to be able to use the app, you're required to enable the accessibility settings for SpeakMe from your Android's main settings app. To help users get a grip of its features, the app welcomes you with a couple of tutorial screens.
The UI is as pretty simple. All you get on the app's home screen is a large button that can be pressed to enable/disable the accessibility settings for SpeakMe. In addition, you may also select your favorite TTS engine from the same screen. Various buttons at the top let you silent the app, access its main settings screen, and select your preferred apps.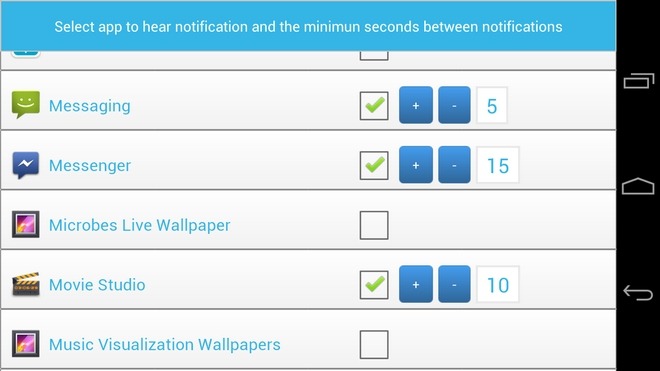 While on the app's selection screen, you can pick multiple apps to enable notification narration for. SpeakMe supports both system and third-party apps. Once an app is chosen, you're presented with the option to set the time (in seconds) after which its notification should be announced. Android users who want similar, yet extended, functionality for text messages only may want to check out our Sonalight –Text By Voice and Nuance's Dragon Mobile Assistant reviews. Besides reading incoming texts aloud, both apps let you reply to messages without requiring you to touch your device.