Batch Compress PDFs To Reduce Size Without Loss Of Quality
If your common method of sharing PDF files is through email, or any other internet-dependent medium, it is important that the documents are small in size. The purpose of any compression app is to reduce the size of the file without bringing down its quality, but unfortunately, many do bring down the quality while compressing. If you are looking for a way to reduce the size of your PDF documents without decline in noticeable quality loss, you are in luck. PDF Compressor is a brand new Windows app that allows you to compress your PDF documents and reduce their file size. The app is capable of processing thousands of PDF files at one time in batch mode, according to the developer. The best part about the app that it's touch enabled, which means you can use it easily on a Windows 8 Pro tablet. The simple interface ensures there is absolutely no learning curve for common users.
Normally, Adobe PDF Reader is the tool of choice when it comes to viewing, creating and editing PDF documents, however, it does not have any native options to compress it to a smaller size. A bigger file size means that it will take longer for the file to be uploaded or transferred and more bandwidth will be consumed. File compression can take care of all those issues.
The main interface of PDF Compressor is drag & drop supported. To add files, simply drop them over the interface, or use the Add Files and Add Folder options. Once added, you will see the Name, Status, Size, New Size, Reduced Size, Format, Output File and Full name columns for each and every file.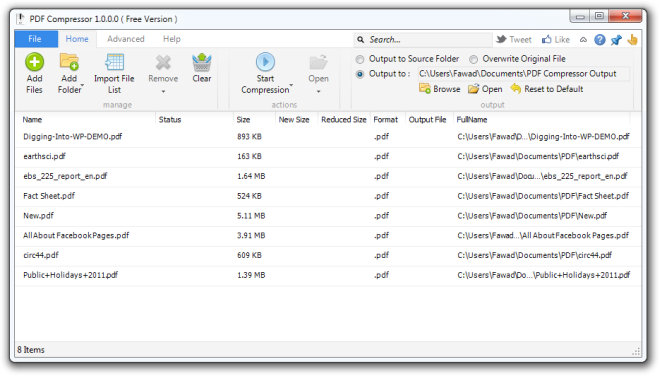 After checking if all the files are in place, select the Start Compression button at the top. You can choose to Process All, Processes Selected Files or Process Failed Files depending on your requirement.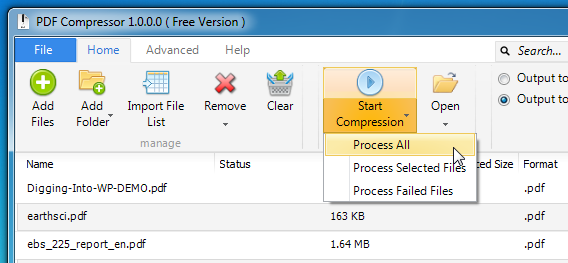 When the compression process is complete, the Status of the successfully compressed file will be changed to "OK" while the New Size and Output File columns will be populated. The New Size column displays the reduction in file size in terms of both KB's and percentage.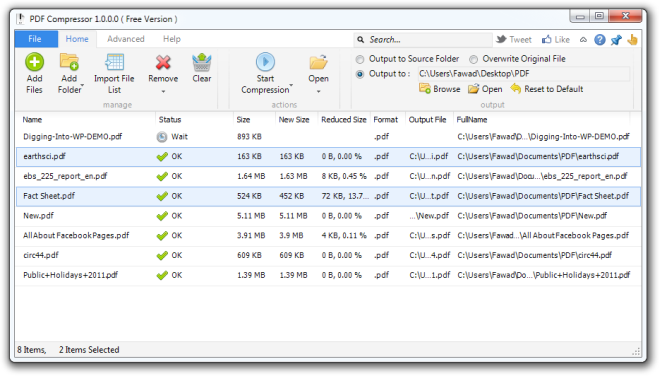 PDF Compressor has been developed to work on Windows 8 Pro tablets, and for the same reason, includes a "Touch Mode". Click the hand icon in the top right corner of the main interface to switch the app to Touch Mode. It changes the interface to optimize it for touch based devices.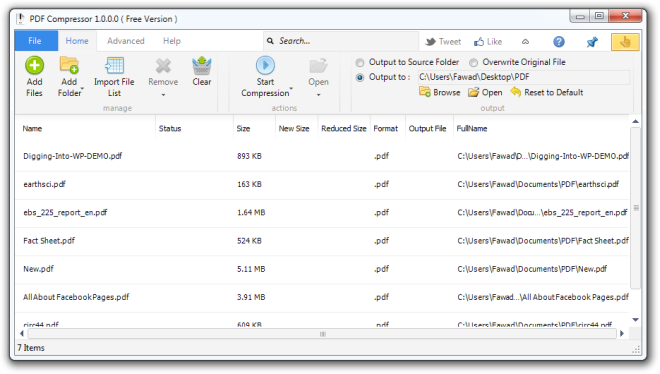 PDF Compressor works on both 32-bit and 64-bit versions of Windows XP, Windows Vista, Windows 7 and Windows 8. We tested it on a Windows 8 x64 system.