Announcify For Chrome Lets You Listen To Articles On Any Website
Need to read one more article, but already feeling too exhausted? Announcify, a Google Chrome extension, can help you read and relax at the same time. It works by converting written text (on any website) to speech. Unlike other text-to-speech extensions, you don't need to select any text, as this extension will read out the whole web page for you.You can hear your lengthy articles read out loud when you don't feel like exercising your eyes. The extension allows you to change the speed, pitch and volume of the read-aloud voice.
Once you've installed Announcify, its icon is added right next to the URL bar. In order to listen to an article, just click the button and your article will be opened in a new tab, ready to be read. A great feature of Announcify is that it blurs the text that isn't being read at present, therefore letting you focus on the current text and follow what parts are being read.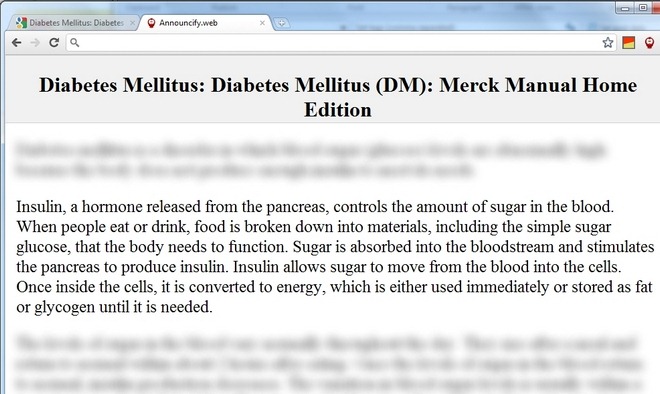 Using the options menu, you can change the Volume, Speed and Pitch of the voice according to your preferences. You can also reset it to defaults.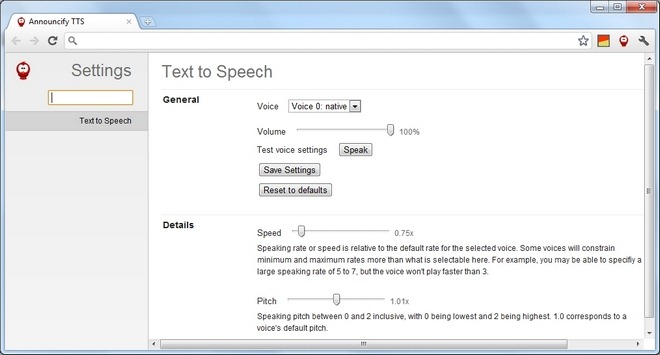 When you first install the extension, it automatically opens its settings page and asks you to authorize it. This feature, whatever it is, is still in the works. You can skip this tab of the settings and move on to the other tabs. The flaw with the app is that its vocabulary or rather speech is terribly limited. It is unable to read a common word like 'app' and will spell it out. The extension might be good overall but reading errors like this can get annoying. It also doesn't ignore all symbols i.e. it will announce the pipeline symbol out loud even though it ignores full stops and commas.
This is a handy extension that will let you rest your tired eyes and at the same time, let you learn new stuff. This extension is similar to Chrome Speak that we previously covered, but is much easier to use, as it automatically reads out the entire page without requiring you to select text, so sit back and relax and listen to all those lengthy articles with Announcify.
Install Announcify Extension For Google Chrome