Bookmark Pages Of PDF Files In Google Docs [Chrome]
Google Docs is no doubt a great way to collaborate on documents and where it fills a huge gap by supporting multiple file formats, it does have a few shortcomings. It may be the best service to use if you're writing a dissertation in a group but if you don't have a PDF reader on your system and you use Google Docs to read a book, you might find it difficult to remember your place. PDF Bookmarker for Google Docs is a Chrome extension that lets you bookmark pages in a PDF file viewed in Google Docs, it syncs the bookmarks to the cloud and whenever you close and open a PDF file, the extension opens to the last page you bookmarked.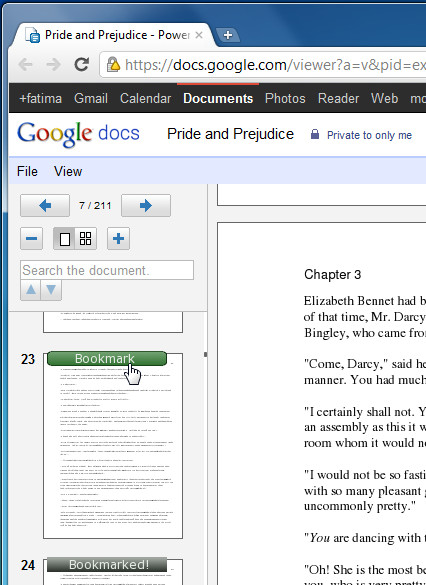 Once installed, open a PDF file in Google Docs and hover the mouse over the preview panel on the page you want to bookmark. A small green Bookmark option will appear, clicking it will bookmark the page. You can bookmark several pages at once. By default, the extension will open the file to the last page you marked however you can find you old bookmarked pages by scrolling the preview panel and looking for the grayed pages. The extension does not work for Google Apps accounts.
Install PDF Bookmarker for Google Docs Extension For Chrome