Browse Internet In 3D Using Mozilla Firefox 11 [Tip]
Not everything on the internet is there for productivity – sometimes you just do things because they're fun, and because you can do them. Firefox browser has never been my personal favorite when it comes to picking the best (it's just a personal preference for Chrome – I don't have any facts to back it up with), but Firefox 11 came with a very intriguing aesthetic tool that is pure fun to play with, even if not that useful. Most of the seasoned Firefox users should already be familiar with the rather extensive Web Developer tools that come with Firefox, but with the 11th iteration of the browser, Mozilla has included an experimental 3D browsing view, enabling you to explore the internet in 3D! Read on to find out more.
Unlike Google's infamous April Fool's joke, this one is the real deal. However, it's not like websites will start popping out of your monitor in 3D; what you get is a simulation based on HTML wrappers and containers, separating them all and displaying them stack-wise, which you can rotate around via mouse click and drag. Check out the screenshot below for a better understanding of how the effect works.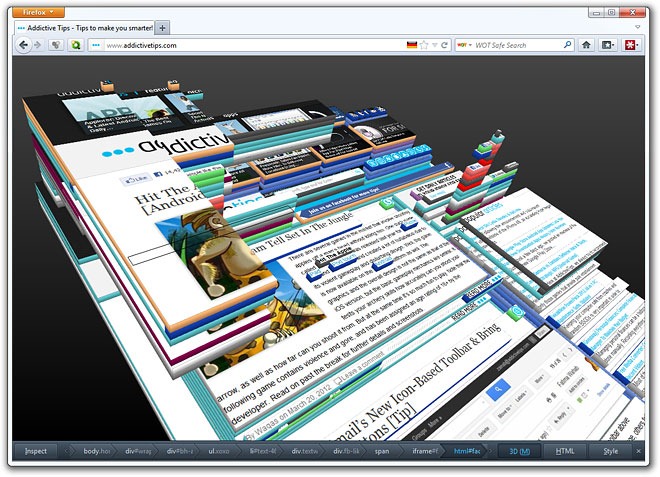 To enable this simulated 3D browsing, click the Firefox button at the top of the browser window, select Web Developer and then Inspect, prompting the Inspect toolbar to appear at the bottom of the window. You may also use the Ctrl+Shift+I key combination.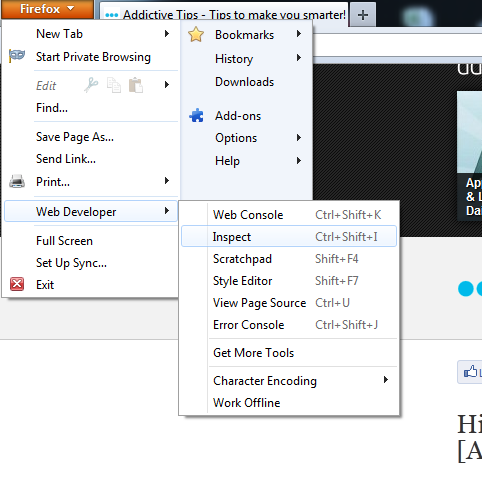 On the Inspect toolbar, the right side will present three buttons, namely, 3D, HTML & Style. Click 3D to toggle the view on (or you may use the keyboard shortcut "M", as highlighted in the screenshot below as well).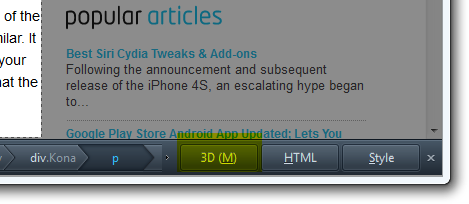 Now, whichever website you are on, just left-click and drag to rotate the page and get the 3D effect. It's pretty neat, and looks particularly good on well-structured websites, since the stacks are all based on HTML wrappers.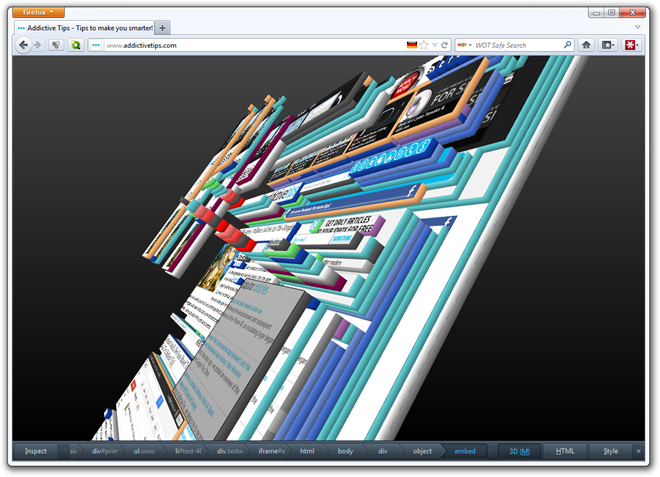 While not useful to a large extent (in fact, I doubt if anyone would find any use for it at all), it's a powerful concept that serves as perhaps an indication to where the web is heading. HTML5 is the future, and we have all acknowledged that, and Firefox 11's 3D simulation might just be a glimpse into what our web browsers will be capable of doing/showing in coming days. Since the "browse internet in 3D" mode is available only on Firefox 11, you can grab it from Mozilla's official release channel, if you don't have it already.