Bypass Megaupload Time Restriction In Chrome [Extension]
Have you ever tried to bypass MegaUpload downloading restrictions? If yes but with no luck, plug Megaupload Skip Time in your Chrome browser. It is a small extension which offers direct downloading from Megaupload. You wont have to wait for 45 seconds any more. It bypasses the time limit, allowing users to directly download files without wasting almost a minute.
After the extension is installed, you will see a small Megaupload icon in the address bar. On webpage with Megaupload link, its icon will appear immediately, indicating that direct downloading can be initiated. Right-clicking the icon will allow you to disable the time skipping function anytime.
Now just open Megaupload file link, the icon appears in address bar, and the file will be automatically put to download as shown in the screenshot below.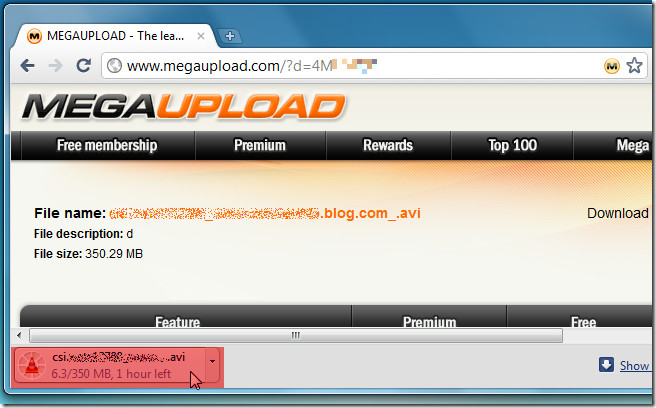 It can also work on those web sites where Megaupload videos can be streamed directly, as it is capable of extracting downloading links from embedded videos.
Using Firefox? Check out MUBundle to remove time restrictions from Megaupload.
Megaupload Skip Time Extension for Google Chrome
Update: Megaupload Skip Time is no longer available in the Chrome Web Store. For similar alternative, have a look at DownloadHelper Extension for Chrome.