Create A Temporary Email Address In Firefox To Avoid Spam With TrashMail
A few weeks ago we reviewed Bloody Vikings – a Firefox extension that allows creating a temporary email address via 10minuteemail and Anonbox web services. TrashMail is an even better Firefox extension that can be used to not only for multiple temporary email addresses, but also provides a lengthier duration of the disposable email account, ranging from 1 day to an unlimited period of time. This can be an effective method of avoiding spam emails when registering with miscellaneous web services.
To enter a temporary email when registering with a web service, right-click on the email address text box and click on the Disposable address option (to create a new email address) or select a previously created email from the context menu.
Note: to use this service you will have to register a legitimate email with TrashMail (web service).
When creating a new email address, you can choose from a range of domain names to select from. Along with the choice to restrict the number of forwarded emails that you wish to receive on your primary email address, when a mail is sent to the Trashmail account. The life span of the temporary email address can range from a single day to several months or even an unlimited period of time. The response system can also be disabled to avoid receiving emails from the TrashMail server.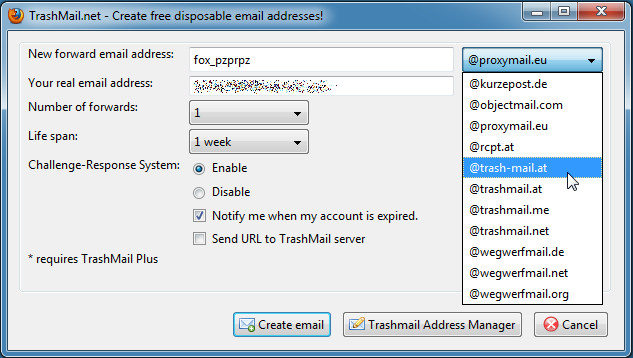 To modify and manage your TrashMail emails, click on the status bar icon on your browser. From here the primary email address registered with TrashMail can be changed along with other configuration options, including the disposable email's life span, TrashMail icons view in the right click context menu, status bar icons,etc. You can also remove any of the added temporary email addresses from the TrashMail Address manager button.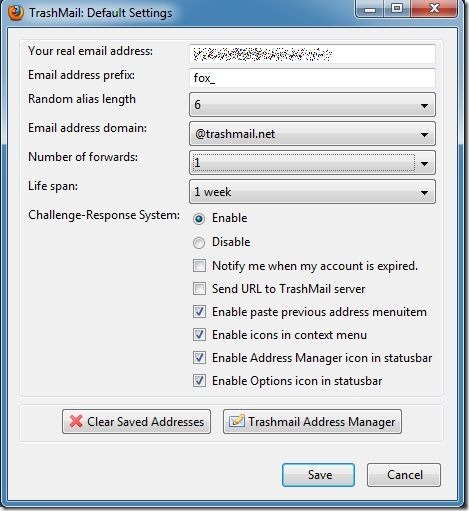 This extension is quite a useful way of avoiding spam on your primary email address via the TrashMail web service. This extension works with Firefox 3.0 – 4.0b6.
TrashMail Extension For Firefox