Create And Manage Multiple Bookmark Bars In Chrome With Bookmark Bar Switcher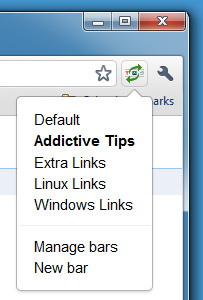 Bookmark bars are an easy way of sorting and viewing commonly used bookmarks. However, the lack of space makes it difficult to display many links. Moreover, there is no option to categorize the displayed bookmarks for easy sorting. Bookmark Bar Switcher is a Google Chrome extension that allows creating and managing of multiple bookmark bars.
Clicking on the icon next to the explorer bar opens a drop down menu which can be used to create new and customize existing bars. To create a new bookmark bar, click on the New Bar option. The Manage Bars section allows adding bookmarks, folders, etc which makes it easier to name bars according to requirement for easy sorting. For example, you can name a bookmark bar by the name of Facebook and add related links to it. To switch between a bookmark bar, simply click on its name from the drop down menu.
Bookmark Bar Switcher Extension for Chrome