DownThemAll: Mozilla Firefox Download Manager/Accelerator
If you are use Firefox to browse the web, you must have noticed that the build-in download manager is slow while downloading some files and lacks some major features. DownThemAll, if you haven't heard of it, is an add-on for Firefox which coverts your browser into a complete download manager with full set of advanced features, and looks a lot similar to Download Accelerator in a way.
It works seamlessly with Firefox, and is the first and only download manager/accelerator build inside Firefox. According to it's developers,
DownThemAll is all you can desire from a download manager: it features an advanced accelerator that increases speed up to 400% and it allows you to pause and resume downloads at any time.
It lets you download all the links or images contained in a webpage and much more: you can refine your downloads by fully customizable criteria to get only what you really want!
After you have installed the add-on you can add the manager next to the address bar by going to View > Toolbars > Customize and then dragging the DownThemAll manager and buttons there(see screenshot below).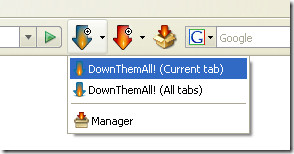 This add-on will now become your default download manager, it also adds options to the right-click context menu. You can right-click any file that you want to download and select Save Link With DownThemAll. You can also manually start a download by opening the DownThemAll manager and clicking Add URL(s) button(see screenshot below).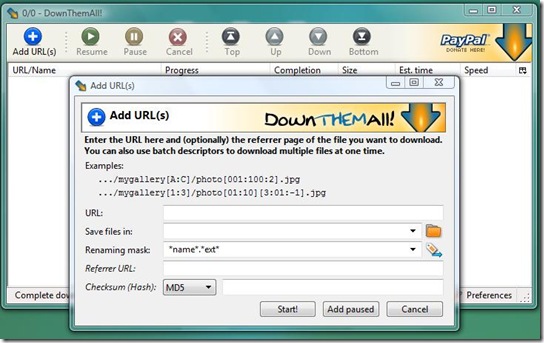 The number of options, features, the way it integrates and works perfectly with Firefox makes it a must have add-on for everyone. In short, it simply rocks!
Give it a try a let us know how it works for you. Enjoy!