Get International Weather Forecast With Forecastfox Weather [Firefox]
There are two ways of checking what the weather is like outside; you can stick your head out the window or you can look it up online. Looking out your window is only good for telling you what the current weather is and, for all you know, it could start raining cats and dogs. Online weather reports give you, at the very least, a 7 day forecast of what to expect. Forecastfox, a powerful weather monitoring Firefox add-on, lets you stay up-to-date with the current and upcoming weather conditions. With this add-on, you no longer need to visit complicated weather websites, as weather info is added to the right of Firefox status bar. You can hover your mouse over any of these for a larger view, with details like temperature, wind speed, humidity and pressure. Furthermore, you can also view an animated weather map by clicking the satellite icon.
Once the add-on is installed, different weather icons are added to the add-on bar. Provided you have the add-on's setting page open, you can easily drag this weather bar and move it to any one of the many toolbars in your browser. You can move it to the Menu bar, the Bookmarks bar or next to the URL bar.
The default location is New York, which can easily be changed through the options menu by entering a city's name or ZIP code. The add-on can also remember and work with multiple locations, and you may switch between different locations after every minute. Furthermore, the extensive add-on options allow you to choose different icons and measurement units from a list, and select different weather parameters, such as humidity, precipitation, UV radiation, visibility and more to show on the toolbar. You can view severe weather alerts (hurricane/flood warnings etc) for your area, get an hourly and weekly forecast, and view the forecast for either day and night or both.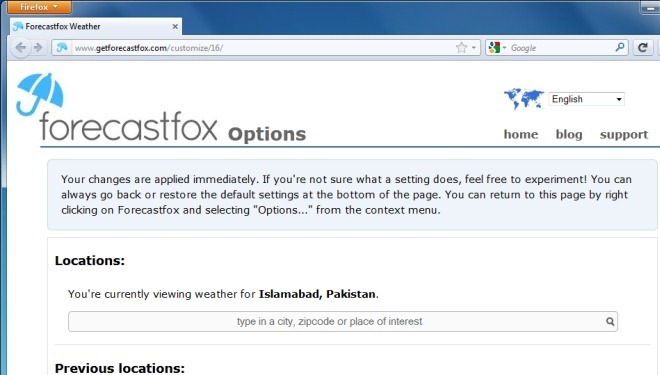 When you hover over the satellite icon, a satellite image pops up, which can either be a still shot or an animated one. Hover your mouse over one of the weather icons and a window will open giving you additional details about the weather conditions for that day. Clicking on the clock icon will open a new tab that you can view an hourly weather report on.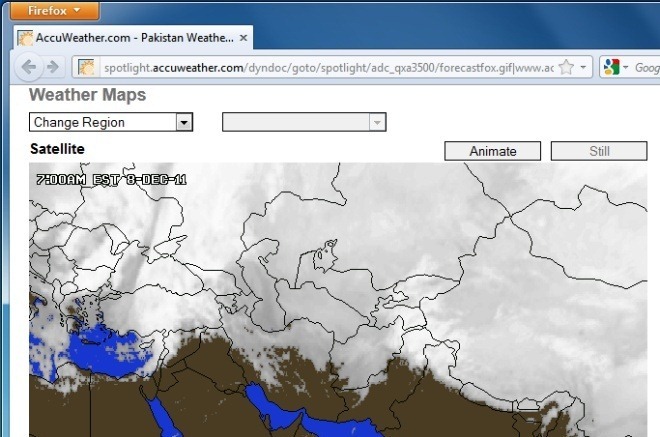 This is quite a useful add-on that keeps you updated with the latest weather conditions. Forecastfox Weather is unobtrusive and easy-to-use. Visit the link below to install this add-on.
Install Forecastfox Weather Add-On For Firefox