Hover Mouse Over YouTube Thumbnails To Play Videos In Chrome
Recently we reviewed YouTube Video Preview, which is a Chrome extension that enables viewing video clips by hovering the mouse over the thumbnail of any video on a YouTube. This time we have Mouse Over YouTube Thumbnails Plays Videos which is an even better Chrome extension, that opens a YouTube video in a pop-up when you hover your mouse over a video thumbnail. This enables users of having a preview of the video before opening it, in order to identify fake videos. Moreover, you can also choose to view the entire video in a pop-up by keeping the mouse over the video thumbnail. Shifting the mouse to a different thumbnails, starts playing that video (within the pop-up).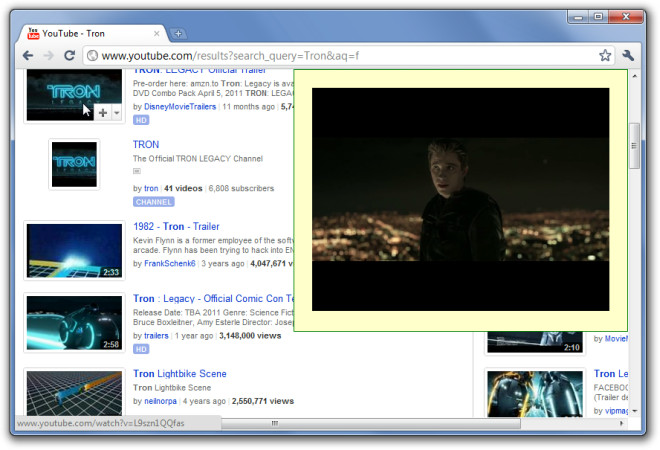 This extension integrates the functionality of another extension called Search On YouTube which enables users to view YouTube videos in a pop-up. Now lets see if a developer can integrate a YouTube search box from a textbox next to the address bar and the qualities of Better YouTube in a single extension. With the rapid progress in the development of good YouTube extension for Chrome, I am sure we are likely to get an all in one package soon enough.
Mouse Over YouTube Thumbnails Plays Videos Extension for Chrome