JayCut Is A Full-Featured Free Online Video Editor
Previously we have covered 5 awesome online video editing tools, featuring diverse features and options to edit videos on the fly. Every time we come across a new web-based video editing application, we can't wait to test it out for you. JayCut is not new but the recent update brings a whole new user interface making it easier to edit videos. For those who are not familiar with JayCut, it is an intuitive online-video editor which offers a great number of tools to edit videos and then publish them online. Now with the updates, you have Webcam and voice-over support, Slow motion effects, Green Screen feature (create effects used in movies), and lots of video colorizing options in a revamped UI.
It requires registration which is free and takes less than a minute. From the main interface you have multiple tabs such as Videos, Images, Audio, Transitions, and Texts, carrying respective sample effects. You can also add another media file by following the same procedure to mix both videos in a way you want. Once media is added, drag the video file into Video A or Video B slide reel and start inserting animations, text effects, sounds, etc.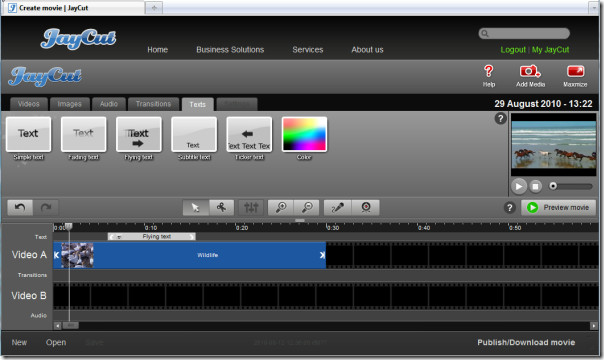 The preview mode allows you to play the video with all the applied effects and animations, so you can make changes accordingly. You can also pop-out video player with dim background to view the applied effects and animations with utmost clarity.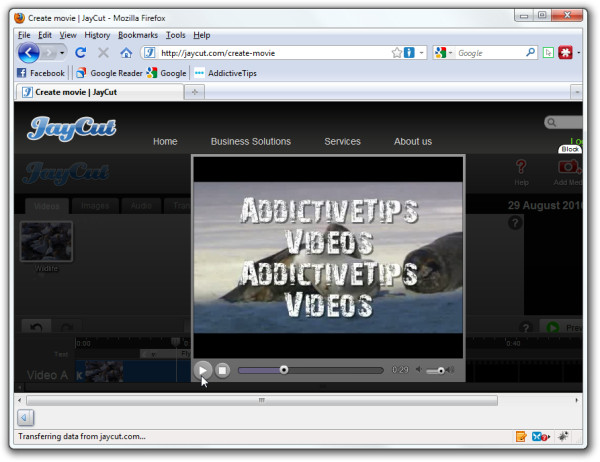 One noteworthy aspect is that it offers complete profile management. You can edit your profile for adding information about the project, and use guestbook to communicate with your audience and critics. Having an exclusive profile page lets you share your edited movies with your peers, friends, and family.
Visit JayCut