JPEGmini – Compress JPEGs To Reduce Size Without Losing Image Quality
The size of a single image might not always be a big deal but when it is more than one image, maybe 10 or 50, things are different. Imagine a slow connection and a bunch of images you want to email or share; it makes every byte seem a lot. There are multiple methods for compressing images to but many of them compromise image quality in a very obvious and often very ugly way. JPEGmini is a web service that reduces the size of a JPEG image without reducing the quality. The service claims to reduce files size down to a fifth of the original and lets you convert images in bulk.
The service lets you compress images one by one, however, to convert images in bulk you will have to sign up for a free account. To convert an image, click on the yellow Try it now button and upload the image.

The image is uploaded to the service and processed. The size doesn't always reduce to a fifth of the original, depending on the quality of the image, size reduction can be either more or less than a fifth of the original size. Once the image has been processed you can preview it and mouse over the preview to compare the before and after effect.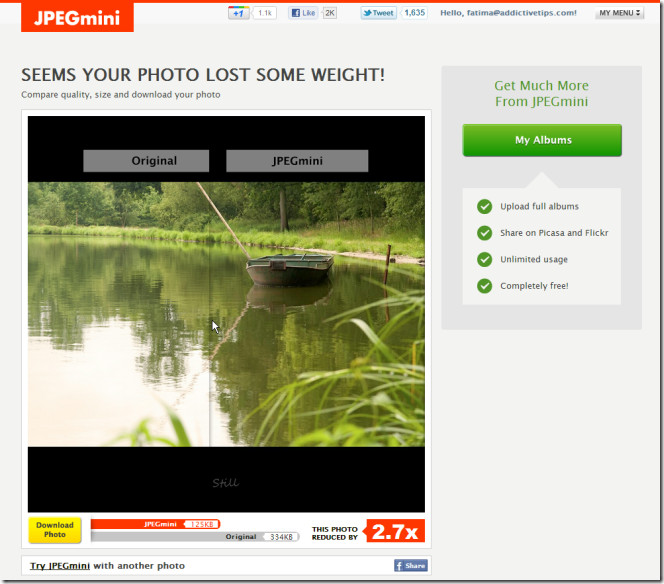 If you're satisfied with the results, you can download the compressed image by clicking the Download Photo button. To convert another image, click Try JPEGmini with another photo just below the download button.
To convert images in bulk, create an album and upload images to it. All images are converted, processed and can be downloaded. To create an album click on the My Menu drop down in the upper right corner and select My Albums. Click Upload Your Photos and upload the images. Name and create your album. The album might take awhile before it is available for download since the images are being processed.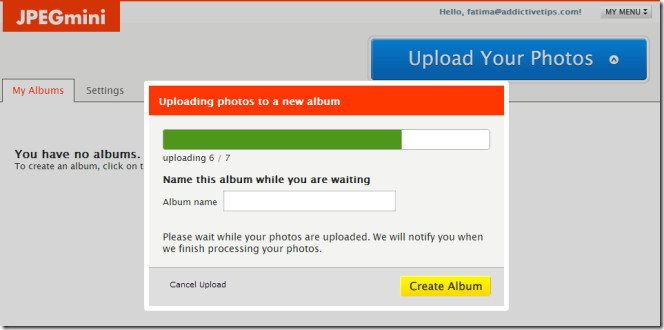 Once the album has been processed, you can see the extent in total size reduction, download the album or share it on either Picasa or Flickr.