Page Snooze: Hide Tabs & Schedule Them To Open Later [Chrome]
Often, while working with a large number of open tabs, we want to save some links to view later, but we don't want to bookmark these random links either. Page Snooze is a Chrome extension that can help manage tab overload by allowing you to snooze tabs for up to two weeks. These snoozed tabs will then pop back in your browser once the time is up. You can view and manage your snoozed tabs from the Page Snooze options page.
Once you've installed the extension, a Page Snooze option is added to the right-click context menu. Whenever you want to snooze a page, click on the button in the toolbar, or simply right-click and select an option from the context-menu. You can Snooze pages from 5 seconds to up to two weeks. As soon as you snooze a page, the tab will instantly disappear, and Page Snooze will automatically open the tab again after the set time is over.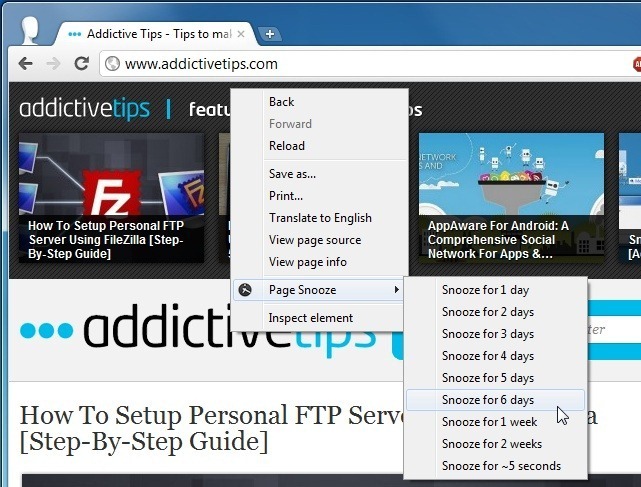 You can manage and view all your snoozed links from the Page Snooze options. Click the (x) buttons to delete individual links, or click the Clear All button to get rid of the entire list.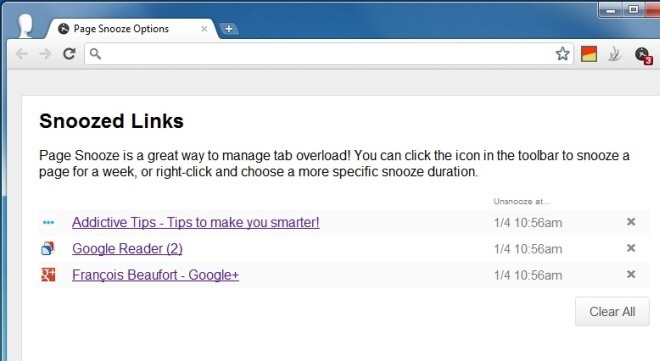 An accurate way to describe the extension would be to call it a read it later extension that works exclusively in your browser. The difference would be that it postpones reading a page instead of reminding you to read it later. The one downside to the extension is that the snooze interval is in days and there is no way to edit it. A long term snooze period isn't a bad idea but having a way to narrow it down in minutes might make it more useful for readers.
Since the extension postpones a page by days, perhaps a feature to define which day you should be reminded of the page should be added. This will allow users to postpone videos or articles that are not work related to a more convenient time like the weekend.
Snooze Page is perfect for hiding pages for a short period of time, and can especially come in handy when you don't want to add dozens of links to your bookmarks bar or folders. Additionally, you will never forget to give a look at these links, as the tabs re-appear in your browser when you want them to.
Install Page Snooze For Google Chrome