Turn Your Web Browser Into A File Server To Send Large/Big Files For Free
Do you want to share a large file with your friend without downloading any software or without uploading it to some website/server? Worry not, now you can send large files directly to your friend over peer-to-peer technology using your web browser.
Fileai is an online service that enables people to securely share files with one another that cannot be easily sent via e-mail. According to them, the files are encrypted and sent directly, peer-to-peer, through your existing web browser. Looks cool, right?

It uses Java Applets to convert your web browser into a file server, allowing you to send unlimited number of large files easily(there is no file size restriction since your system has been converted in to a file server).
To start sharing files, go to their website and click Send Files. It will then open a pop-up window to verify the security certificate, click Run. This website requires Java Runtime Environment, which is installed almost on all computers. Now simply drag and drop your files and folders or simply click the Blue Folder icon to select files(you can select multiple files and folders).

Once you have dropped the files and folders, it will give you a transfer id and transfer link. It will also show you the details on the number of files and the their total size.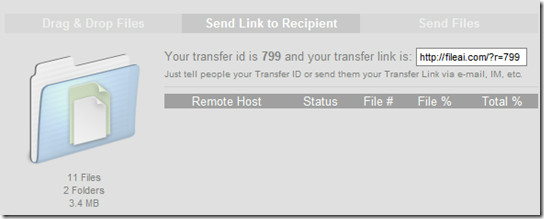 Now give this transfer id and link to your friend and he can download the files instantly. What amazes me the most is that you can share the transfer id and link with multiple friends and they can download your files all at once.
Note: You must keep the webpage open in order to share the files with your friends, the moment you close the webpage, the transfer will end.
To download the files send by your friend, click the link that he/she gave you(or paste it in the address bar and press Enter). Now enter the transfer id in the box and press Continue. In the next step choose the destination where you would like to save the file. Now the transfer will automatically begin. The sender will also be able to see the remote host details and the transfer progress on his web page.
Start sharing huge files with your friends, family and co-workers now. Enjoy!