UnloadTab: Unload Inactive Tabs & Reduce Resource Usage [Firefox]
Do you usually forget to close inactive tabs? A large number of opened tabs does not only increase the memory usage, but it can also be a pain to work with them by making it harder to find the right and relevant ones. UnloadTabs, a Firefox add-on, unloads tabs that you haven't visited for a while, thus saving system resources. Tabs may also be unloaded manually using the right-click context menu. Any unloaded tab is restored back to its original state when you need it again. All settings are configurable from the add-on's options.
While browsing the web, it's absolutely natural to end up with a lot of open tabs. All these tabs increase memory usage, and slow down the browser, something that has been a hitch for Firefox for quite a while anyway. By unloading tabs that you haven't visited for a while, you can easily reduce resource usage and make your browser work faster. The add-on unloads inactive tabs and dims them after a specific amount of time, which can easily be reverted back to original state by bringing the said tab into focus again.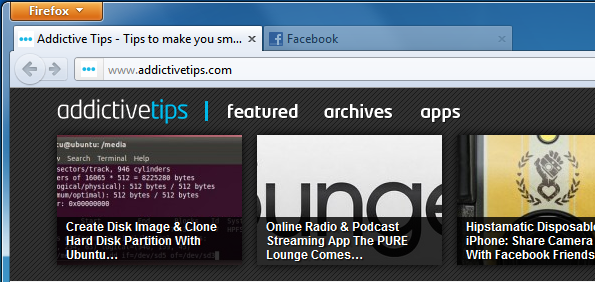 After you've installed the add-on, three options are added to the context menu, namely Unload Tab, Keep Address Loaded and Unload Other Tabs. You can manually unload tabs by clicking the Unload Tab option. Clicking the Unload Other Tabs option will release all others except the current one.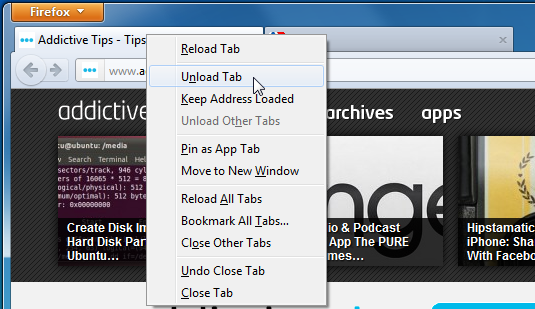 When Firefox starts option has a drop-down menu with three options, including Load selected tabs and tabs to keep loaded, Load selected tab and Load all tabs (Firefox default). Next, the Unload inactive tabs option allows you to set the time after which your inactive tabs will be unloaded. If you never want a tab to unload then, simply enter the website URL in the Keep address loaded bar & click Add. In addition to that, select Keep pinned tabs loaded and Dim unloaded tabs. Once done, click OK and you're good to go.
Install UnloadTab Add-on For Firefox