URL Pinner: Permanently Pin Frequently Used Tabs Using RegEx [Chrome]
URL Pinner is a Chrome extension that lets you auto pin your favorite or most frequently used websites and arranges them in order. While Chrome comes with this feature by default, the extension auto pins tabs by URL or regular expression as soon as the website is loaded, and keeps them sorted according to the list you create. Moreover, the settings for your pinned websites can be synced across Chrome browsers. You can also add a custom shortcut to toggle the pinning of websites and for opening all your preferred pinned tabs. URL Pinner decreases clutter and lets you manage constantly used websites in a better way. With it, you can save time and access important tabs with only a click or two. This is great for people who have a whole lot of tabs open in Chrome, and want to save up space.
After you've installed the extension, the pinned tabs will automatically open in the same order as the list. The pinned tabs appear in a smaller size, so only the favicon is visible, much like the native browser behavior.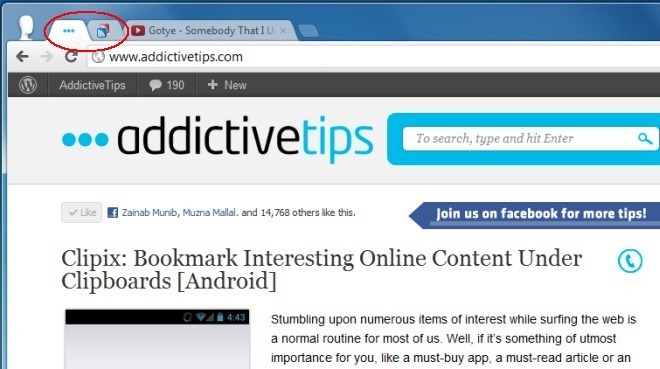 URL Pinner Settings allow you to customize the extension by letting you enable the Auto sort, Sync, Enable Pin toggle Hotkey and Enable Open All Hotkey options. To enable the hotkeys, simply type your desired hotkey combination and hit Enter. Moreover, you can add as many sites as you want; just click the (+) button, and a URL bar will appear at the bottom of the page, where you need to enter a URL and you're good to go. Alternatively, you can click the Add pinned tabs or RegEx Mode button to add already pinned tabs, or to enter a regular Expression. Once done, click Save and browse the web in a more organized manner.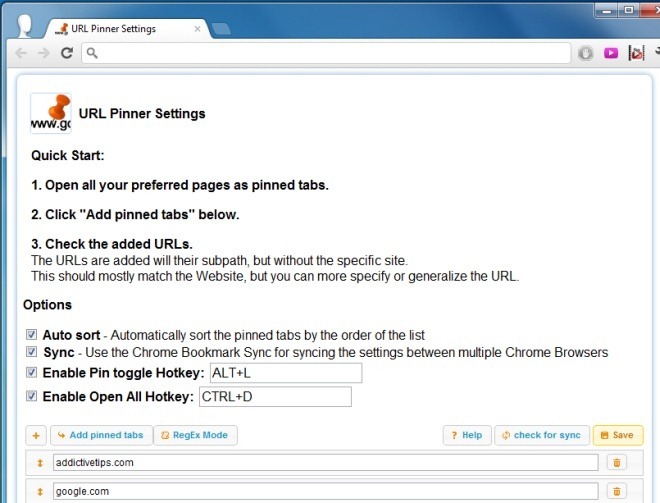 URL Pinner is a slick extension that increases your productivity and lets you quickly access important tabs. The extension can be installed from the link below.
Install URL Pinner For Google Chrome