10 Best To-Do List & Reminder Apps For iPhone
The stock Reminders app in iPhone got a major overhaul in iOS 5, with location-based alerts and Siri integration causing quite a stir. Since then though, things have gone a little quiet. The app hasn't been completely stagnant, as there were a few significant improvements in iOS 6, and iOS 7 promises to bring a new UI to the mix. Still, if you are craving for something a bit more unique, there are plenty of great alternatives available in the App Store. Some apps are better than Reminders because of their UI, while others offer a bundle of features that can truly make your life easier. A task management app is not something you can keep changing regularly, so it is always a good idea to choose one that is sure to keep catering to your needs in the long run. Here are some of the most popular and most useful to-do list apps available for iOS.

Free
Any.DO
Any.DO is among the most popular reminder apps for both iOS and Android, and for good reason. Not only does it have a very neat UI, it offers a lot of different ways of creating reminders and triggering alerts. The app supports location-based reminders, tasks that don't have a specific time associated with them, and even folders that can be greatly helpful in keeping things well-organized. Any.DO lets you create reminders both via text input and voice commands.
Wunderlist
Anyone looking for a simple and easy to use app ought to give Wunderlist a try. It has been around in the App Store for quite some time, and has managed to garner a considerable fan-following. The app is cross-platform, with automatic syncing of tasks on all devices you own. Wunderlist also allows users to add notes and sub-tasks to the reminders they create. It's also great for collaborative task management, as it is fairly easy to tag your friends in reminders. In addition to all that, pro users get to attach files to tasks, too.
Remember The Milk
The app is easy to use, but still comes with a handful of options that are enough for managing any to-do list. Remember The Milk has a tagging system, and can also show you tasks based on the locations, tags or time periods associated with them. Even when it comes to creating tasks, the app has a variety of features, including customizable fields and input methods that can be altered to fit your needs.
Do It (Tomorrow)
Do It (Tomorrow) is different from almost all the other apps that appear in our list because rather than forcing you to finish your tasks in a hurry, it allows you to adopt the approach of taking things slow. Do It (Tomorrow) makes it really easy for users to postpone their tasks to the next day, which seems a very realistic representation of the way things work in life. The app also supports cloud syncing and has a pretty neat UI.
24me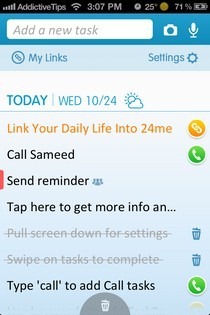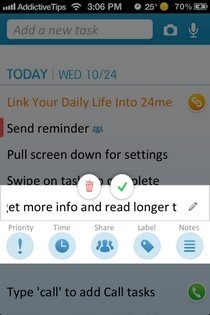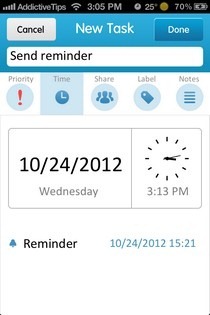 24me is not just a to-do list app; it is also smart enough to realize what the tasks in your list actually are. With this app, you can tag your friends in reminders, set up alerts for bills by tagging different companies you are subscribed to, and make full use of the comprehensive 24me label system. The app has a Nuance-powered voice input option, and lets you create reminders by snapping pictures right from within the app as well.
Paid
Clear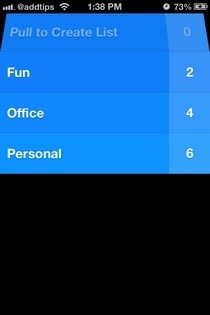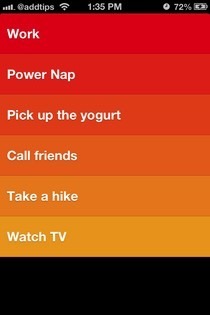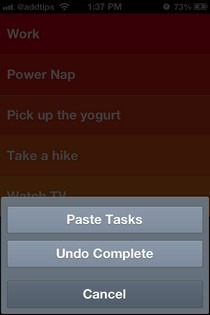 Clear is certainly not the most feature-rich iOS app of its genre, but there is something about its simplicity that has managed to attract a staggering number of fans. For one thing, Clear makes it really easy to create task lists and tasks within them. The app is based completely on gestures, and is therefore almost completely without buttons.
Carrot
Carrot offers a very smooth way of creating and managing a to-do list, pretty much like Clear. Though unlike any other app of this kind, Carrot has a very human side to it; it doesn't let you rest easy until you have actually finished your chores by making it your target to keep the app happy. The more tasks you accomplish, the more points and badges the app gives you. A lot of new features are also unlocked if you keep performing your tasks dutifully. Carrot makes getting things done a game, which can be really helpful for accomplishing stuff you have kept on the waiting list for too long.
Fantastical
Fantastical makes it super easy for users to create new events. The app's main screen shows the current date, and everything you type or dictate is saved as a new reminder against that date straight away. Fantastical also has a really neat calendar view that helps users in getting a good idea of their schedule at a glance.
Checkmark
At times, there is nothing as satisfactory as getting something done and ticking it off on your to-do list. If you are into maintaining lists of your chores, Checkmark is a must-have. The app isn't just about to-dos though, and focuses on location-based reminders as well. Checkmark has separate sections for different categories of places, letting you keep individual lists for these locations.
Calvetica Calendar
Calvetica is basically a calendar app that can also maintain and manage your reminders. The app imports all your existing events from the stock Reminders app, and even syncs your data with Google Calendar and MS Exchange. In addition to letting you create highly detailed tasks, Calvetica is also great at letting you set personalized alert sounds and notifications for individual tasks. To top it all off, the app offers some neat color-coding as well.
There are so many good reminder apps available in the App Store that we are sure we have missed some of your personal favorites, but in terms of features, this list covers just about all the bases. If you don't agree, or just want to give your opinion on the matter, there is always the comments section.