How to send Disappearing Messages in WhatsApp
Whatsapp is quite a feature-rich messaging app. It offers end-to-end encryption which few mainstream messaging apps do, and it allows users to forward messages, make audio and video calls, send files, and send voice messages, among other many impressive things.
Whatsapp even has business accounts and because it is so popular all over the world, you will find many companies integrate a Whatsapp business account into their on-site customer support.
Disappearing Messages in WhatsApp
If you use Whatsapp a lot, chances are you have quite a few active threads with hundreds, if not thousands of messages. The messages and media sent over a single conversation thread or over all threads can be cleared easily enough but it has to be done manually.
If you're not interested in hanging on to messages in a particular thread, you can enable disappearing messages to delete them automatically.
Enable disappearing messages in Whatsapp
Disappearing messages is a somewhat new feature. It is available on both iOS and Android. Make sure you're running the latest version of the app.
Open Whatsapp on your phone.
Select the conversation thread that you want to enable disappearing messages for.
Tap the contact's name at the top.
Select Disappearing messages.
Select the 'On' option.
Disappearing messages will be enabled.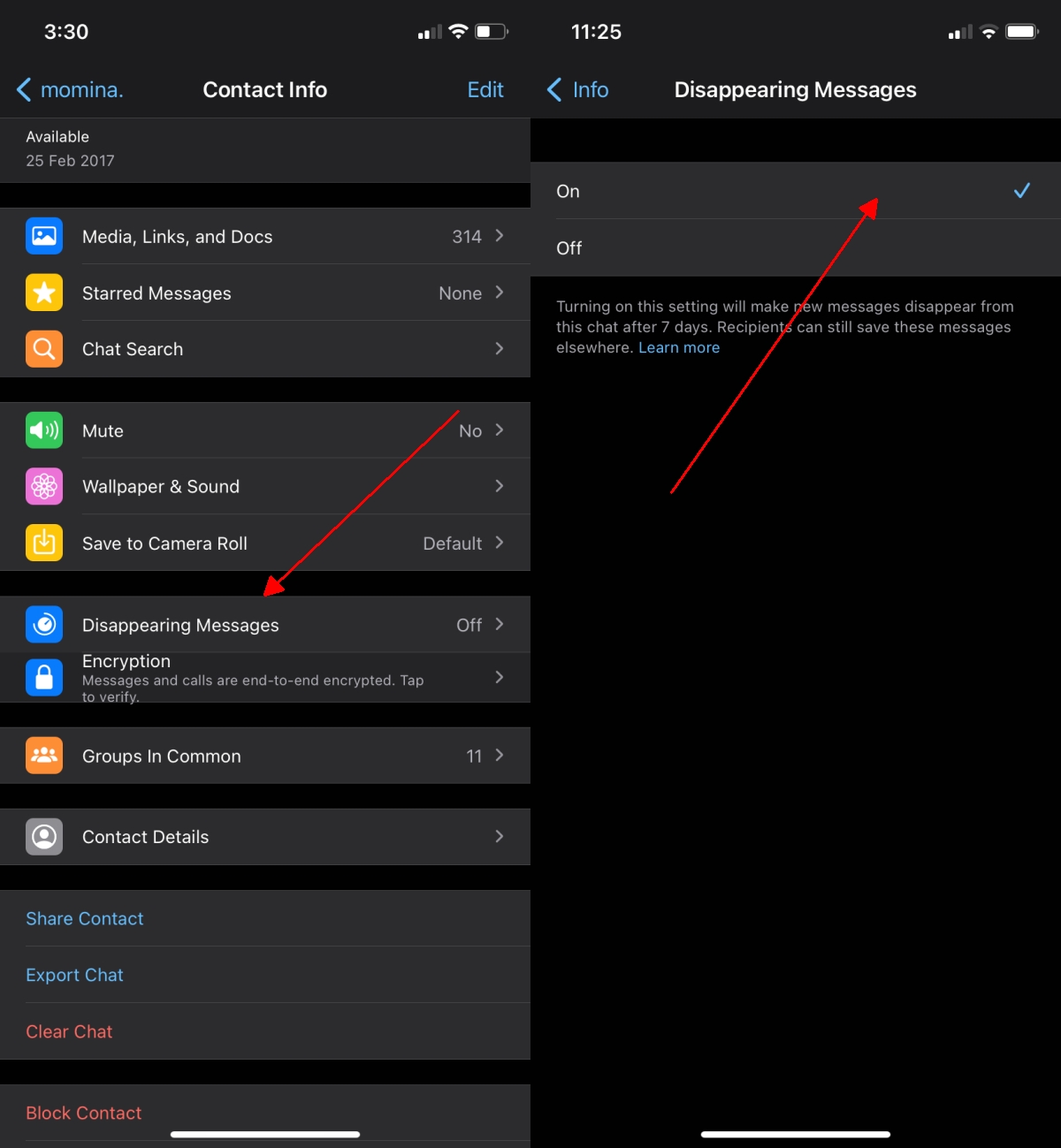 Limitations
Disappearing messages cannot be enabled for a group chat. It is exclusive to one-on-one conversation threads.
When you enable disappearing messages for a conversation, the other person is informed that it has been enabled. They know the messages sent over the thread will be gone.
The messages disappear after 7 days. Disappearing messages are NOT the same as archived messages. Once a message disappears, you won't be able to get it back.
7 days is plenty of time for anyone to take a screenshot of a message so while a message may be gone, proof that it was sent may still exist.
A message sent over a thread with disappearing messages enabled can be forwarded. The original message will disappear but the forwarded message will not.
Any media that has been saved from a message cannot be purged from the device. As long as media hasn't been saved, it will be removed but Whatsapp cannot delete a video, audio, file, or image that has been saved to a phone's storage.
Messages sent before disappearing messages is enabled will not be removed. The feature works only on messages that have been sent after it has been enabled.
Conclusion
Disappearing messages in Whatsapp are a good way to keep the app from bloating with messages. If you're not in the habit of cleaning the app regularly, this is a good way to automate it. Of course, you will have to enable the feature for chats one-by-one. It's a shame that it doesn't work for group chats since that's where files and messages tend to build up the most.