How to open multiple Chrome windows on iPad
The iPad, ever since it transitioned away from iOS and began running iPadOS has moved towards supporting better multitasking on the device. If you look at how the device behaved in its early years and compare it to its present features, it's obvious that the device's features have been built around how users use it.
Among the many multitasking features that were added in iPadOS, there is a feature to pin two apps side-by-side. A third app can be used via Slide Over. iPadOS has removed many restrictions that apps were subject to in older versions of iOS.
Multiple Chrome windows on iPad
Chrome has only recently added multiple-window support for its iPad version. That means, in order to open multiple Chrome windows on the iPad, you must update the app to version 87.
Once you've updated Chrome, follow the steps below to open multiple Chrome windows.
Open Chrome on your iPad.
Tap the more options button at the top right.
Tap New Window.
The new window will open and it will be pinned next to the current one.
Repeat for as many windows as you'd like to open.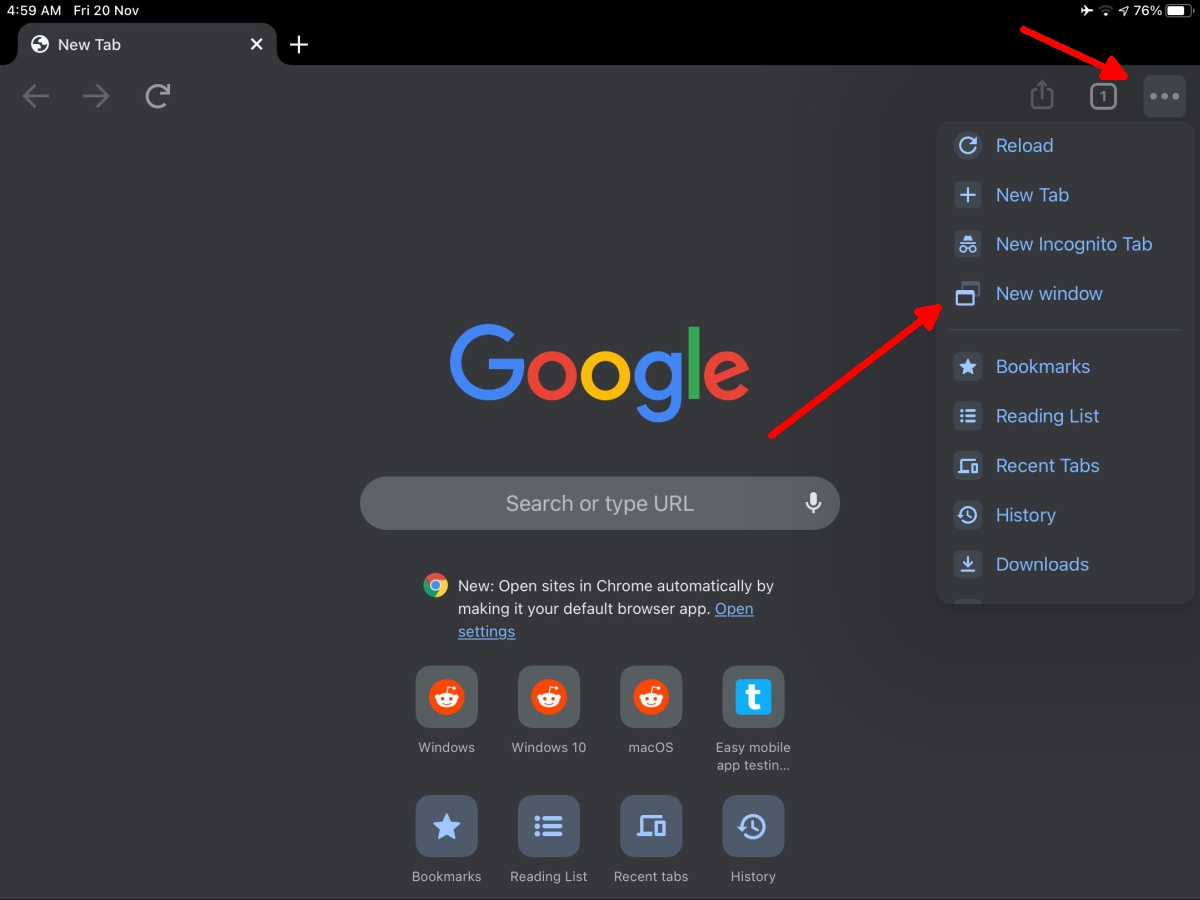 Open links in new a new window
If you're using Chrome and want to open a link in a new window, you can do so without going through the Chrome menu.
Navigate to a webpage with a link.
Press and hold on the link.
From the menu, select Open in New Window.
If you do not have another window, the link will open in a new window that will be pinned next to the current one.
If you already have two Chrome windows open, the newly created window will open separately.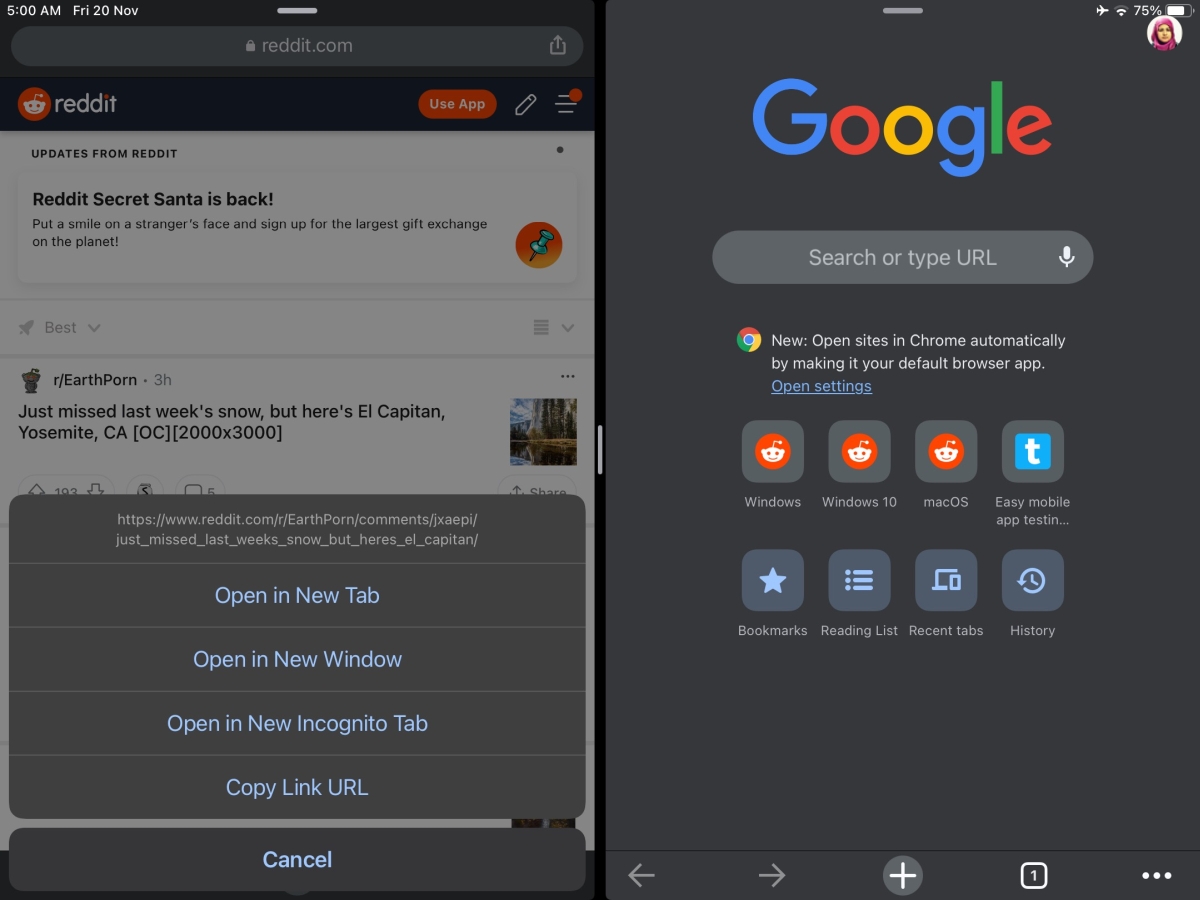 Close a Chrome window
Chrome windows don't have a close button and unlike the desktop version of the app, closing all tabs in a Chrome window will not close the window itself.
To close a Chrome window, follow these steps.
On your iPad, swipe up from the bottom edge of the screen and stop at the center.
You will see the app switcher.
The app switcher will show each Chrome window that is open.
Flick away the window you want to close.
Note: if you have two Chrome windows pinned side by side, remove one window and then close it from the app switcher.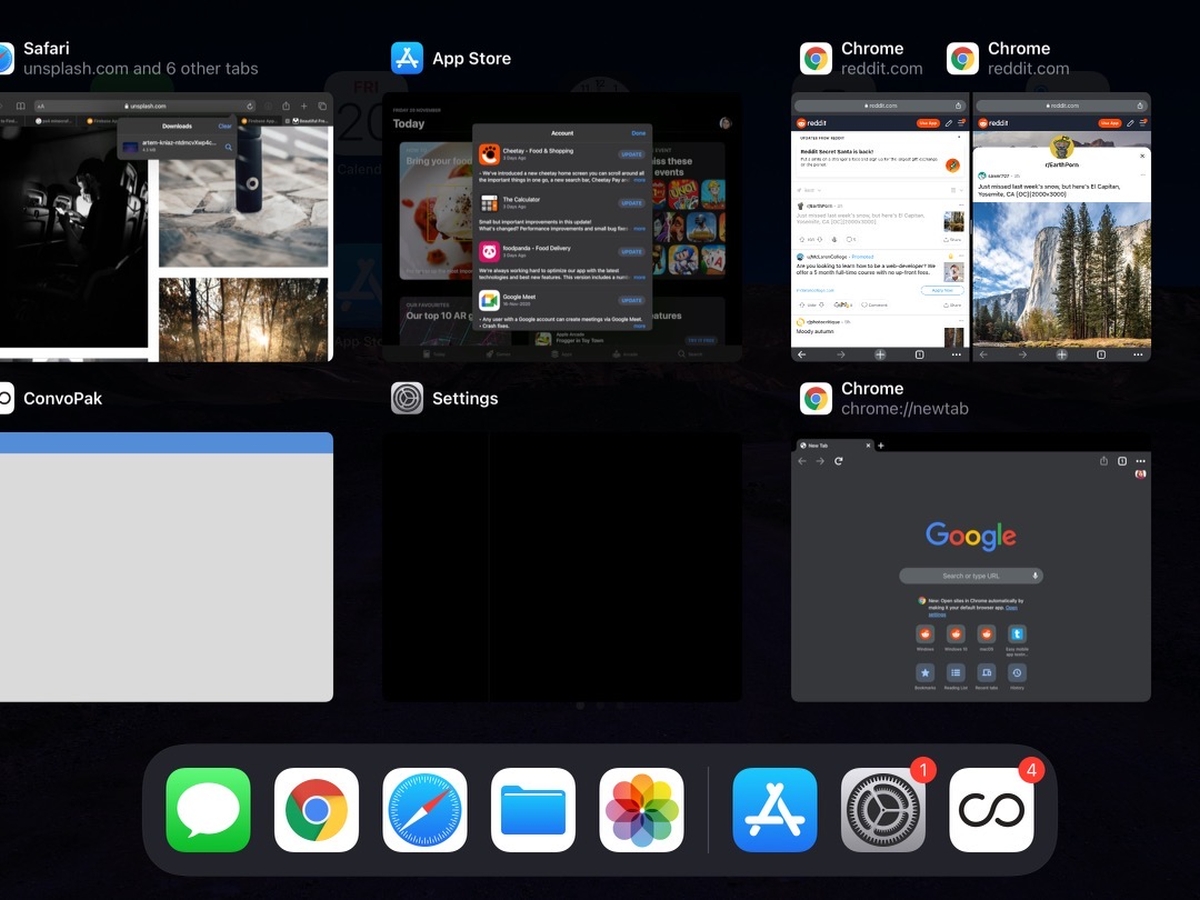 If your iPad model is one that has a home button, you can double-press it to view the app switcher.