Put iPhone, iPod touch Or iPad In DFU Mode Without Using Home/Power Buttons
Jailbreaking an iPhone or any other iOS device yields many benefits, since the device literally opens up to any sort of modification and breaks free the shackles put in place by Apple. In its stock form, the powerhouse contained within an iPhone, iPod touch or iPad is quite tame, but once unleashed, these wild beasts can perform so much more than what you'd have previously thought, and I am not just talking about themes and aesthetic modifications. Apps and tweaks like MyWi, BiteSMS, InfiniFolders, Zephyr etc, change the entire scope of using an iDevice. In all honest, if you're choosing to stick to Apple's stock offering, you're missing out on a lot. However, the sad truth is, not everyone is opting out of a jailbreak by choice – some people are just forced for it, mainly because of a faulty hardware. How, you may ask. Since most jailbreak methods require your device to be put in DFU mode, which, in turn, requires use of the Power and Home buttons, a broken button from either of these renders you pretty much helpless. There's been a workaround for that for quite a while, in the form of a modified IPSW, but that required some manual working that might not have agreed with all users. Thankfully, the iPhone Dev Team, in their latest redsn0w release, redsn0w 0.9.14b2, have included an easy way to restore your iPhone, iPod touch or iPad to DFU mode without using any of the hardware buttons, making it a lifesaver for all users with faulty hardware.
The method is dead simple, and requires you to have the IPSW for the latest firmware (basically any would do, but we recommend latest) of your iDevice, along with redsn0w for your respective platform (Mac or Windows). redsn0w 0.9.14b2 will essentially create a modified IPSW out of this, which will put your iDevice in DFU mode at the end of restore (standard iTunes method) so it can be jailbroken with the tool of your choice.
First, download the correct IPSW for your device. You'll have to search for it over the internet, so Google is your best friend here. Next, download redsn0w 0.9.14b2 for Windows or Mac OS X, unzip the archive and launch the utility (under Administrator mode in Windows).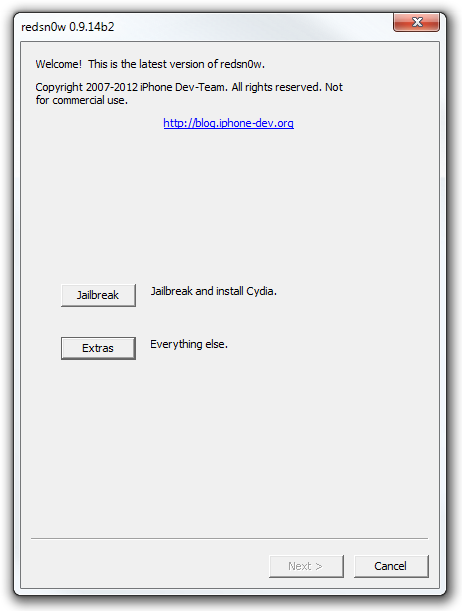 In redsn0w, hit the Extras button, and go to Even more. Here, click the DFU IPSW button.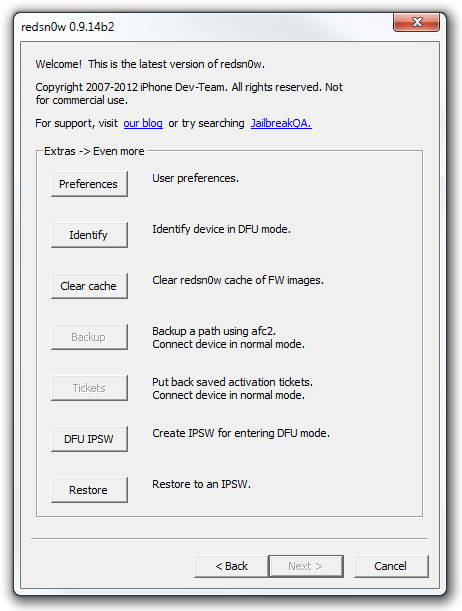 A prompt will inform you of the purpose for creating such an IPSW, after which you'll be required to navigate to the stock IPSW that you downloaded prior to starting the process.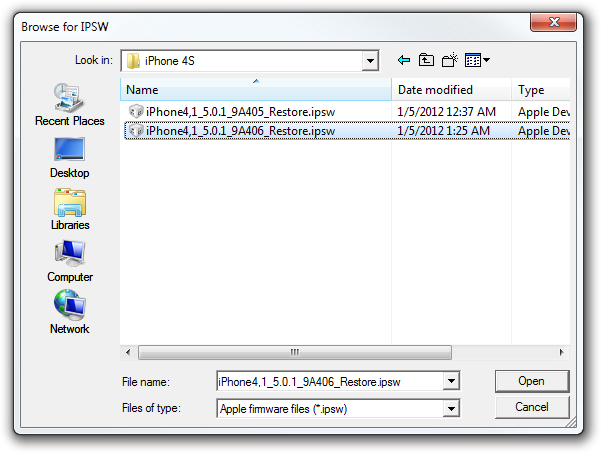 redsn0w 0.9.14b2 will now unpack the firmware, and made the required modifications. A progress bar will keep you apprised of the changes that are taking place.


Once done, the modified IPSW will be saved in the location of the original one on your hard drive with the prefix "ENTER_DFU_". Connect your iPhone with your PC/Mac, and perform a Shift + Restore (Option + Restore in OS X) with this modified IPSW. iTunes will restore your iDevice, at the end of which it will be in DFU mode, ready to be used with redsn0w or any other jailbreak tool of your choice.

It may be noted that there will no indication of the device being in DFU mode, as it is already only signified by a black screen. The only verification you can take is from iTunes saying it detected an iPhone, iPod touch or iPad in Recovery mode.
So, there you go. Instead of manually unzipping and playing around with an IPSW, you can now use redsn0w to automatically and easily achieve DFU mode for jailbreaking. While exceptionally useful for people with broken hardware buttons, this method may also find popularity with those that find it tedious to keep holding Power or Home buttons on their iDevice.