Add Your Favorite RSS Feed As Animated Wallpaper On Mac [Tip]
We've covered apps that conveniently put your entire RSS feed on your desktop, thus saving you the trouble of visiting a browser window whenever you need to check for or read new stories. For those that only go through their feeds once a day, either at the start or end of it, having an app that monitors live feed and promptly displays it or notifies you of it seems like too much. There is, of course, the rare time when you do need to actively follow a feed and there isn't time to find the right app for it, you can put the feed on your Mac desktop with this little trick.
You will first need to modify your screensaver. Go to System Preferences > Display & Screensaver, and from the Screensaver tab, select the RSS Visualizer and go to option to add the feed you want to monitor. You can only add and monitor one feed using this method so make sure you add only one feed link. Separating feed links with commas will do you no good.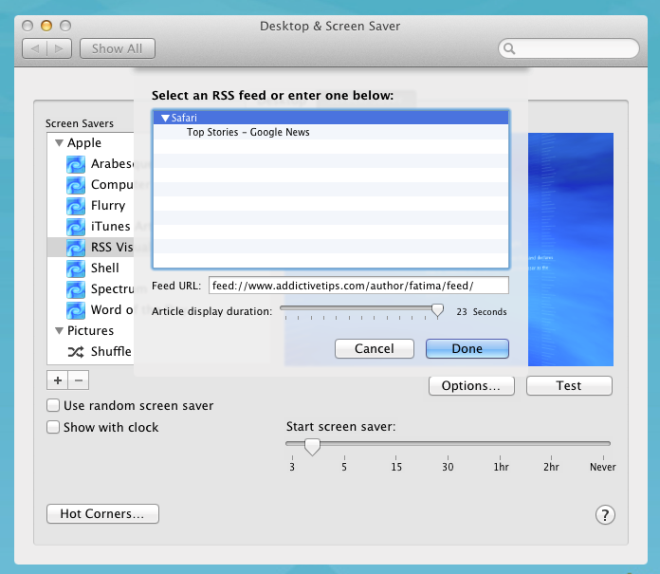 Now launch terminal and paste the following command in the window.
/System/Library/Frameworks/ScreenSaver.framework/Resources/ScreenSaverEngine.app/Contents/MacOS/ScreenSaverEngine –background
So long as you have the Terminal window open, you will see the desktop wallpaper animate and fill with news items from the feed you added. While some Terminal commands will continue to run even if it is closed (example: showing hidden files), this one will not.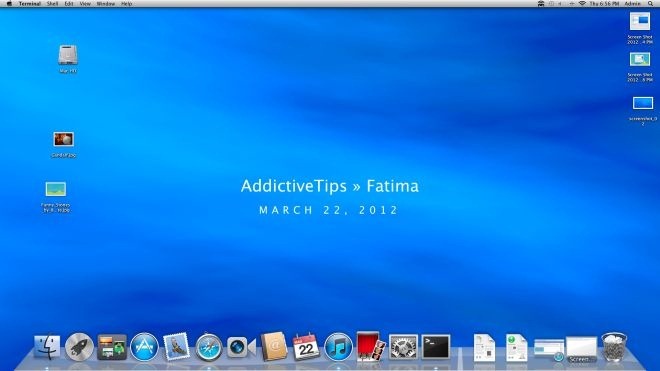 For easily monitoring an important feed (or just having an unconventional wallpaper) this is one of doing it. If you do need an app that will let you monitor your entire RSS feed on your desktop, you can try retickr which is free or, Fresh Feed which lets you access your feeds from the menu bar (also free) or try NewsBar if you want a truly amazing interface (worth $4.99).