Dock Designer: Customize Mac Dock Backgrounds & Switch Between 2D/ 3D
We've reviewed a lot of Mac customization tools in the past; some that allow you to tweak hidden features in OS X Lion, and others that are meant for customizing a particular feature. Dock Designer is a free Mac app that lets you customize the Dock. It lets you switch to a 2D or 3D dock view, allows you to add spaces between apps and folders for a more organized looking Dock, and lets you change the background to any image on your hard disk. The app's interface is simple and, in the event you don't like the changes, you can revert back to the default Dock using the reset feature.
The app interface is divided into three tabs, one each for 3D and 2D customization, and one for managing the app's updates. If you want to enable 2D Dock view, go to the 2D Dock tab and click Enable 2D Dock. To return to the 3D view, visit the 3D tab and enable it. To change the background in either one of the views, click the Change and Apply button, browse and select the image you want to set as the Dock's background and the app will change it accordingly. To remove the background entirely, click Yes under Transparent 3D Dock (likewise for a transparent 2D Dock).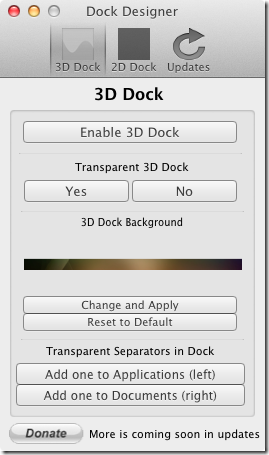 The app also lets you add spaces between apps and folders on the Dock. To add a space between folders and apps, click either Add one to Applications (left) or Add one to Documents (right), both will have the same effect, i.e., a space will be added between the two types of icon on the Dock.

Of the similar apps we've reviewed in the past, Docker is worth mentioning. It is rich in features compared to this app, but if you only need a few simple tweaks that you can easily revert back from, this app is a fairly good choice.