Download CCleaner For Mac To Clean Trash And Junk From Your System
Piriform's tool CCleaner has finally been released for Mac. Currently in beta, CCleaner works just fine on Mac, supporting only two applications Safari and Firefox with slew of other cleaning options to remove Trash items, Recent documents, MRU lists, Temporary folders, Recent application lists and so on. Compared with Windows counterpart, CCleaner for OS X is however not very feature rich but provides Mac users with a quick way to remove junk off their system with a single click. The main UI is quite similar to Windows counterpart, nevertheless, you will see a way less features to clean junk data from your Mac. As stated earlier that it supports Firefox and Safari, you can clean browsing cache, internet history, download history, cookies, and saved form information. Check out CCleaner beta for Mac visuals after the jump.
Unlike CCleaner for Windows, the Mac version cleans only core system specific junk data folders. On the main screen, all the sub-elements of System junk folders are listed. You can choose the one which you want to scan for junk data.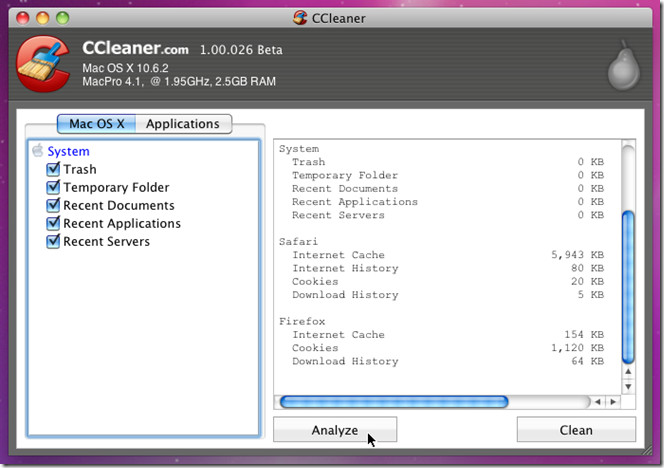 The Applications tab allows you to clean Safari and Firefox browsing history with aforementioned junk elements from their respective folders.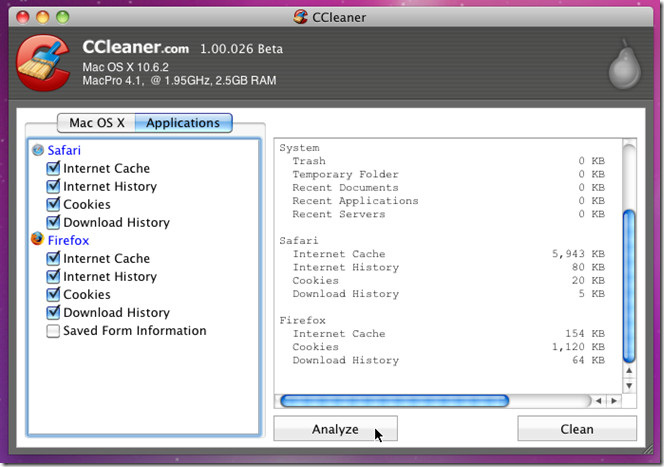 As of this writing, CCleaner can clean system and browser junk folders, but Piriform dev team wants to take this beta to full feature-rich release in just a couple of months. The dev team seems very keen about updating CCleaner for Mac consistently and will hopefully add all the features its Windows counterpart has to offer.
We are keeping our fingers crossed for forthcoming improvements in CCleaner for Mac. You can try out the beta release by hitting up download link below. It only works on Mac 10.6.2 – Mac Lion.