How to download YouTube videos on macOS
YouTube tends to block apps that can download videos from the website. One tool that's been used to download videos from YouTube for a long time is youtube-dl but it's a command-line tool and not everyone is comfortable using one. If you want to download YouTube videos on macOS, you can use the youtube-dl tool via a GUI with ViDL for Mac. It's a free tool that can save videos, or save just the audio from them.
Need to download YouTube videos on Windows 10? There's a desktop app for the job, and there's also a method that you can use on an iOS device.
Download YouTube videos on Mac
Download ViDL for Mac, extract the zipped file, and move the app to the Applications folder. You can enter a URL to the video you want to download, or you can search for it. The app can search for videos on YouTube but the results aren't the best, or most relevant. It is better to use a URL. The app can download one video at a time, or if you give it the URL to a playlist, it can download all the videos in the playlist.
You should select the 'Convert to mp4' option just in case and click 'Start Download'. By default, the video will be downloaded to the Downloads folder but you can change where the app saves it. If you want to only download audio, select the 'Audio Only' option.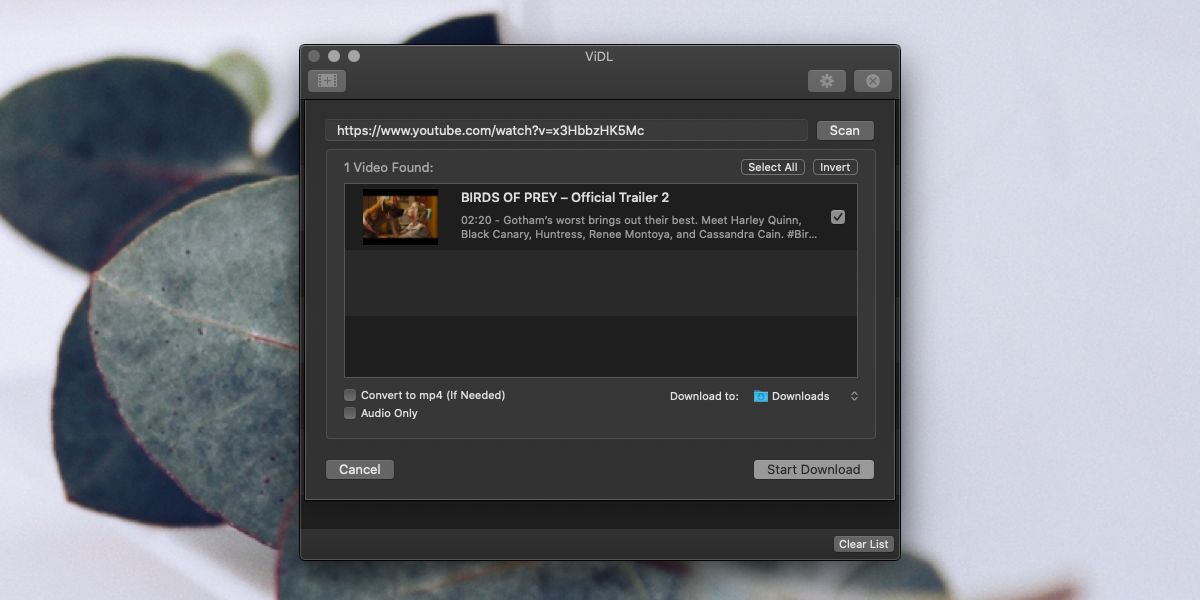 ViDL for Mac doesn't offer a quality selection but the video that it downloads is in good quality. It won't default to the lowest quality that the video is available in. It does have a browser extension for Safari that you can install and use to download videos from the browser. If you do not use Safari, you can get a bookmarklet that can be used in other browsers.
The download will take more time the larger the video is.
If you don't want to use the desktop app, and are just looking for the bookmarklet or Safari extension, you can visit the app's page linked earlier and get it from the FAQs section. If you don't know how to use a bookmarklet, all you have to do is drag & drop it onto the bookmarks bar and release it. Navigate to a YouTube video, and click the bookmarklet.
ViDL for Mac isn't just for YouTube. It can also download videos from other websites.