File Splitter Is Java-Based Tool To Split & Join Files On Mac and PC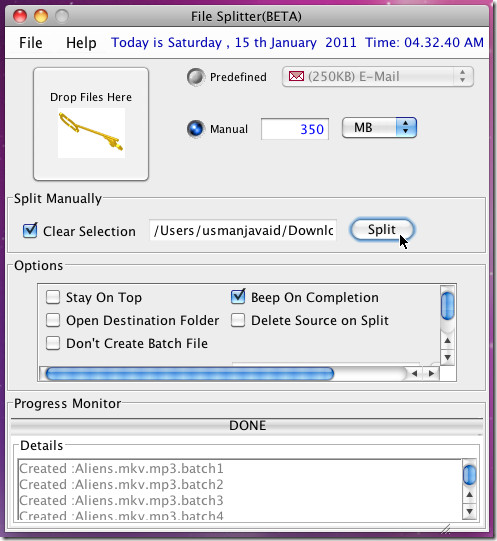 We have covered some Windows-based tools for performing blazing fast file splitting and joining, such as, File Splitter Lite, Cryogenic and HJSplit. File Splitter is a small java-based tool which you can try on your Mac to quickly split and join files. The application usage is to some extent similar to  File Splitter (another app with the same name) which creates a batch file to quickly join all the chunks back. For user's convenience, it supports drag & drop behavior, so all that is required is to specify the chunk size prior to dragging the file which you wish to split.
Apart from configuring pre-defined or manual chunk size settings, you can let it delete the source file & open output folder after file splitting gets completed, and toggle batch file creation (to join the chunks back) On/Off. From File menu, you can turn-on the Merge mode for joining multiple parts of a file. However, if you're planning to use it on Windows based OS, just run the batch file to merge chunks back again. The application requires JRE to be installed. Testing was done on both Windows 7 x64 and Mac OS X 10.6 systems.