Get An Omnipresent Clipboard, File Storage Area & Notepad In Mac With Unclutter
Unclutter is a very simple Mac app available for $2.99 in the Mac App Store. It acts as a clipboard manager, a file storage area, and a note pad. You can probably find other apps that do this, but Unclutter is different in two very significant ways. It is a clipboard manager and file storage app in one. Most clipboard managers only capture multiple instances of copied text and do not support images. Unclutter supports all types of files, and the storage area acts as a temporary file repository that helps move files around. The best feature, though, is how easy it is to call the app. It comes down to ease of access, and Unclutter does an excellent job in that area. Where most apps rely on keyboard shortcuts or Menu Bar icons, Unclutter makes use of gestures and mouse movements. It is omnipresent; you drag your mouse to the top of your screen and scroll downwards to get the Unclutter panel to open. Text or files on your clipboard are automatically copied to the clipboard section, files are dragged & dropped to the File Storage area, and the note can be edited to include important information.
So, the app offers three sections; a clipboard, a file storage area, and something like a scratch pad that lets you save text to a single note. It adds an icon to the Menu Bar that you can use to manage the app's preferences. The preferences allow you to change how you call the app. You can use the default gesture, hold down a particular modifier key, record a shortcut, or set it to appear after a certain delay. The panel will always appear at the top and cannot be moved.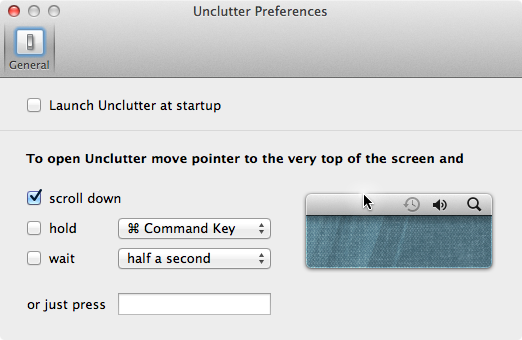 On to the fun part of Unclutter; move your mouse to the middle of the Menu Bar and scroll down with your mouse wheel. If you're on a MacBook, or mostly use an Apple Magic Trackpad, move the cursor to the top of the Menu Bar and scroll down with two fingers.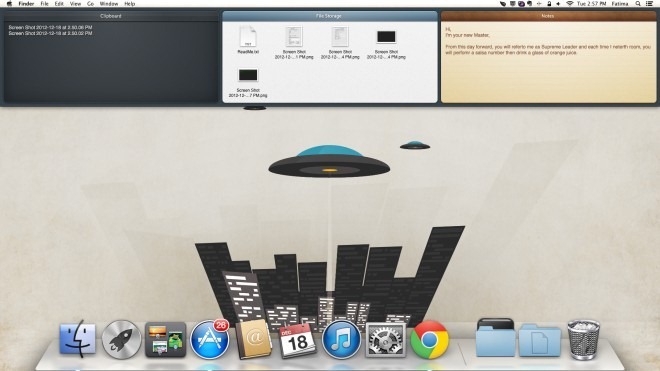 The Clipboard area doesn't extend the functionality of the default clipboard; it too is a repository where whatever you've copied will be recorded, but each subsequent copied item will replace the previous clip. The File storage area will store files you drag & drop onto it. Since the panel is omnipresent, you can use it to drag & drop files from one app to the other while keeping your mouse free. The notepad proves to be useful if you often find the need to store random bits of information.
Each of the three areas can be dragged out as separate windows, which can be reordered. When dragged out, if you close one of the windows, they go back to their original position in the app's panel.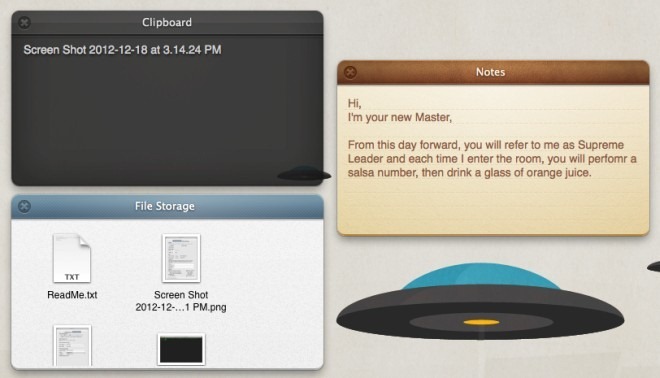 You can't customize how long the panel stays visible, and if it should disappear or not when you click outside of it. This isn't that big a deal, but we found it got in the way when adding files. Apart from that, we couldn't find anything complain-worthy about the app, and it isn't a bad buy at its present price.
Download Unclutter From Mac App Store