Exhaust: Login Items Manager, Lets You Set Apps Launch Delay & Quit Interval [Mac]
Looking for a tool that can help you manage the startup programs and scripts without having to manually set their preferences, from a unified interface? Mac OS X, like other OS platforms, doesn't provide an option to change the behavior of startup items such as add & modify program launch arguments, change startup programs sequence, add launch delay launch etc., and therefore, most users have to change these application startup behaviors manually. Wouldn't it be easier if you could manage and change settings of all types of startup items under one hood? Exhaust is an application that has been built to manage and modify startup items. Not only does it collect all startup items under one roof, It lets you add and change their startup behaviors; you can choose to add delay to any application launch time, change default sequence of startup items, add/remove launch arguments, and set the app to automatically quit any startup program after a specified time. Read past the jump for details.
Apart from native and third-party applications, it allows you to add Terminal commands as startup items to execute them as soon as you login to the system. This may help you in situations where you need to verify some processes from your previous sessions without having to manually launch Terminal and enter the commands.
The utility offers a minimalistic UI, containing all the startup items in left side bar. When you select an application from list, it shows you the source path, and lets you set application launch delay time and Quit After time interval. As stated earlier, it supports adding arguments to application executable command.. Just click Add from main window and enter the argument to change the application launch behavior.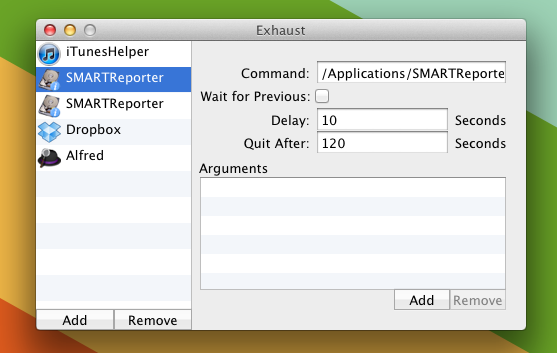 If for some reason, it fails to add the startup item in the list, then you can manually add any program or script to list. Click Add in left sidebar to add either application or Terminal command. It's advisable to reboot your Mac after specifying Mac Terminal commands to verify their execution at startup.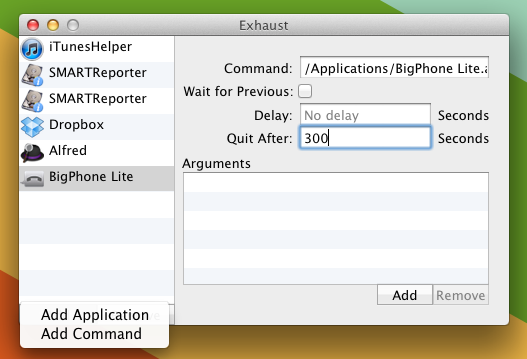 All in all, Exhaust provides an easy way to not only control all types of Startup items, but also re order applications' icons in menu bar. The add delay and quit after features will certainly help users who need to run multiple application and scripts to check the status of critical system activities. It's an open source application that works on Mac 10.5 and higher. Testing was carried out on Mac OS X 10.7.