Photo Lock Screen: Define A Unique Unlock Pattern/Tap Sequence Over An Image Of Your Choice [Android]
With your Android device holding all your personal and private information/data, you don't want to be compromising on its security at any cost. This is precisely why your Android comes bundled with multiple device protection/locking tools, and this is exactly why all those handy alternative lockscreen Android apps are there for in the Google Play Store. Beside the default password, PIN and slider unlocking mechanism, your Android also provides you with the option to set a specific pattern that you can use to unlock your device. In the previously reviewed lockscreen replacement app, Mirage, we've already seen the concept of pattern-based unlocking stretched to new heights, where you are in control of defining a separate unlock pattern for various launchers, apps and the device itself. Wouldn't it be great if you had the option to define your very own, unique unlock patterns traced over background images of your liking?
New to the Google Play Store, Photo Lock Screen is a lockscreen replacement Android app that brings an added layer of security to your beloved device, as it lets you set a custom unlock pattern traced over an image of your choice. You have the choice of defining as simple or complex an unlock pattern as you like, as there are no hard and fast rules in this regard.
The best part about Photo Lock Screen is that it can perfectly work in combination with your favorite home screen replacement app, and can be used as a standalone security mechanism on your Android. A rather vital aspect to consider while using Photo Lock Screen as your default lockscreen is that you must set the app as your device's default action upon pressing the home button, or else, the lockscreen won't be effective.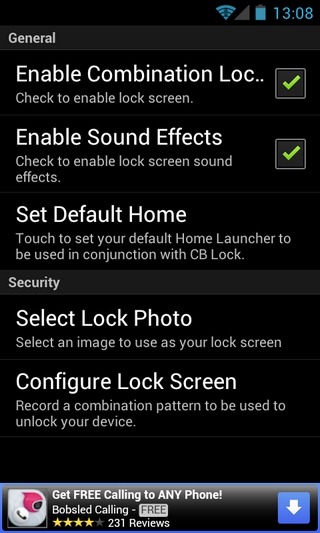 Once the app is installed, you'll notice a couple of app icons added to your device's app drawer. The Photo Lock icon lets you instantly lock the device whereas the Photo Lock Settings icon is to launch the app's main settings screen from where you can permanently enable the app's lockscreen, set your preferred home screen replacement app, Select Lock Photo (custom lockscreen background), and Configure Lock Screen.
While selecting a custom background, make sure to pick an image with a maximum size of 320 x 480 pixels, since images with larger screen resolutions are inaccurately scaled down, thereby making the entire customization process a tad undesirable. While configuring the unlock pattern, the app prompts you to repeat the exact pattern at least twice in order to confirm it. Once succeeded, the app displays the confirmation message of your custom pattern being set as your device's default unlock mechanism.
Please note that when it comes to unlocking your device via Photo Lock Screen, precision is the key. Try to use a background that can present you with some clear indication/hint regarding the pattern, just in case you somehow forget it. The best practice in this regard can be to use an image that itself contains several patterns embedded within the design, or else, you might be having tough time remembering/tracing the exact patterns on a rather plain image. Also, remember very carefully whatever custom pattern you've defined, and draw it absolutely accurately when required on the lockscreen.
Even the slightest of the deviations from the original pattern will result in failure of the unlock process. In case you fail to provide the accurate pattern in five consecutive attempts, the lockscreen becomes ineffective for the next 20 seconds, after which, you're automatically logged out of your Google account, and prompted to sign back in to get things going.
If you liked this app, you might want to check out a more feature-rich paid alternative called iLockit.
Download Photo Lock Screen for Android