Memo: Add Password-Protected Sticky Notes To Your Desktop [Mac]
The phrase, 'There's an app for that,' got around not only because in the world of Apple, there is an app for everything, but also because that is how you get most of the features you want on your product. Case in point; getting sticky notes on your Mac. There is, no doubt, a multitude of apps, both free and paid, available for the Mac platform (Evernote being one of the more famous cross-platform services), but for your simpler sticky note needs, you have Memo. Much akin to the Sticky Notes app in Windows 7, this simple app creates memos on your desktop and lets you password protect them. It also claims to sync with iCloud, and lets you separate which memos to sync and which not to.
To start creating memos, launch the app and a blank memo will be created on your desktop. Click in the memo where it says New Memo, and start typing a reminder or you grocery list. When you click outside of the memo, you will exit the editing mode. The app continues to run, and your memos remain on the desktop. (Editor's note: the text displayed in the screenshot below is purely the author's own choice. AddictiveTips does not take any responsibility for the consequences of putting such notes on your desktop!)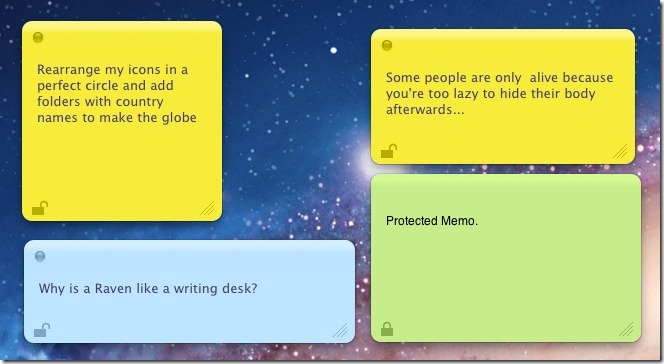 Each memo allows you to change the font and color of the text. The close button at the top of the memo lets you delete it, and deleting one will not affect others. The small open padlock button at the bottom left of each memo allows you to lock a memo, i.e., password protect it. You can set a password from the app's preferences.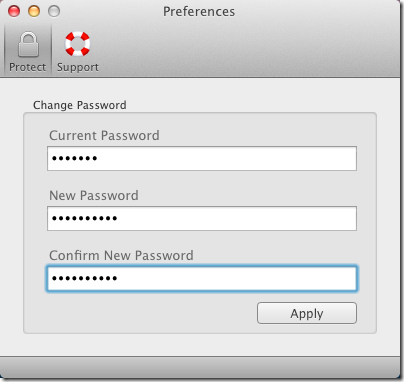 Text entered in a password protected memo cannot be seen unless it is unlocked. When a memo is protected, its color changes to green. To unlock a memo, click the padlock button and enter your password to view it.
While the app doesn't let you change the background color of the memo, it does let you change the font and its color. To change the font or color of text in a memo, right click and choose Font > Show Colors to pick a color from the palette.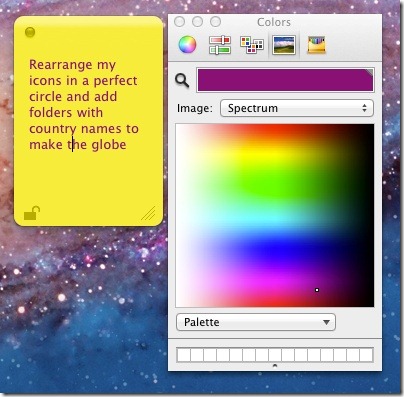 To create a cloud memo, go to File > New Cloud Memo, while simple memos can be created using the New Memo option. Tests showed that the app was not syncing via iCloud, despite the developer's claim on the said feature. Both the iPhone & iPad apps worked well on their own, but memos did not sync across devices. For a general color convention, cloud memos are blue, ordinary memos are yellow, and password protected ones are green.