HostsMan: Edit, Restore, Manage And Merge Multiple Windows Hosts File
Just like other OS platforms, Windows includes a hosts file that lets user map domains with their IP address to increase access speed, redirect domains to preferred locations (by specifying IP address), and completely block the domain access. In a network environment, a system administrator may enforce using a single hosts file that redirects, let's say, Facebook.com to Google.com every time a client PC tries to access Facebook, or map domains with active IP locations, so client PCs can quickly access them without having to wait for DNS resolve processes to respond. Earlier, we covered a number of hosts file managers including BlueLife Hosts Editor, Hosts Mechanic and Hosts Editor. This time around we bring you a feature-rich hosts file management solution called HostsMan. It has been developed to efficiently manage and edit multiple hosts file without having to manually modify Windows hosts file (present in System32/drivers/etc folder).
Unlike previously-covered hosts file managers, HostsMan allows you to not only manage and edit hosts files, but also merge multiple hosts file, disable hosts, protect hosts from external attacks, replace IP address present in hosts file with specified IP address, auto-resolve hostname, enable/disable IP mapping of all possible hijack attacks. The application also comes packed with HostsOptimizer tool, which is responsible for making suitable corrections to hosts file to prevent delays caused by DNS Client service. The HostsOptimizer isn't included in default installation process, so you have to manually enable it in installation wizard for optimizing hosts file.
Furthermore, it offers a great deal of features and options to create new hosts files, organize custom ones, switch between hosts files, disable mapped IPs, filter IPs/host names, and to disable Windows hosts file. The application sits in system tray, enabling you to quickly enable/disable default hosts file, access Options page and to show/hide main window.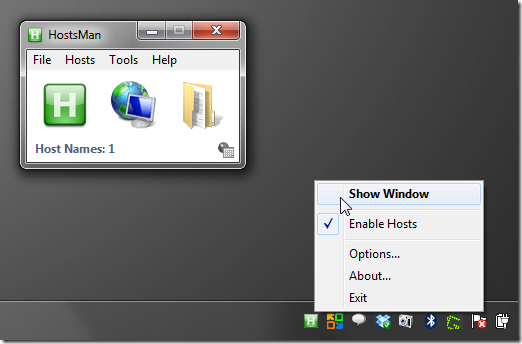 The Update hosts button (in center) lets you update Windows hosts file. It includes multiple hosts file configurations for different scenarios, such as for blocking ads and tracking servers, etc. Before downloading and applying one, you can choose to either merge the update with existing hosts file or overwrite the default Windows hosts file. After selecting the option, click update to save changes made to hosts file.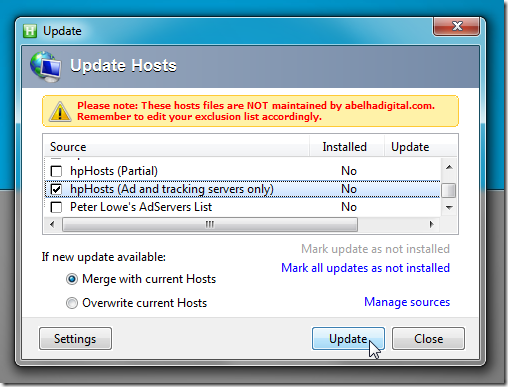 The Manage Source option (present at bottom-right corner) lets you edit available hosts files and include new hosts configuration file from local location. Here, you can add multiple hosts file in plain TXT file to switch between them whenever required.
The folder-imaged button on main screen opens your current hosts file with options to filter IPs by possible hijacks, disabled, and modified mapped domains. You can easily enable and disable listed IPs; just put the comment character by checking the box, it will disable the mapped IP. After you've modified hosts file, don't forget to hit Save to save the changes.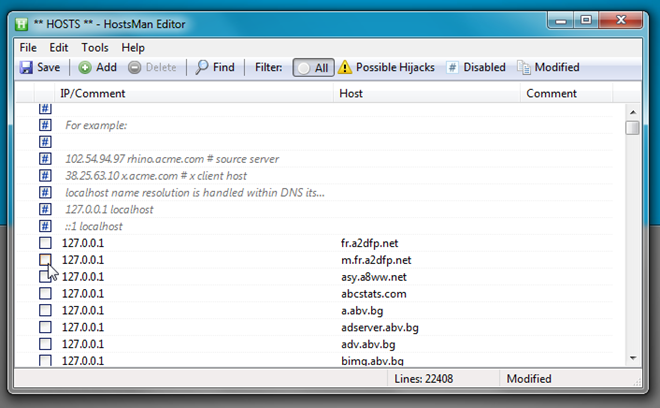 Mapping an IP with a host name requires entering Hosts name and IP address. Once details have been added, click Add to insert the entry into your current hosts file.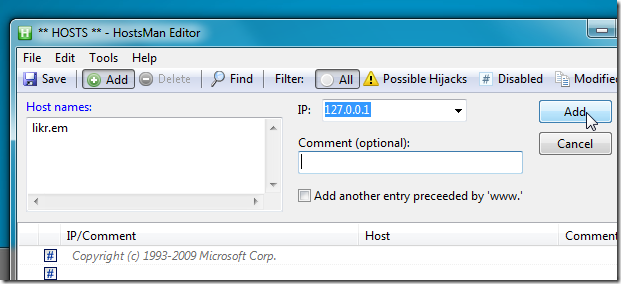 The Import and Export are perhaps the most useful features. HostsMan Import/Export Wizard lets you import hosts from local/network location, and export all configured hosts to user-specified file. You have the option to compress and encrypt hosts file before exporting it to any local location.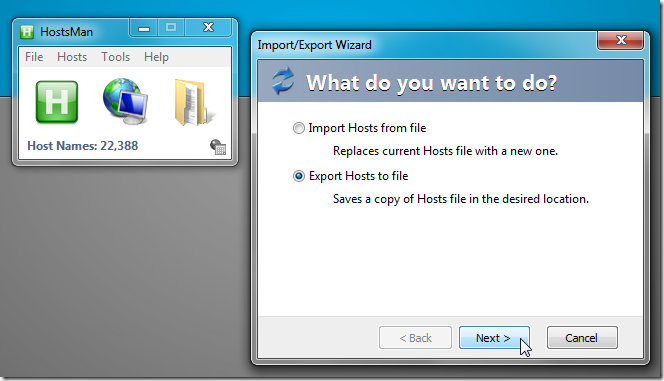 HostsMan works on both client and server editions of Windows.
Thanks Gregg for the tip!