Lion Designer: Change Mac Lion Mission Control, Dashboard & Launchpad Background Image
Mac OS X 10.7 Lion comes with a number of new features and utilities including revamped Dashboard & Login screen, Launchpad and Mission Control. Although Mac OS X Lion lets you customize these utilities, it doesn't provide a convenient option to change their color scheme and background images. Take Launchpad for an instance, the only way to change the Launchpad background image is by changing the desktop wallpaper. Mac OS X Lion doesn't allow users to choose a separate background image for Launchpad. Similarly, Mission Control, Login Screen and Dashboard background images can't be changed unless you fiddle around with their configuration files and replace the default images present in Resource folder with custom ones.
Lion Designer is a tweaking app for Mac OS X 10.7 that comes packed with features to change background images of Mac OS X Lion Dashboard, Launchpad and its folder icons, Mission Control and Login Screen. It lets you change these native utilities' backgrounds with a single click. Additionally, you can revert to original skins by using the Reset button. The main interface shows the current skins of supported apps with option to change the skin and reset to original skin. It includes some complementary features such as Show/Hide Library folder and Desktop Icon. To change the background of Mac OS X utility, click change, select the custom background and then hit Apply. It requires administrative privileges to make the changes, so you need to enter administrator password to change the selected utility background image.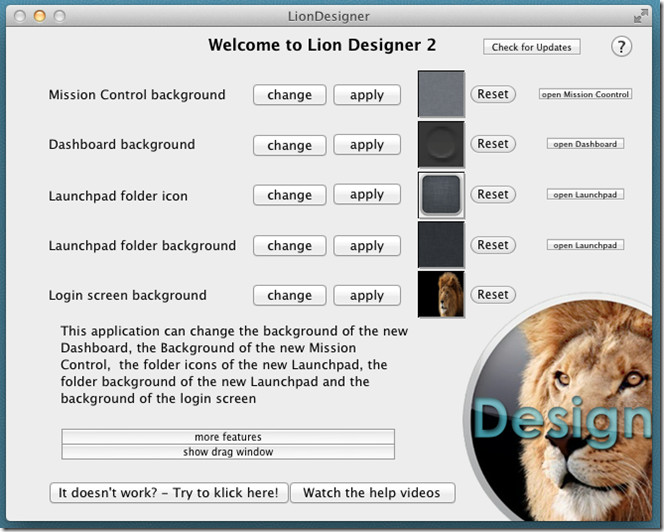 Once the background is changed, click open button available for each utility to view the newly applied skin. The show drag window option present underneath the more features lets you change the background via drag & drop. All that is required is to drag the image over the Drag Window, click Load Image and select the utility to change its background image.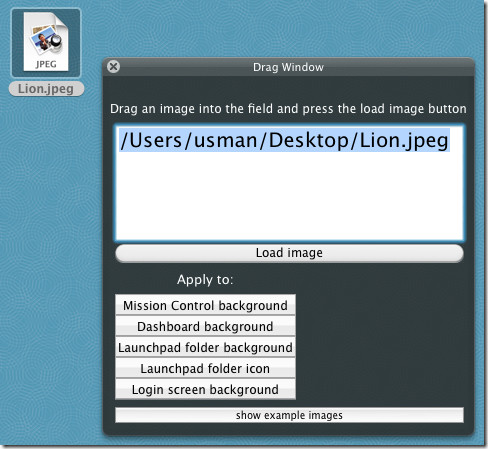 The more features dialog lets you show/hide Library folder and Desktop Icons. The Reset option requires admin password to be specified in order to revert the changes. If it fails to restore the original image background back, restart the application, login with admin account and then use the Reset option.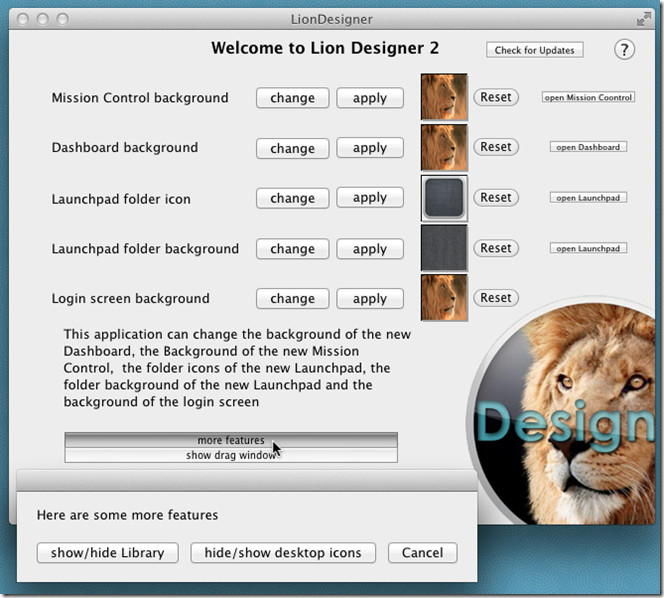 During testing, we didn't face any issues while changing the skins. It works on Mac OS X 10.7 Lion.