Simon: Monitor Website Changes And Track Server Failures & DNS Invisibility
Website monitoring utilities help users identify all the surreptitious changes made to website as well as analyze the causes of server failures, domain invisibility and FTP connections issues. If you manage multiple websites and need a tool that can conduct HTTP tests to find websites changes and server failures, monitor FTP connection for uploaded files, query DNS to check if domain is accessible and run simple PING command to check remote location access, server response time and packet loss, Simon is a solid pick. It's an application for Mac OS X that includes 4 monitoring services including DNS, FTP, Ping and Web. These services define the criteria of monitoring the remote servers and websites. You can use HTTP service to instantly detect changes and server failures for a website, apply DNS check to keep tab on domain visibility and employ FTP service to identify changes made to uploaded files.
Apart from monitoring servers, you can keep yourself updated with website's comment section and modifications done by installed plugins and extensions. It also lets you track posts and uploaded media on web blog, monitor news and FAQ section, keep an eye on auctions and bids from specified online shopping carts and so on. Unlike other website monitoring tools, it presents an intuitive filter system that lets you specify the banners, ad containers and other sections of your website that you want to exclude from monitoring process.
The main interface shows all the websites that are being monitored. It displays Up Time, Service, Name of server/website, Last change, Last Failure and Next Check time interval. Underneath the main window, you have two panes that show the monitoring history and Check Duration (website/server response time) bar graph, respectively.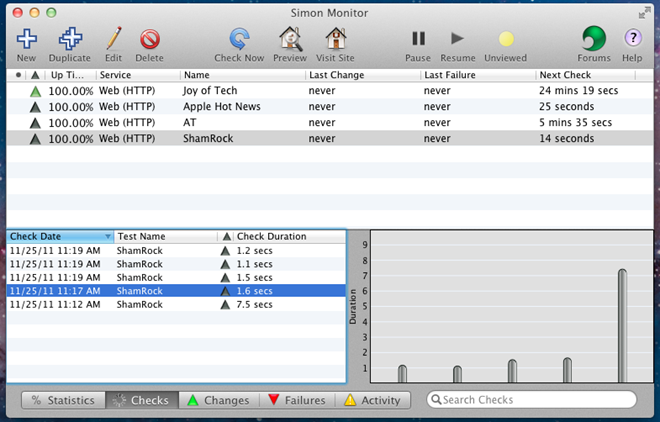 To monitor a website or server, click New and head over to Options tab to specify timeout duration and configure both after success and after failure timers.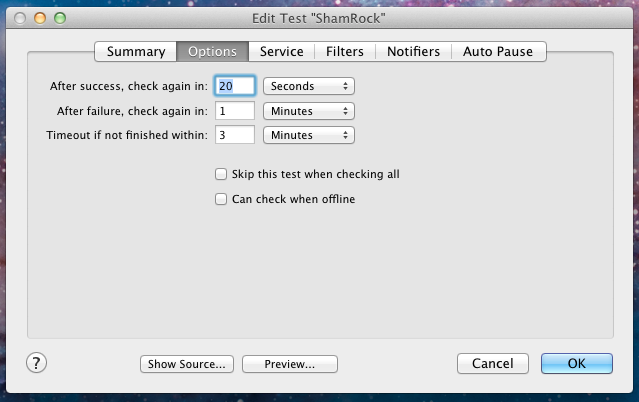 In Service tab, enter the website URL or server address that you want to monitor. Once done, choose the service followed by method (Get, Post, Head, Options, Put & Trace), which you want to use to monitor the website/server. If the website/server requires username and password to login, enter the details at the bottom of the window. Clicking Preview will help you verify website/server path.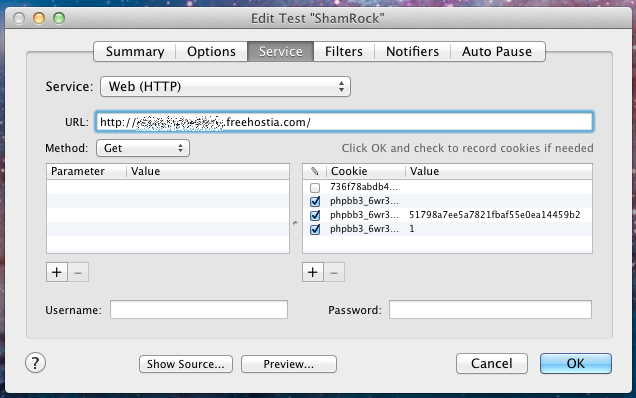 The Filters tab lets you exclude the pages and sections from monitoring process. Here, you may specify those sections of websites that get frequent updates from external sources like ad service etc.
The Notifiers tab allows you to deploy a notification system for monitoring types; Failure, Recovery and Change. Just choose the test (failure, recovery or change) followed by notification type from drop-down menus at add an alert. It supports Growl and numerous other audio and visual notification types. You can associate Bounce Dock Icon with Change, Annoying buzzer sound for Failure, and Sax sound for Recovery to easily differentiate between the test notifications.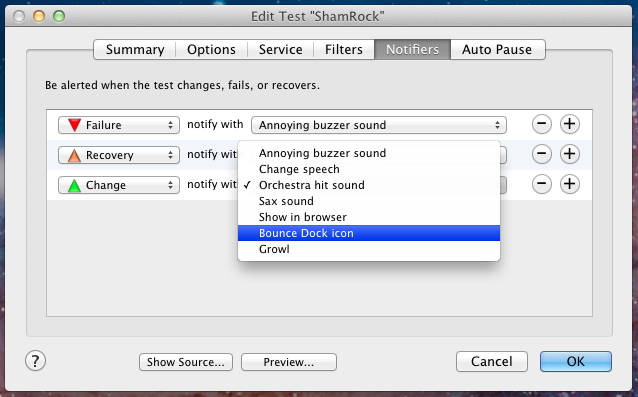 The Auto Pause tab lets you create schedule of automatically pausing the monitoring process. Just click add button to specify the day and time range to use the Auto Pause option.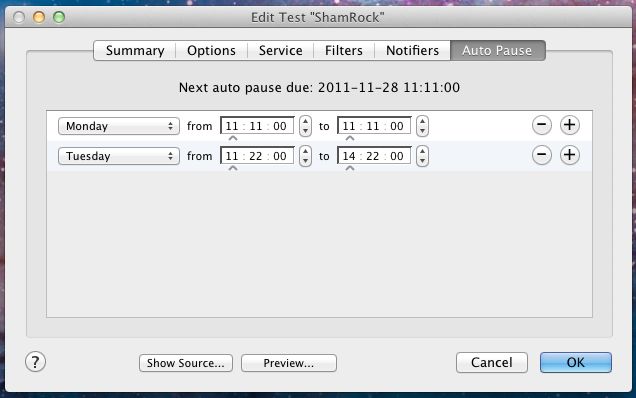 Once all settings are in place, click OK to view the newly added website on main interface. Apart from after success and after failure timers,  you can manually start the monitoring process for added websites; select the website from the list and hit Check Now to detect website connectivity issues and changes.
Simon Free can monitor only 5 websites/servers at a time, but you can remove this limitation by upgrading it to Simon Express, which costs $ 59.99. It works on Mac 10.6.6 and higher.