My Webcam Broadcaster Snaps Periodic Pictures & Archives Them [Mac]
Security is nothing anyone takes lightly; whether you think an alien attack is imminent or you've had just one too many domestic disturbances in your neighborhood, caution is always a safe course of action. For those of you who aren't about to go out and install a military level surveillance system in your home, but would like to go to work or spend a night out without worrying, My Webcam Broadcaster is a Mac app that uses your webcam to capture images periodically. The  screenshots are archived at the EyeSpyFX website (service provider), and can be accessed on the web only from the app. Depending on the frequency of images taken, you can save images for 24 hours up to one week.
Once installed, you will have to create an account with the service before you can use the app and add cameras. You will be asked to add a camera once you sign in, and the app will start taking images via the webcam.  Although you can add multiple cameras, you can capture images using only one. To switch between different cameras, click the dropdown menu on the main screen, and select a different camera.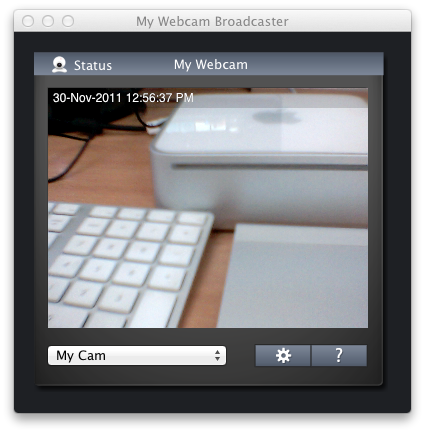 To set preferences, click the cog wheel. You may choose how frequently images will be captured, add more cameras, add a time stamp and access and delete archives. To adjust image capture frequency, go to the Archive tab in preferences and from the Archive image every dropdown menu, and select the frequency and period for saving images. The app can also be used to broadcast live from your webcam, so you will have to ensure that Archive is turned on. To view archived images, click Archive Admin and you will be taken to the service (via your web browser), where you can view all captured images. Click Clear Archive to delete all images, and Save once you've made all changes.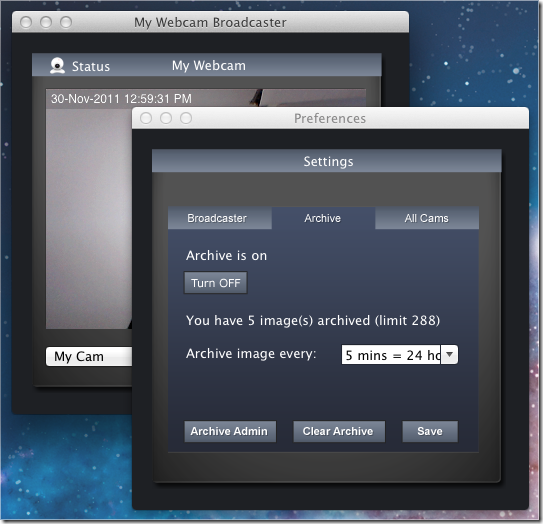 To add a camera, visit the All Cams tab in settings, and click Add Cam. A new window will open, listing all connected webcams. Click Next to add a name for the webcam. To delete a webcam, select it and click Delete. To edit a webcam's name, select it and click Edit.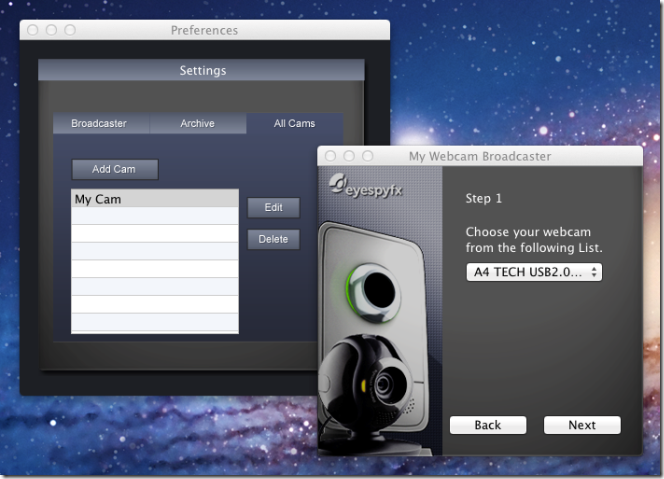 The app lets you broadcast live from your webcam, but supports some select cameras only for this function. You can see a compete list of supported webcams on the service's homepage. If your webcam is supported by the app, go to the Broadcast tab, select a category and add a time stamp if you like. You can set viewing restrictions by adding a password for anyone who wants to view the broadcast.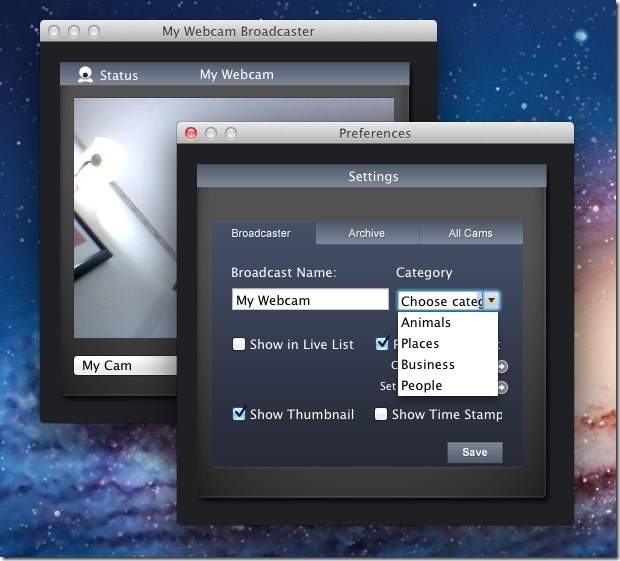 The app has its restrictions; it does not allow you to capture images in intervals shorter than 5 minutes, and if you were to use it for security purposes, it might not be a full proof method. It is, nevertheless, an easy way to keep an eye on the cat, or even to monitor your home while you're at work. For extended periods of absence, you shouldn't rely on it as your only anti-theft solution.
Download My Webcam Broadcaster