Private Eye: Monitor Incoming & Outgoing Network Traffic Of Mac Apps
Like Windows Task Manager, Mac OS X Activity Monitor doesn't provide detailed information on applications' threads which send and receive data packets from connected network. Activity Monitor only shows the total packet in and packet out information, total packet throughput, and data sent and received details for current session. This leaves many proficient Mac users with no other option than to use an advance network utility to find those applications which surreptitiously use network resources. Private Eye is small yet handy network monitoring application for Mac OS X to view all the connections that applications make in real-time.
The application has been written to monitor all types of applications, including browsers, cloud services, media players, online stores, along with those applications which have the rights to add, modify, and remove data from system wide locations and user profile folders. When an application sends a request to network, Private Eye records the timestamp, application name and requested path in the list. It displays the incoming and outgoing connections made by an application in current session. The application comes without any settings to configure. When launched, it immediately starts monitoring all running applications to check their incoming and outgoing network traffic.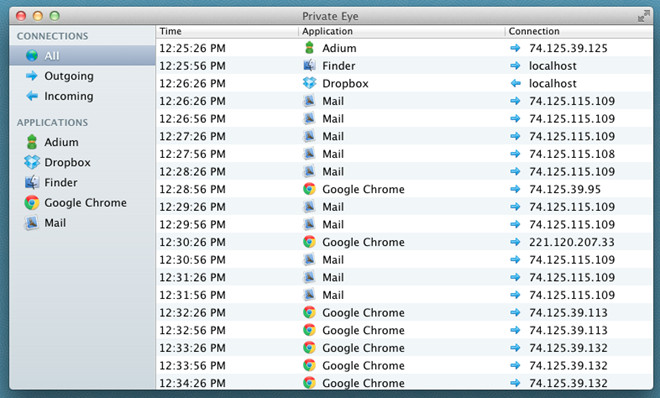 The left sidebar holds all the running applications which are utilizing network resources. The Connections section lets you view the applications and filter the applications list by Outgoing and Incoming connections. If you want to check all incoming connections, click Incoming to view applications which are currently receiving data.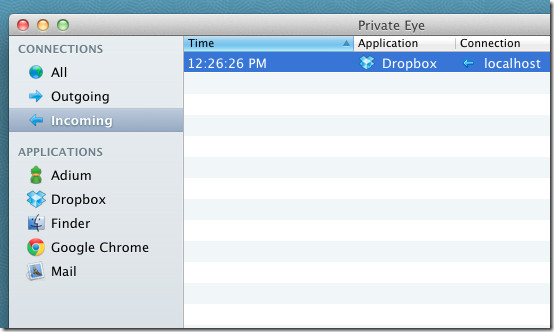 The Application section enables you to filter the incoming and outgoing connections by applications. You can, for instance, select Google Chrome to check its respective incoming and outgoing connections with their source paths, i.e IP addresses.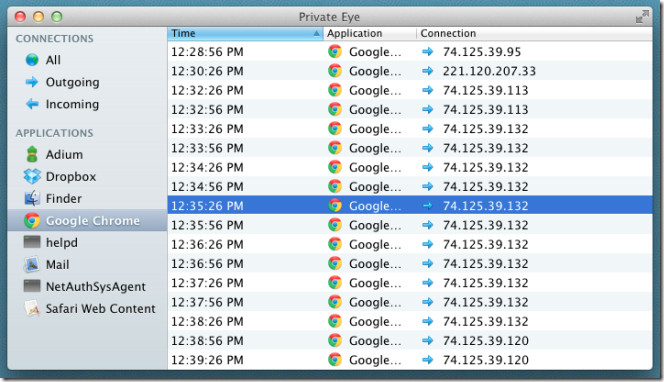 Private Eye proves to be a powerful network monitoring application for Mac OS X. Using its filters, you can not only check the total incoming and outgoing traffic but also inspect an application's network usage. It supports Mac OS X 10.6.6 and later.