How to stream to the Chromecast on macOS without Chrome
macOS and Macs are built to work with other Apple devices such as the Apple TV. They aren't built to work with devices like a Roku, Amazon Fire Stick, or a Chromecast. That's not to say you can't use these devices with a Mac, you can. You will just have limited options compared to other desktop operating systems. With the Chromecast, you have the Chrome browser that you can use to connect to and stream to a Chromecast. If you'd like something that works from your desktop and not from Chrome, you can give JustStream a try.
JustStream is an app that lets you stream to the Chromecast. It can stream videos as well as mirror your desktop. It also supports other Chromecast-like devices such as the Roku and Fire Stick. It isn't free though. The trial version gives you 40 minutes of playback, and then you have to buy a license to use it further. A license costs $39.99 if you buy from the website but if you upgrade from within the app, the price tag on the pro version is $19.95.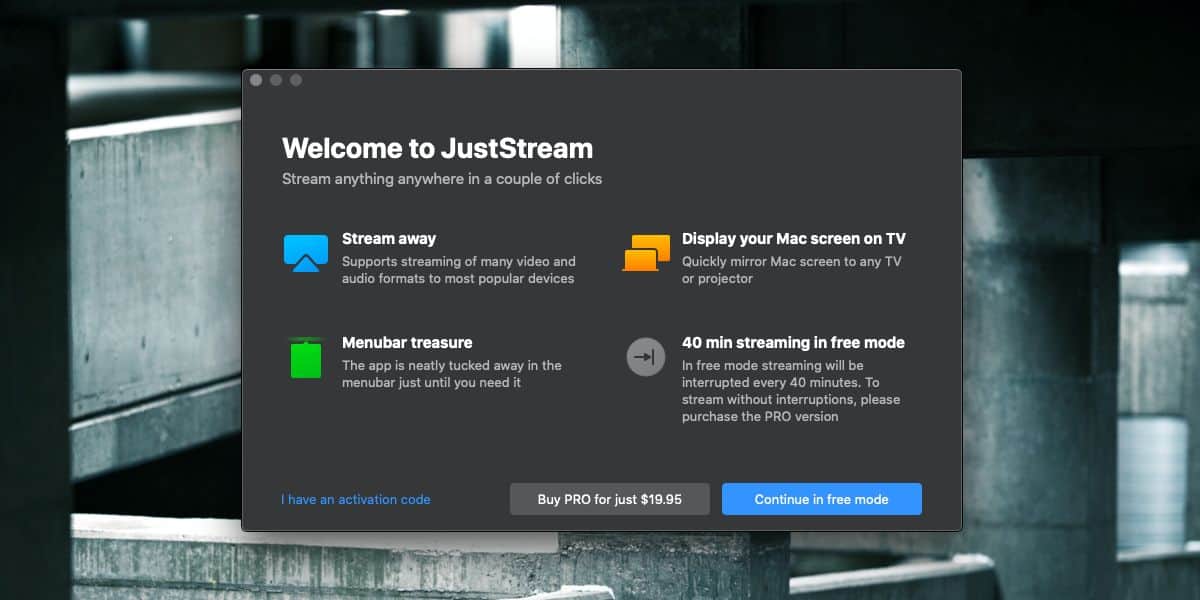 Stream to Chromecast without Chrome
Before you start, make sure that you have your Chromecast properly set up. Your Mac must be on the same network as the Chromecast, and the Chromecast should be ready to stream and not in the middle of an update.
Install JustStream, and run the app. It runs in the menu bar. Click it. You can stream your desktop to the Chromecast. It will list the Chromecast TV/monitor as the display to cast to. Click the AirDrop like button at the bottom to make sure it is connected to the Chromecast. If you'd like to mirror your desktop, click 'Start Streaming' and it will be mirrored.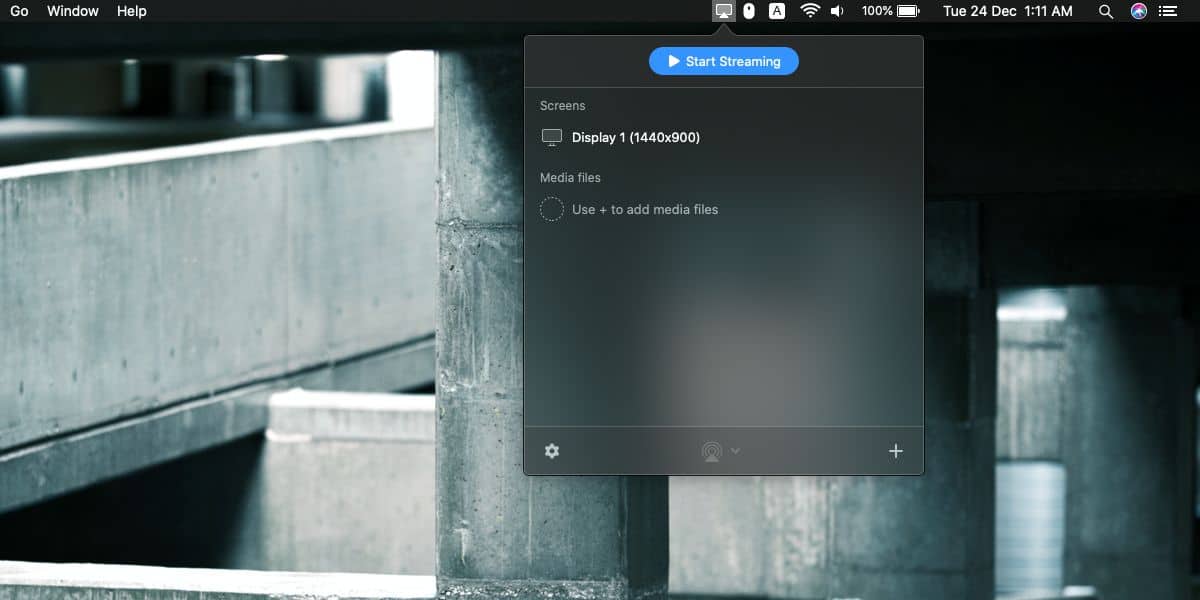 If you'd like to play media files, click the plus button at the bottom right and add the files you want to play. You can queue multiple files and they will play in turn.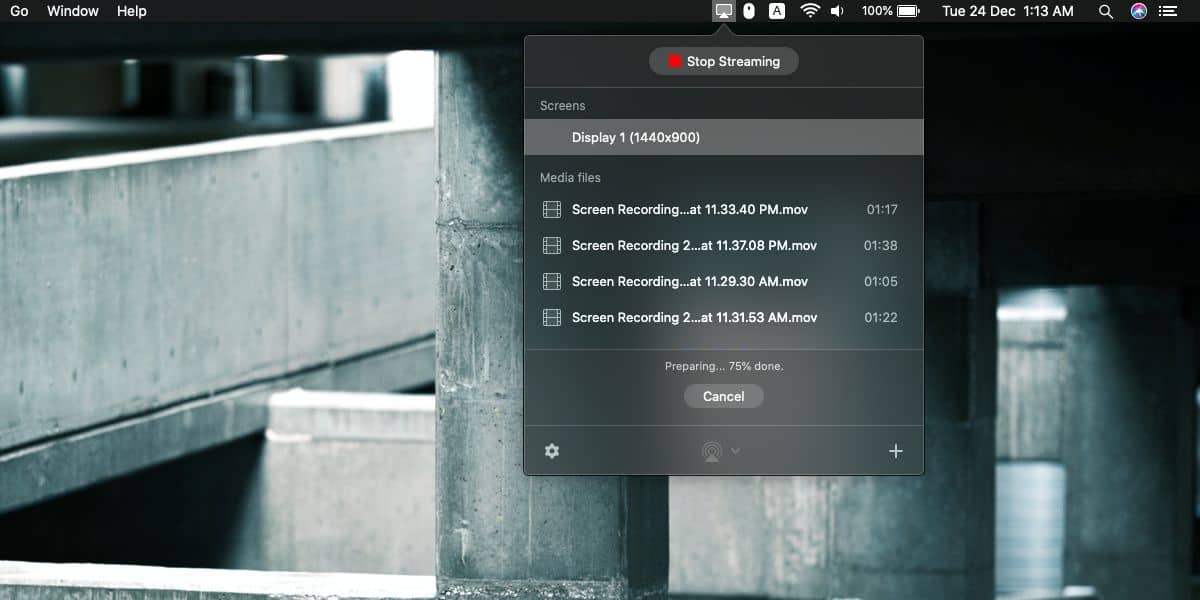 JustStream works great and if you're looking for a reason to buy it, check out the app's preferences. JustStream allows you to select the quality of video playback, it allows you to send system audio to your Chromecast when you stream the desktop to it, you can pick up a video from where you left it off, automatically detect and load external subtitles, and you can customize the look of the subtitles and have them appear in any color with any background that you want.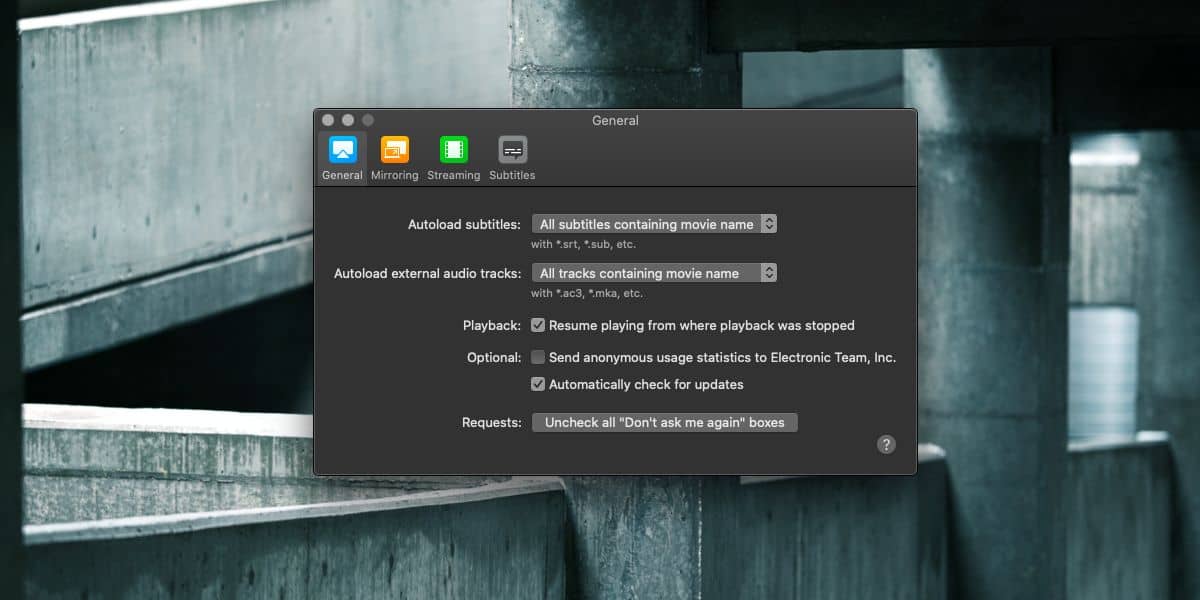 As for the cons, the one major flaw it has is subjective to hardware so I recommend trying the app out before you buy it. It can't seem to automatically scale the video to suit the resolution of your TV/monitor. I streamed from a Mac with a 1440×900 resolution to a Chromecast connected to a 1920×1080 resolution monitor and the top of the screen was cut off. There are no options to change the resolution of the video that's being streamed and my Mac didn't let me change the native resolution to anything that would work. This is a try-before-you-buy app but if it works, it could be something truly worth its price tag.